If you are interested in monitoring who's at the front door the Ring Video Doorbell (2nd-generation) is one of the most consumer-friendly options around. Ring hasn't slowed down when it comes to releasing video doorbells, but this one stands out as an affordable option that provides solid 1080p video, smart connectivity, and all the benefits of Ring's expanding ecosystem of products.
There's certainly an abundance of alternatives to check out, however, which is why we've put them to the test. You'll also be astounded by some of the neat stuff they're able to do beyond the obvious porch security cam benefits. Our experts have spent weeks with various doorbells to find their perks and flaws. We cover the spectrum by selecting video doorbells that are simple, effective, affordable, and packed with practical features.
Ring Video Doorbell (2nd Gen)
Best entry-level video doorbell
Pros
Inexpensive
Great app experience
Privacy Zone censors specific areas
Simple installation
Cons
No removable battery
Glitchy video and audio
The Ring Video Doorbell (2nd Gen) is a massive update to the original Ring model. The new version is ready for the modern home in every way, while remaining more affordable than elite models you may not need.
The main changes to the smart doorbell include an upgrade to 1080p resolution (up from 720p), two-way audio with noise cancellation, and adjustable motion zones that will monitor specific areas to lessen false alerts. You can also set "Privacy Zones" that allow you to exclude areas of the camera's field of view from recording. Improve the Ring Video Doorbell (2nd Gen) with the $50 Solar Charger, which fits over the doorbell to supply it with power — reducing the need to remove the Ring doorbell and recharge its battery.
While the Ring Video Doorbell (2nd gen) may not offer some high-end qualities found in other cams, like 2K resolution or object recognition, it's hard to overlook its very affordable price, as well as options like the Solar Charger that other doorbells don't really offer. However, you will need to sign up for Ring's security subscription to get any cloud storage, with the Protect plans starting at $3 per month.
Ring Video Doorbell (2nd Gen)
Best entry-level video doorbell
Google Nest Doorbell
Best battery video doorbell
Pros
Gorgeous minimalist design
Intelligent alerts
Doesn't require subscription for video history
Useful quick responses
Cons
Fine video details are on the soft side
Inconsistent capture rates
Google didn't hold back with this Nest video doorbell, which blends practical features into a modern design that's easy on the eyes. Even better, Nest offers free video history out of the box, which is notable because this sort of feature typically requires users to pay for a subscription service.
This model is arguably one of the best-designed wireless doorbell options to date, sporting a matte plastic chassis that blends well with any décor. Beyond the attractive design, the Google Nest Doorbell (battery) improves over the previous Nest Hello doorbell because it can be placed anywhere — regardless if you have an existing wired doorbell connection or not. The long-lasting battery is easy to recharge and is a great option for replacing an existing doorbell wherever you want.
You'll also be treated to intelligent alerts because the smart doorbell's 1.3-megapixel security camera features HDR video, night vision, and detection for pets, people, vehicles, and motion. If you're not able to answer the doorbell, you can select any of the available Quick Responses options through the Google Home app to have the doorbell speak answers to whoever is at the door. A subscription adds more intelligent features, but this model is excellent all on its own.
Google Nest Doorbell
Best battery video doorbell
Arlo Video Doorbell
Best video doorbell for viewing angles
Pros
No fish-eye look to video
Sleek design
Intelligent A.I.
Works with Alexa
Cons
Requires wiring for a doorbell
Its button doesn't look like a button
One of the biggest issues with doorbell cam models is that they can display distorted, fish-eye-looking videos. Arlo's Video Doorbell camera doesn't suffer the same fate, thanks to an HD camera that has a 180-degree viewing angle and a 1:1 aspect ratio. Plus, the aspect ratio allows for more of the scene to be in the frame.
The Arlo Video Doorbell packs all the necessary features, making it a versatile camera for your porch. It is intelligent enough to discern people, pets, and even packages, and notify you of what it sees through notifications. There's also the option to set up zones to prevent false alerts, focusing only on the most important areas. And lastly, this smart doorbell camera is a cinch to set up, even if you've never installed one before. Although, it does require a preexisting doorbell system for installation.
Arlo Video Doorbell
Best video doorbell for viewing angles
Wemo Smart Video Doorbell
Best Apple-friendly video doorbell
Pros
Wide 223-degree field of view
Compatible with Apple Home app and iCloud
HDR support
Cons
No two-way audio
A bit bulky
Apple users may feel a little left out of the video doorbell scene, but Belkin once again comes to save the day with its Wemo brand. This doorbell is designed to seamlessly work with HomeKit, and that includes compatibility with iCloud for automatic cloud storage of captured video when the motion sensors are detected.
The doorbell also includes an extra-wide 223-degree field of view to capture as much as possible, along with infrared night vision technology. The camera support 1200 x 1600 resolution video with HDR support. Since it works directly from the Home app, Apple fans won't need to download any extra apps. However, note that this is one doorbell that does not offer two-way audio options.
Wemo Smart Video Doorbell
Best Apple-friendly video doorbell
Ring Video Doorbell 4
Best business-friendly video doorbell
Pros
Easy to install
Durable build quality
Excellent night vision
Accurate motion alerts
Feature-rich
Cons
Need subscription for full features
Only minor changes over previous model
No Alexa Greetings feature
Ring's Video Doorbell 4 comes with a number of welcome upgrades, including a better Wi-Fi receiver so you don't have to worry about the doorbell dropping the signal, and a four-second video preview that allows you to review footage before alerts were even triggered. The design also received an upgrade that makes removing the battery for charging even easier than before.
The 1080p cam offers the Ring mainstays like motion detection, night vision, and triggered alerts, along with two-way communication. You can also set motion detection zones for greater accuracy, and create Quick Replies or automated responses to save time. There's also built-in Alexa compatibility for using the doorbell along with your Echo devices.
Keep in mind that like other Ring cams, the Ring Video Doorbell 4 does require a Ring Protect subscription to save video, which means it's required to make the doorbell useful for anything but live viewing.
Ring Video Doorbell 4
Best business-friendly video doorbell
Eufy Security Video Doorbell
Best budget video doorbell
Pros
High-quality UHD video
Straightforward installation
Compact design
Easy-to- use app
No ongoing subscriptions
Cons
Easy to scuff and scratch
Hardware runs hot
Some app stability issues with livestreaming
Anker's first foray into the video doorbell arena is an impressive one with the Eufy Security Video Doorbell, offering a mixture of high-end features combined with a pleasantly low price. The standout feature here is the integrated camera supporting 2K UHD video (2560 x 1920 resolution) and High Dynamic Range, topping many of its contemporaries in the image quality department.
It's paired with a wide, 160-degree field of view, night vision, and person detection — features that place it ahead of the curve. Best of all, the Eufy Security Video Doorbell supports local storage as well with its embedded 4GB eMMC storage module. It's hard to believe that this doorbell cam is priced well below the competition.
Eufy Security Video Doorbell
Best budget video doorbell
Vivint Doorbell Camera Pro
Best video doorbell with professional monitoring services
Pros
Extremely wide field of view
Smart integration with Vivint system
Svelte, durable construction
SmartSentry mode protects your packages
Professional installation ensures flawless performance
Cons
Must be bought with Vivint system, not stand alone
Night vision depth of field is shallow
Limited A.I.
Wide fields of view are crucial when it comes to protecting packages left at your front door, which is why you should know about Vivint's Doorbell Camera Pro. Not only does it cover the horizontal view with its 180-degree coverage, but it also has the same 180-degree coverage from top to bottom on the vertical. That ensures you'll see who's coming to the door, as well as the package left in front of it.
Additionally, the Vivint Doorbell Camera Pro leverages its SmartSentry deter mode to detect potential porch pirates by whistling at them as they near. It clearly wants to protect your packages when you're not there, but the only drawback to this is that you need to invest in Vivint's home security system. However, some buyers may prefer connecting with an established and professional monitoring service, especially if they have used one in the past and enjoyed it.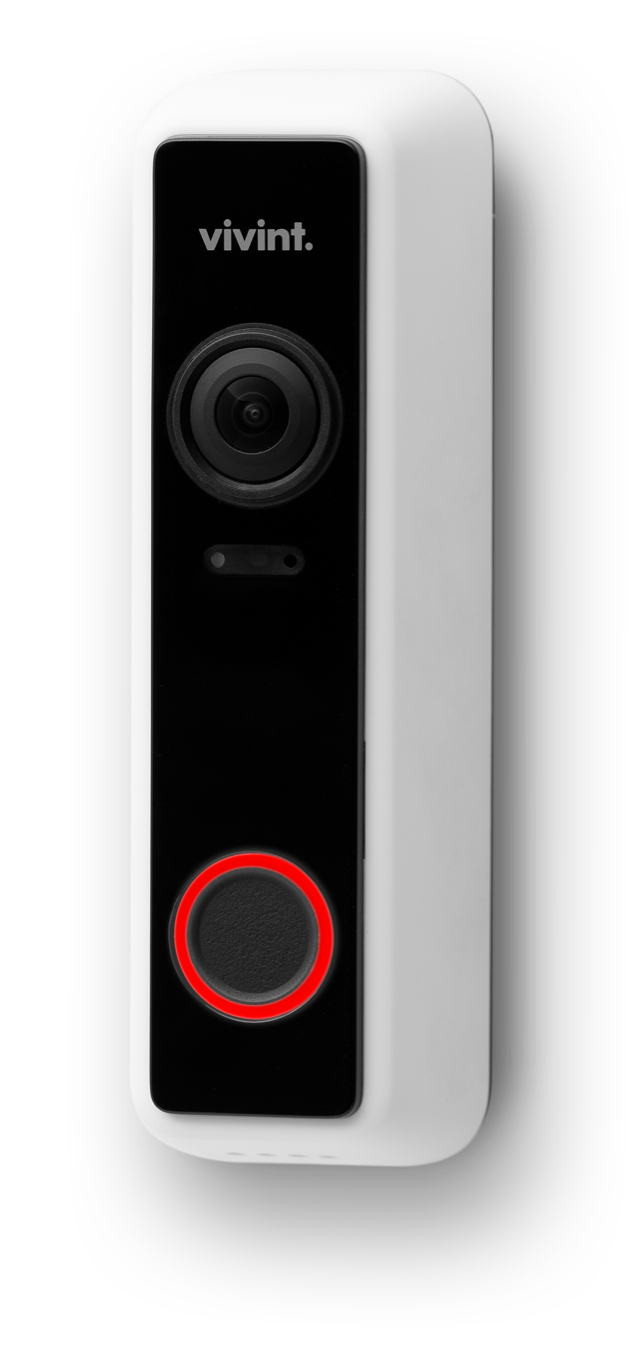 Vivint Doorbell Camera Pro
Best video doorbell with professional monitoring services
Ring Video Doorbell Pro 2
Best video doorbell for large yards
Pros
High resolution
High-quality video day and night
User-friendly installation
Radar detection
It was a long time coming, but Ring now has a proper successor to its top-of-the-line model. The Ring Video Doorbell Pro 2 is a substantial improvement not just over its predecessor, but to all video doorbells because it adopts a radar sensor to offer 3D motion detection technology. What this means is that it has the ability to tell exactly where on your property it has detected people, thus giving users a bird's-eye view of their movement across the front door.
You could say it's a game-changer, but beyond this new piece of tech, the Ring Video Doorbell 2 Pro also features a 1536p HD Live Video camera complete with color night vision, wide 150-degree views both on the horizontal and vertical, built-in Alexa greetings, two-way communication, and more. It's one thing to know who's at the front door, but it's also another to know their movements before and after.
Ring Video Doorbell Pro 2
Best video doorbell for large yards
How do you compare different video doorbells?
Video doorbells have many features in common, including video, alerts, motion detectors, night vision, two-way audio, and more. However, there are a few important specs to compare between models:
Size: Will the video doorbell fit in the space you have in mind?

Power: Do you need a doorbell with a battery? How easy is the battery to recharge?

Resolution: Usually, 1080p/HD is fine for video doorbells, but if you want more, you'll need to look for a 2K resolution or higher model.

Storage: Does the video doorbell offer onboard storage? Any room for SD cards? Does it offer cloud storage? Do you have to pay for cloud storage, or do you get it free?

Detection: Some video doorbells are smarter than others. Newer models may have options to detect faces, cars, pets, and packages. Sometimes these features are free, but often you have to pay for a subscription to enable them.
How do you install a video doorbell?
Video doorbells can be relatively easy to install, especially if it's battery-powered. All video doorbells are typically installed by fastening a mounting plate to an area near your door, whether that's around the outside frame or somewhere else nearby. Once you screw the mounting plate into place, most video doorbells are then positioned on them — requiring a special release key to remove the doorbell to recharge it.
However, things can get a bit more complicated if you choose to install a video doorbell to an existing wired connection. Instructions on how to connect the appropriate wires to your doorbell vary, but you may want to hire a professional to ensure that it's installed properly. The benefit of choosing to go with a wired connection versus a battery-operated model is that you never need to worry about recharging it. If you're installing a Ring video doorbell, we break down the instructions on how to do it with our guide.
Where can you get video doorbells?
Video doorbells are extremely popular: If you've done your research, you can choose to purchase one online through retailers such as Best Buy, Amazon, and Newegg. Some popular consumer electronics stores like Best Buy have some on display to check out in person. You shouldn't forget about home improvement stores like Home Depot and Lowes. Those stores can be great places to ask questions about installation specifics.
Or, if you'd like to save a little time and money, we keep an updated list of the best current video doorbell deals you should check out.
Do video doorbells need a subscription?
No, video doorbells don't need a subscription to work, but a subscription may be particularly important for some models. Subscriptions usually add a few features to doorbells, including:
Cloud storage: This allows you to save video to the cloud for a certain period of time, where you can view and download it at will. Some plans, like Ring Protect, only add cloud storage if you pay for it. Others expand cloud storage capabilities or make them more useful.

Better detection options: Subscriptions usually allow for more in-depth A.I. detection of faces, cars, packages, and so on. This comes with rich alerts that specify what it looks like happened, such as, "It appears a package was just dropped off at your door."

More customization: Subscriptions may also add customization options for your alerts, as well as the motion zones that trigger the doorbell.
Is my door large enough for a video doorbell?
First, there are narrow video doorbells, like the Nest Doorbell and similar models, that are designed to fit in narrow spaces. If your doorway has a reasonable amount of trim, that's often sufficient. Doorbells may come with methods to angle them during installation so they face away from walls.
Second, you don't have to put a video doorbell right by the door. It can go on a nearby wall or away from the entryway on an exterior wall. You will want to make sure they have some protection from the elements, though. Also, note that some siding is a lot harder to drill into than others (fiber cement. for example), and you'll want to avoid any potential water damage.
Are video doorbells legal?
Privacy laws vary by state, but you don't need to worry about using a video doorbell. By their nature, video doorbells are designed to view public entryway places and street sides where there's no real expectation of privacy. They can't really be repositioned to spy on neighbors or anything else illegal.
While many video doorbells do allow for two-way communication, they don't actually record the audio, which is what can trigger privacy laws, so there's no concern there, either.
Editors' Recommendations