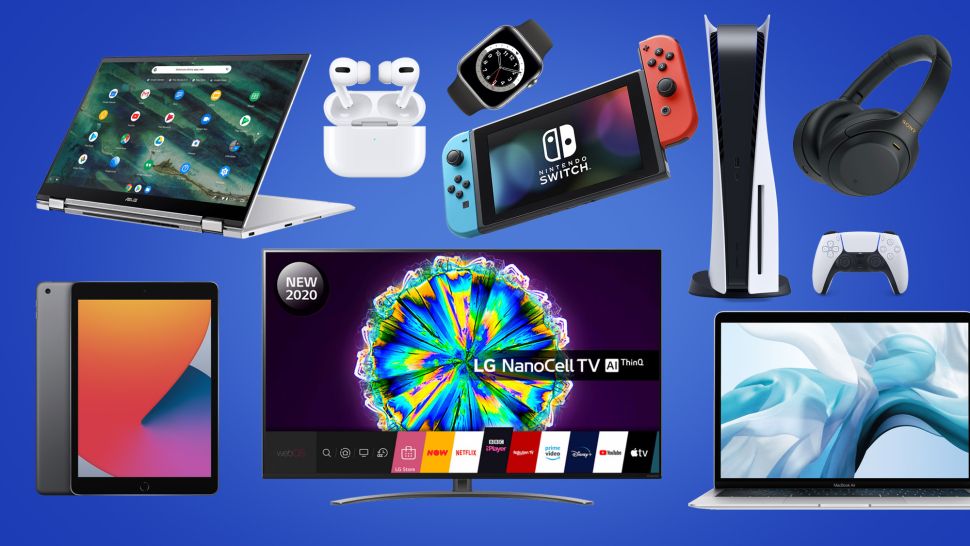 Boxing Day sales: quick links
This year's Boxing Day sales and January sales may still be a long way off yet but it's definitely worth getting prepared ahead of time if you're looking for a bargain on any number of tech goods, furniture, or even clothing.
Alongside the more well-known Black Friday deals, the yearly Boxing Day sales bookend the retail year's calendar with a ton of eye-catching offers. And, while they don't often quite match the former in offering record-low prices, they span just as large a width of categories. Last year's sale was excellent in its own right and a perfect opportunity for those with a bit of Christmas cash to spend at the end of the year.
You'll find a handy guide to the upcoming Boxing Day and January sales just below here on this page. We're covering when sales should start (hint: it could actually be before Boxing Day), and also a basic outline of what to expect on a few popular categories. We've also kept an index of what retailers were offering discounts, which you can view at the bottom of the page or navigate using the jumper links provided.
Boxing Day and January sales FAQ
Boxing Day and January sales 2021: when will they start?
Excellent question, and while you might assume that the Boxing Day sales will launch on Boxing Day – that is, 26 December – we've seen some retailers start their Boxing Day and January sales as early as the week before Christmas in the past. 
This is a trend we expect to see continuing online this year. We've seen it happening already: after all, in November, lots of UK retailers launched their Black Friday sales early. The likes of Amazon and Currys assured shoppers that prices wouldn't fall again further on the day – but if they did, people would be refunded the difference. 
So while officially, online, most Boxing Day sales will be starting at midnight, 26 December, we expect to see plenty of early Boxing Day deals dropping in the days before. As soon as they start, you'll be able to find the best ones here on this page.
When will the Boxing Day sales end – and the January sales begin?
This will vary from retailer to retailer. While some switch their Boxing Day sales into early January sales from the 27 December, others extend their Boxing Day deals right to the end of the month. Largely, though, you'll find it's the same offers, just packaged under a different name. 
What to expect in this year's Boxing Day and January sales
TV deals
Boxing Day and the January sales have always been a great time to pick up a discount on a TV and we're expecting this year's events to be no exception to that. Currys, Amazon, and John Lewis in particular will be the retailers to beat, although AO.com, Very, and Box should also offer great deals in their own right too.
While it's still early days, the Boxing Day sales have traditionally been a good time to pick up the latest releases from the prior year – think fancy new OLEDs or QLED displays. The newest features tend to trickle down to the cheaper models too, so if you're looking for something a bit more affordable, then you should be well catered for too. In particular, this year's TVs have really focused on support for the next-gen gaming consoles – the PS5 and Xbox Series X – so if you're one of the lucky few to have a console, then you should be able to find a deal on a capable TV too.
Computing and laptop deals
While Black Friday and Cyber Monday are traditionally heralded as the best times of the year to pick up laptop deals, we definitely wouldn't rule out the Boxing Day sales and January sales as a close second. Leading retailers will absolutely be looking to compete with excellent options on everything from basic Chromebooks to lavish gaming laptops – and not just to shift old stock either.
Even better still, large-scale global chip shortages haven't really affected the laptops market too much in the UK, which means retailer shelves should be relatively well-stocked by the time Boxing Day rolls around. We'd expect manufacturers like Dell and HP to offer excellent options directly via their sites, and Amazon, Currys, Box, Laptops Direct, and Very make up the bulk of top retailer options.
Headphones, tablets, and smartwatches
Headphone crowd favorites like the Jabra Elite Active 75T and Sony WH-1000XM4 were fixtures in last year's Boxing Day sales and there's likely to be similar options this year. Also, we wouldn't rule out deals on the Apple AirPods, which are always a favorite at any sales event and always tend to be on sale at Amazon these days. Pairing up nicely with headphones will also be sales on smartwatches – namely Apple Watches and Fitbits. These exact brands were on sale over last year's events and you'll definitely see retailers looking to cash in on those new year's fitness resolutions with some relevant tech.
Finally, this year's events should also include plenty of sales on the latest tablets. On the cheaper end of things, we'll likely see moderate price cuts on Amazon's Fire HD tablets – a good option for the basics or kids' devices. For those looking to spend more, this year's iPads will most likely be the most popular choices – and the ones we recommend. Sales on the newest 10.2 and Mini models aren't likely to be anything too crazy, but we should see healthy discounts on the slightly older Air and Pro models.
Fitness

The Boxing Day and January sales are prime time for retailers looking to cash in on those popular fitness-focused new year's resolutions. If you think you'll be one of many to brave the January weather for your daily jog or commute down to the local gym, then it's likely you'll find excellent options for fitness gadgets. Last year's sales included very competitive prices on the FitBit Inspire 2 and the new (at the time) FitBit Versa 3. Amazon also had a great £36 price on the Eufy Smart Scale, a discount that's subsequently been exceeded multiple times in 2021.
Alongside tech gadgets, we also saw leading sports clothing retailers like Nike and Addidas offer excellent clearance sales over January. If you're not a fan of that January weather (believe us, neither are we), then you'll definitely be able to save on some new threads. If hiking is more your thing, then GoOutDoors also offered a clearance sale – very handy for boots, heavy winter coats, and hats too.
Last year's Boxing Day sales
Last year's Boxing Day and January sales were vast; spanning literally hundreds of retailers across the web. Naturally, we covered (nearly) every one, and just below you can see what we wrote about them at the time. We've organised them out into handy alphabetical listings so you can jump to your favorite retailer and read about what they were offering at the time. And, it's definitely worthwhile to do so – if they ran a Boxing Day sale and January sale last year it's highly likely they will again this year.
A
B
C
D
E
F
G
H
I
J
K
L
M
N
O
P
R
S
T
U
V
W
X
Y
Z