While I was listening to the five song selections I made for this week's Spatial Audio File column, I was struck by the fact that we as listeners can easily have our attention sidetracked by catchy choruses—you know, the ones you just can't help but sing along with every time you hear them. Call it the "Bohemian Rhapsody" syndrome—which, by the way, is not a bad thing at all, mind you. If anything, it proves the artists/songwriters at hand have handily succeeded in their mission to hook you with their music. But as we're joyfully singing along, we're not really paying attention to the music itself since we're technically "competing" with what we're hearing in the moment.
Hence, once I got my reflexive singing out of the way—either out loud, or in my head—I buckled down to refocus my critical listening of these five tracks, each of which I thoroughly spec'ed and checked by way of my personal deep dive listening sessions on both my home system and headphones alike. You'll find all of them, alongside a veritable singalong fest of other stellar Made for Spatial Audio and Dolby Atmos cuts, within the burgeoning Apple Music library.
Let's curb our ready-to-sing enthusiasm but instead ramp up our ready-to-listen eagerness by checking out this week's quintet of readily engaging immersive tracks, which are. . .
CHUMBAWAMBA: "TUBTHUMPING"

Iconoclast British alt-agitpunk rockers Chumbawamba had a ubiquitous worldwide hit thanks to multiple, inescapable barroom singalong passages embedded within "Tubthumping," the lead track culled from their super-successful September 1997 longplayer Tubthumper. And now, almost 25 full years on, "Tubthumping" has been suitably renewed as an undeniable, all-out all-channel banger in Dolby Atmos.
The track starts innocently enough, as it fades in low-to-high in the field with a wash of programming, keyboards, and a steadying drum bed that nestles down in the middle while a quite politically charged British vocal sample rolls across the field. The slightly muffled opening refrain of "We'll be singing / While we're winning / While we're singing" emerges at the far right, moving more towards the center after every third word and backed by a jangling guitar riff following slightly behind each line.
And then—the thump really hits the tub. Warning: Make sure your playback system is truly ready for the unsubtle, dramatic, ear-curdling, mega-volume swell that fills the entire soundfield when the song's signature fist-pumping battlecry—"I get knocked down, but I get up again / You're never gonna keep me down"—hardcharges its way into the frame for its first two repetitions, only taking its pedal slightly off the volume gas on the subsequent two readings to enable the instrumentation to take its rightful place in the mix.
The lead vocals fade away as featured vocalist Alice Nutter somewhat dreamily enters from up in the heavens with her own repeated reverie, "Pissing the night away," which soon enough swerves clockwise into a center-left positioning, as if she was swaying while she's singing. As her last "away" rolls back in the mix, the "He takes a whiskey drink, he takes a vodka drink" play-by-play in-the-pub segment takes over the middle zone. The drum track spreads wide across the field to give the featured lead vocal turns room to shine, though the ensuing "Oh Danny Boy" refrain follows in wide suit.
And then, a lightning-quick centralized cymbal swoosh gives way to the next "I get knocked down" section—a section I completely know you all know by heart at this point. A gnarly sustained guitar riff follows behind the vocals here for added oomph.
The next "pissing the night away" section flows high and center-left-leaning, with the percussive backing shaking things up a bit all around it. A subtle, staccato guitar riff weaves around it all in the center-left and center-right zone.
A short trumpet solo perched in the center-left clouds breaks through after the next "knocked down" run before extending its own final note runs dead-center. Then all the respective vocal repetitions converge and interweave amongst themselves, almost challenging you to pay closer attention to where and how they roam while you sing along, either silently or fully out loud, with the omnipresent vocal hook. (No judgments here—remember what I said back in this column's intro section!) Taken as a whole, "Tubthumping" is in fact a keenly pulled off production and mixing job that corrals all these alpha-leaning elements into all-channel cohesiveness.
Oh, and after said vocals fade out accordingly in full, be sure to stay tuned for the final 45 seconds, a funk/jazz-inflected musical payoff coda unto itself.
I'm not pissing the night away when I declare "Tubthumping" has not been kept down but has in fact been duly elevated to the top of my Made for Spatial Audio tracklist of the week. Bottoms up!
IMAGINE DRAGONS: "RADIOACTIVE"

Following on the heels of their triumphant July 2022 album Mercury – Act 2, Las Vegas-bred alt-rock stalwarts Imagine Dragons have essentially Atmos-ized the balance of their catalog. "Radioactive," one of the signature hits from their stellar September 2012 debut album Night Visions, gets even more combustible in the Spatial Audio universe.
"Radioactive" opens with Wayne Sermon's acoustic guitar figure straight up the middle, which he counters with a second line just left of center, all of it buttressed by some heavenly centralized "ohh-ohhs" from vocalist Dan Reynolds that are somewhat back in the mix at the outset.
An emerging electronic dirge builds behind them to take over the mix, and then a massive electro-bass thump dominates the center stage, just on the threshold of distortion as Reynolds returns with, "I'm waking up to ash and dust." A crisp slap-drum accent begins recurring just above the center zone as the ongoing bassy thump continues to threaten the low-end health of anyone who hasn't tuned their subwoofers properly.
Following Reynolds' skyward "ahhhh" exhale, Sermon's electric guitar lines noodle all around him at center-left and center-right. "This is it, the apocalypse," Reynolds intones, signaling the layered—and somewhat louder—"I'm waking up" vocal section that immediately follows as the precursor to the big chorus. While all this is going on, Reynolds' "whoa-oh" wailing returns, this time swirling around the field slightly behind the main action to serve as a siren call that reinforces the full booming weight of the repeated title word, "Radioactive."
And, as I alluded to earlier, at this juncture in the song, if your sub channel isn't tuned and/or properly prepared, you and your system will be faced with imminent distortion danger. (Don't say I didn't warn you.)
The high volume level recedes a bit for the next verse section, the guitar riffs and drum slaps holding the fort essentially up the middle, along with some more electro-burbles behind them. Listen for a siren call of a different vocalized nature wafting behind the main fray—just before the next chorus returns for another full-channel pummeling.
As long as you and your system can collectively handle it, the hard-hitting "Radioactive" radiates in full in all its Spatial Audio glory.
BON JOVI: "YOU GIVE LOVE A BAD NAME"

New Jersey's other favorite sons, the enduring pop/metal gods known as Bon Jovi, took over the charts—not to mention the hearts and minds of many a listener—all across the globe with their mega-million-selling August 1986 juggernaut album Slippery When Wet. Its undeniably catchy No. 1 lead single, "You Give Love a Bad Name," has an even bigger impact in Atmos.
The track opens a capella, with Jon Bon Jovi singing the opening lines, "Shot through the heart / and you're to blame," straight up the middle with the layered high harmonies spread all across the field. Then Jon punches the following title line, "Darling, you give love a bad name," by himself before drummer Tico Torres kicks off the centralized instrumentation, with Richie Sambora's lead guitar riffing just a bit further out front in the mix. Sambora shifts to a more churning riff as keyboardist David Bryan's accents land just left of center before Jon returns to the spotlight with the first verse line, "An angel's smile is what you sell."
One of Sambora's guitar tracks in the song takes on more of a call/response lead role while the more rhythmic churn stays mostly centered, those snarling and sneering punctuation-guitar moments filtering in left of center in between Jon's vocals—in effect, serving as "you tell 'em!" support for Jon's warily dismissive narrative. When Jon observes, "You're a loaded gun," Sambora's leadline comes to the forefront for additional emphasis, with Jon's reflexive "yeah" acting as his tacit approval.
When the chorus returns, you should be able to hear the layered harmonies spread even higher and wider than they were at the outset, floating just a tick above the fully firing full band while Jon's own chorus lead remains prominent. This is a point in the song that could have been overloaded with too much sonic information that would have downgraded the impact of the chorus, but this excellent Atmos mix ensures the main elements shine exactly as they should.
You'll also hear the briefly echoed "bad name" just right of center and somewhat back in the mix before Jon's following, snarling read on "a bad name" comes in center-left. The next verse is high in the field and somewhat over to the right before re-centering with the next "whoa" sequence.
When Sambora gets to unleash his sustained-riff guitar solo, it plays on high before the main instrumentation falls away for "the arena moment"—as in, Torres' thundering bass drum helps drive the implied, intended, and totally earned fist-pumping showcase that accompanies this particular "shot through the heart" section during pretty much every Bon Jovi live show that has occurred following this song's release. Torres attacks his kit up the middle and the full band returns to carry the song home in the finest, "whoa-ohh-ohh" '80s tradition.
In short, there's nowhere to run, as "You Give Love a Bad Name" does all sorts of wonderfully good things in Spatial Audio.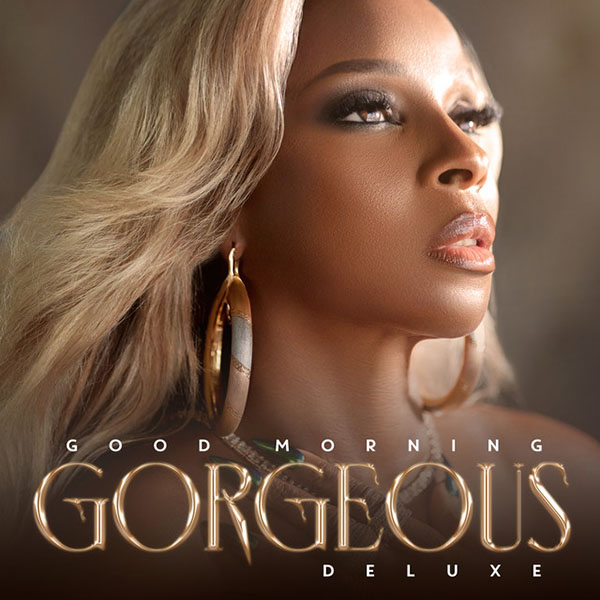 MARY J. BLIGE: "TOUGH LOVE (FEAT. MONEYBAGG YO)"

Acclaimed hip-hop/soul queen/vocalist Mary J. Blige is an unstoppable force of nature. "Tough Love," from the Deluxe Edition of her oh-so-well-titled February 2022 album Good Morning Gorgeous, is a track quite worthy of even more love in Spatial Audio.
A '70s-style soul-vibe keyboard figure opens the proceedings by ping-ponging and resonating from right to left and back again before hitting a hard stop. Centralized percussion and bass plus spread-wide shakers next take over the proceedings (and yeah, you might hear some cowbell taps in the mix there as well). Queen Mary enters on high with the contemplative lines, "I wish I wasn't so violent / I wish I wasn't so silent." Her ensuing "Maybe I can" lines of positivity reinforcement roll well over to the left before re-centering on "my pride."
Mary's voice gets all warbly and twisted in the sky on her own response lines before she again rolls to the left in the next verse, almost as if she's prowling across the stage in front of you before the inevitable pounce comes. Meanwhile, a funky guitar riff joins in at center-left. When Mary gets to the chorus, "Tough love is the therapy," how could anyone possibly disagree? "Mm-hmm" she replies to herself, and to my rhetorical question, from on high.
Guest rapper Moneybagg Yo comes in just left of center before perching straight up the middle, with a touch of reverb (and those shakers) in tow. His flow is introspective and not rushed, letting the thought process he's describing essentially play out in real time. The entire backing track drops out for a millisecond or two when Moneybagg Yo gets to utter the title phrase, "tough love."
Mary returns to the forefront of the track for the next verse, her tone more positive and goal-driven, in turn recognizing, acknowledging, and appreciating her own strength of character right in front of us—albeit this time with a few lines veering to the right before re-centering. I also like her inflection choices on the repeated "shh" that leads into a two-syllable descriptor I can't repeat here. When she both responds to and doubles her own vocals in the back-half break and returned chorus, Mary J. Blige again reminds us why she's one of the most gifted vocalists of our modern times.
"Tough Love" may appear to be one tough customer, but it sure provides some great sonic therapy in its Atmos form.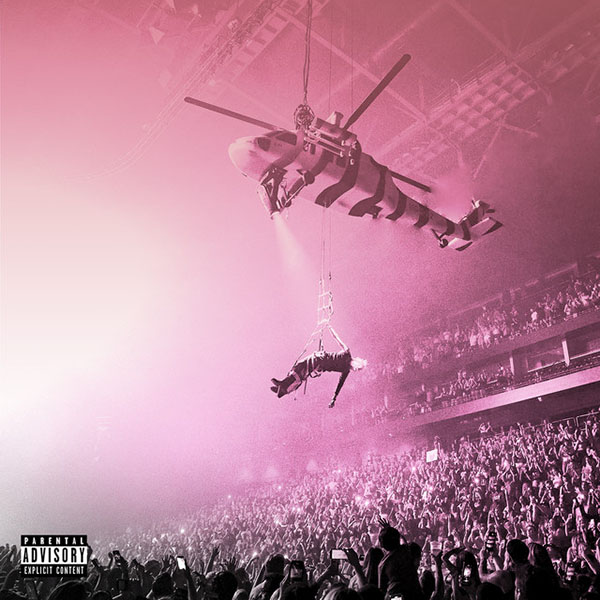 MACHINE GUN KELLY & BRING ME THE HORIZON: "MAYBE"

Rap-rocker Machine Gun Kelly sure loves making waves. The all-lowercase "maybe," his collaboration with British alt-rockers Bring Me The Horizon—as culled from the Life in Pink Deluxe Edition of his chart-topping March 2022 punk-centric Mainstream Sellout album—roars with full-bore intense intent in Atmos.
The overall thrust of "maybe" also benefits from Kelly's ongoing collaboration with alt/punk drummer Travis Barker as his producer. The center-left intro acoustic guitar riff is a kissing-cousin to the opening notes of Soundgarden's "Black Hole Sun," among others—but it's all good, in this context—plus, you'll hear Kelly's fingers move on the frets for the chord changes before he pauses to admit, "That's hard."
Then "maybe" kicks into full overdrive, with Kelly counting off "2, 3, 5" with a faux British accent (in honor of his guest musicians, mayhap) instead of the typical "1, 2, 3," while the punkified instrumentation ramps up the BPM across the full stage. The insistent kick drum packs a wallop straight up the middle, and then the pounding falls back for Kelly to come in on high and clean with "Maybe if I had something to say," backed only with hard-panned guitar strumming. Cymbals join in the middle a few lines later, and a response vocal echoes in at the far left while the pace continues to pick up. The second, now left-of-center backing vocal comes a millisecond behind Kelly's centralized lead vocals, along with the full force of the band.
At this point, guest Bring Me The Horizon vocalist Oliver Sykes joins in to sing along with Kelly, and you should be able to discern his decidedly British inflection on the word "last" ("lahst") overtop and/or underneath Kelly's natural, Americanized singing of the same word. Meanwhile, the band punctuates the repeating "I'm ready to let you go" vocal section with insistent riffage—a hallmark of many a catchy '90s alt-rock radio hit producer Barker knows only too well.
The short bridge is a cool break with a repeated "whoah-ooh-ohh" nestling up in the ether to both lead into and remain with the final verse run, along with a verbalized kiss-off (again, not the word that was used there) to drive Kelly's ultimate point clearly home. Sykes gets his own, highlighted "Made up my mind" moment as well. From there, the band turns up the volume and takes the full-channel jamming route all the way home.
If we all still lived in a K-ROCK kinda world, I have no doubt Machine Gun Kelly's "maybe" would be a hit of epic proportions. Either way, "maybe" is most definitely worth your Spatial Audio time.
Related:
HOW TO GET THE MOST OUT OF SPATIAL AUDIO

For more about the specs, gear, and setup options you'll need to experience the very best of the ever-expanding Apple Music universe of fully immersive Made for Spatial Audio Dolby Atmos mixes, go here.
FURTHER LISTENING

Still want more Made for Spatial Audio options to listen to before an all-new Spatial Audio File returns next Friday? Go to Apple Music: Spatial Audio Relations to get an additional all-channel fill.