PRICE $2,200
AT A GLANCE

Plus

Tremendous surround configurability
Solid multichannel power and sound quality
Powerful Scene memory system

Minus

Complex setup
Limited remote control direct-access to inputs, surround modes
YPAO auto-EQ less accurate than other solutions
THE VERDICT

Yamaha's high-end AVR offers everything but the kitchen sink, plus solid audio quality and the company's unique DSP-surround.
The first A/V receiver I ever reviewed had four channels and five inputs. That was back in nineteen eighty sev…well, never you mind when it was. My point is, AVRs have changed a bit.
Okay, they've changed a lot. Today's example, Yamaha's next-to-flagship Aventage RX-A6A, boasts 11 channels (9 built-in amplified plus an additional two for an external amp) and, depending on how you count, even more inputs. The company's user manual alone runs to almost 450 pages. So, in the interest of forest conservation if nothing else, I will leave it to Yamaha's website to enumerate its countless features and just hit the high points. But you can be confident knowing that if there's an A/V receiver feature, function, or capability, this new Yamaha incorporates it.
A bit paradoxically, the RX-A6A is a handsomely simple black box that's almost entirely featureless, with two knobs, six touch-keys, and a small, almost-an-afterthought, display adorning its front panel. That's it, and I totally get that since nobody uses the million buttons adorning so many AVR front panels. (That's what the remote control and onscreen menus are for.) The RX-A6A also supports Amazon Alexa and Google Assistant voice control when using an external speaker from those companies, along with Apple Siri via AirPlay 2.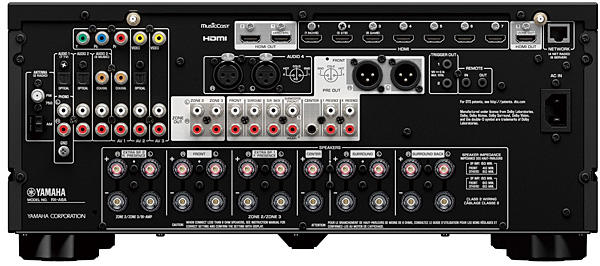 The RX-A6A features seven HDMI inputs, three of which are HDMI 2.1 (the latest, greatest version with support for 4K/120Hz and 8K/60Hz video pass-through), along with three HDMI outputs (one version HDMI 2.1 with eARC). It also can upscale video to 8K resolution (via HDMI and component-/ composite-video inputs) and supports pass-through of the HDR10, Dolby Vision, and HLG high dynamic range formats. But the catch for now is that most of the receiver's HDMI 2.1 features (including gamer- centric ALLM, VRR, QFT, and QMS, along with HDR10+ high dynamic range pass-through) will be made available via a "future firmware update."
Setup

Installing the RX-A6A into my existing surround system was easy. I first plugged in the HDMI cables from my three sources and connected my TV to the receiver's HDMI eARC port. Next, I ran nine wires to my main surround speakers and the four small two-ways I dragooned into Atmos height effects service: the fronts mounted to the ceiling, and the rears aimed at an up-angle to bounce sound off the ceiling about midway between the rear wall and the listening position. It's an admittedly mongrel layout, but after evolving it over a period of years, it works very well. Lastly, I jacked in subwoofer and network cables. (I confirmed that the RX-A6A's Wi-Fi feature worked with my home network, but I always default to wired- Ethernet whenever possible to eliminate variables.)
It's worth noting that the RX-A6A has a stereo balanced XLR input and a balanced XLR main left/right output. I did not use either, as my sources are all digital and I did not employ an external power amp. The Yamaha also provides one component-video and two composite-video "legacy" input paths. I don't know anyone who still uses a LaserDisc player, VHS recorder, or Atari, let alone all three, but Yamaha's got you covered if you do.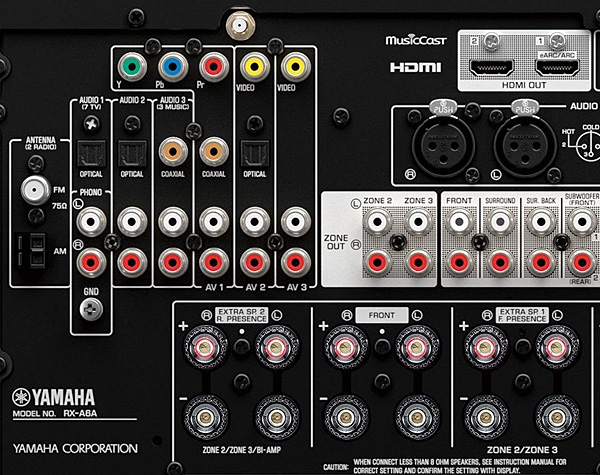 Post-connections, my primary setup task was to run Yamaha's proprietary YPAO (Yamaha Parametric Acoustic Optimizer) speaker/room correction program. This includes the option to calculate the angle of each speaker using a nifty included plastic tripod which has four mic positions, one of them elevated 8 inches or so above the Mercedes-star pattern of the other three. I ran the whole YPAO shootin' match, including the angular routine and four mic positions clustered around my listening seat, in about 45 minutes.
The YPAO routine can automatically detect your speaker layout and make a best-guess at channel assignments for height and rear-surround options. But the whole issue is complicated by the fact that Yamaha's proprietary DSP modes call for front and rear "presence" speakers. These get mounted high on the front and rear walls respectively and are then repurposed for Dolby Atmos/ DTS:X as called for by program type and listening-mode. (This is not strictly in accordance with Dolby's original recommenda- tion for placement of Atmos height speakers, but presumably has been approved by the company given the presence of Atmos logos throughout Yamaha's manual.)
My initial YPAO results were somewhat puzzling. The room correction processing got my speaker locations, sizes, and levels mostly right—though it assigned my 80Hz-limited center speaker "Large" status and located it exactly twice its actual distance from the mic position—but the channel equalizations were all over the map. None except Subwoofer seemed to much acknowledge my room's primary 70Hz standing-wave mode, and the front three channels displayed EQ boosts and cuts where I believe none are called for, and none at frequencies that I believe demand them.
I ran the procedure a second time with slightly different mic positions and the results were somewhat more sensible, though there were still oddities. For just one example, my front left speaker was assigned
a 2dB boost at 62.5 Hz by YPAO's Band 1, and 1.5dB of cut by Band 5 at the exact same frequency. (Both Dirac and Audyssey room correction have in the past called for a substantial, high-Q cut between 65
and 70 Hz when I've ran those programs with the exact same speaker setup.)
To be fair, these apparent anomalies may result from time-domain calculations above my pay grade. And despite all this, the net result of YPAO was a cleaner, tighter (and more low-end-prominent) sonic presentation. Either way, let me emphasize that, as with sausage-making, it's perhaps unwise to examine auto-room- EQ too closely. Anyway, given that speaker/room systems are so highly individual, I always perform all my listening tests with such systems defeated.
There are dozens of setup options on the RX-A6A's menus, but we've still a great deal to unpack, so let's move along.
Listening: Basics

Yamaha rates the RX-A6A at 150 watts-per-channel in stereo (full band, low distortion, both channels driven), and though no spec is listed for multi- or all- channels-driven power I never encountered any audible limits within rational listening levels. Riffling through my surround- music collection, I turned up Donald Fagen's solo Kamakiriad on DVD-Audio disc (remember those?). This generously spatial surround mix sounded as pristine and crisply punchy as I remembered, and the RX-A6A evinced no trouble at all driving it through my moderately low-sensitivity system, even at conversation-drowning levels. To be doubly sure, I reconfigured my system with no sub, forcing the main channels to shoulder full-power, full-range demands, and heard no loss of dynamics or definition. So, nothing to worry about here multi-channel power-wise.