Picture
Sound
Extras
Based on the Broadway musical from Leonard Bernstein, Steven Sondheim, and Arthur Laurents, West Side Story involves two teenage gangs, one Anglo (the Jets) and the other Puerto Rican (the Sharks), that fight constantly over turf and ethnicity in the mean city streets of 1950s New York. When Jets-member Tony falls head-over-heels for Maria, the sister of a Shark, you don't need a roadmap to see where this will end up. Hint: Think Shakespeare's Romeo and Juliet.
The first filmed version of the show, directed by Robert Wise, dominated the 1961 Oscars. It's been decades since I saw it, though I do recall not being overly impressed — certainly a minority opinion. I had seen the stage version of the show and it worked for me far better in that format. (Musical dramas, written for the small and intimate stage, don't always "open-up" convincingly on film.)
This current remake from director Steven Spielberg is a solid effort but, for me, also something of a mixed bag. At 156 minutes, there are excessive, talky, dramatic stretches between the memorable Bernstein/Sondheim songs. I was also put off a bit by the repositioning of songs, and occasional reworking of the lyrics. (In the big number "America," where the characters reflect back on their old life in Puerto Rico, one of the original lines was "the babies crying and the bullets flying." That is changed here to the lame "and the people trying").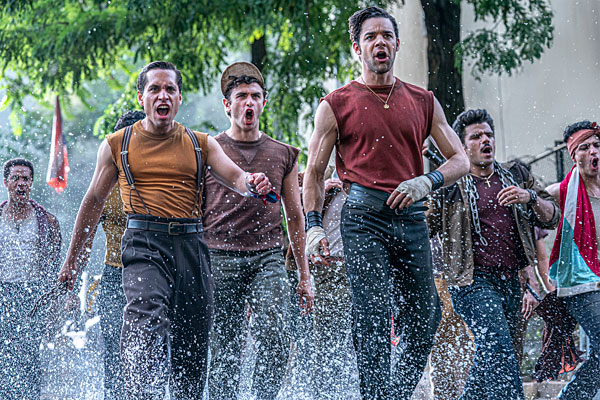 The singing, dancing, and performances range from good-enough to excellent. And a small but important role here for Rita Moreno, a star and Oscar winner for the 1961 film, was a welcome touch. But Ansel Elgort as the love-struck Tony looks and acts nothing like a gang member recently paroled from prison.
The look of the film is believable and the cinematography superb, with the video never failing to deliver. Spielberg's director of photography, Janusz Kaminski, makes brilliant use of shading and shadows, not only in the stylized rumble sequence but also in how the sunlit New York tenements almost become characters in their own right. HDR is effective, though used sparingly.
While the audio isn't particularly demo-worthy, you don't need that here. There are no giant sandworms, dinosaurs, car chases, or earthquakes in this story, just music and dialogue, and both are perfectly attuned to the needs of the film.
The regular HD Blu-ray disc includes a slew of solid, "Making Of" extras adding up to over ninety minutes.
Ultra HD Blu-ray
Studio: Disney/Buena Vista
Aspect Ratio: 2.39:1
HDR Format: HDR10
Audio Format: Dolby Atmos with TrueHD 7.1 core
Length: 156 minutes
Director: Steven Spielberg
Starring: Ansel Elgort, Rachel Zegler, Ariana DeBose