PRICE $1,000
AT A GLANCE

Plus

Good image contrast
Crisp picture detail
Affordable price

Minus

Limited off-center viewing angle
Limited HDR brightness
Cluttered screen interface
THE VERDICT

When it comes to TVs, Vizio has always been serious about keeping the quality high and the prices low. That program continues with the company's new M-Series Quantum, making this set worthy of serious consideration.
Veteran videophiles will recall the days when flat-panel TVs were almost impossibly expensive. But bigscreen set prices have dropped dramatically in recent years. We might "blame" Vizio for that, as it was among the first companies to challenge the status quo. Today it's not the only one offering affordable TVs, but its newest M-Series Quantum models make a strong case for the company's continued design and marketing savvy.
Don't confuse the M70Q7-J03 reviewed here with Vizio's closely named M70Q6-J03. The M70Q7-J03 is the most current model of its size in Vizio's M-Series.
Features

Vizio's M-Series Quantum models are available in screen sizes from 43 to 75 inches. Our 70-incher appeared subtly but noticeably more imposing than the 65-inch sets we most often review. But as with any TV line, you can't assume that the results shown here will automatically apply to all screen sizes in the M-Series. Features and general performance, yes, but I'd still expect possible variations.
The M70Q7 is a handsome set with an ultra-thin bezel that appears to be as well-built as many pricier designs. The feet are close enough together (just under 23 inches) to fit atop suitable tables or other furniture for those who don't plan an on-wall installation. Those feet also offer two height options, with the higher setting used to accommodate a soundbar.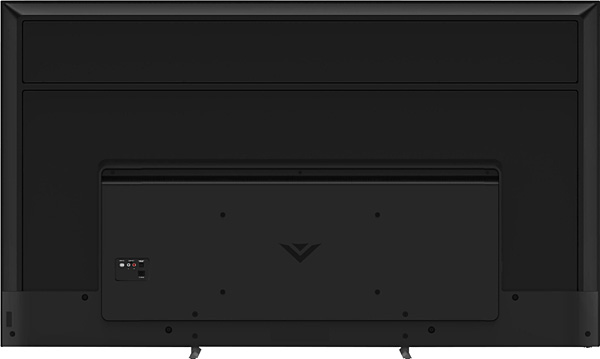 The connections around back include four HDMI inputs limited to 4K/60Hz. But they do offer some HDMI 2.1 features, notably low input lag and Auto Low Latency Mode, plus Enhanced Audio Return Channel on HDMI 1. No legacy component- or composite-video inputs are provided, so Laserdisc, VHS, or Betamax fans (we know you're still out there!) will need a suitable converter.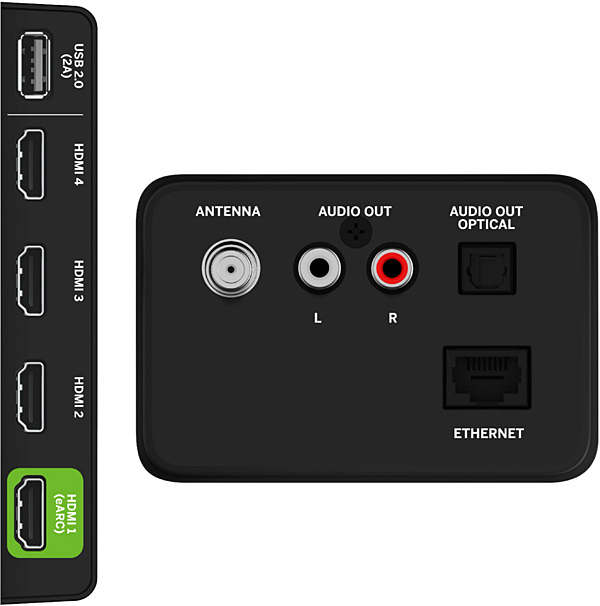 The Vizio supports the HDR10, HDR10+, Dolby Vision, and HLG high dynamic range (HDR) formats. It incorporates full-array local dimming, though the number of zones is relatively limited: Vizio says the M70Q7 has 10 horizontal rows and 3 vertical columns for a total of 30 zones. I could count only 8 horizontal rows, for 24 total zones. But the black bars on letterboxed films appeared very dark, which suggests that Vizio's number is likely correct. Of the three active local dimming settings, I used Medium for standard dynamic range (SDR) viewing and High for HDR.
The M-Series incorporates Quantum Dots, which it calls Quantum Color, to ensure a wide color gamut. It doesn't use mini-LEDs, however, which is a relatively new TV backlight technology available from some of Vizio's competitors.
Vizio's SmartCast screen is selectable from the Home button on the remote, though more often than not it would pop up immediately on turn-on, filling the screen with apps ranging from Disney+ and Netflix to AppleTV+ and Amazon Prime Video. The TV also supports features such as AirPlay and Chromecast built-in streaming. But I found the Home screen layout to be cluttered with a confusing array of options, many of them (of course) pay-for-play, though there's also a WatchFree+ app offering hundreds of free streaming channels, including live TV ones.
The M70Q7 is compatible with voice assistants from Apple, Google, and Amazon, and you can also perform searches directly by speaking into the microphone on the remote control. I had good luck with this feature, which even located sites offering relatively obscure movies. But the non-backlit remote was also small enough that I frequently hit the wrong buttons in the dark—an occupational hazard for anyone who needs to acclimate to a new TV remote control every month or so!

The set's optical digital output delivered only two-channel audio to a current Denon A/V receiver. But the eARC connection successfully passed multichannel Dolby Digital (including Dolby Atmos) or multichannel DTS sound as long as the set's Digital Audio Output was set to Auto and its internal speakers turned off.
Audio from the set's built-in speakers was intermittent. It always worked with internal sources such as Netflix or YouTube streamed from the SmartCast Home menu, but after a week or so, became intermittent with external sources connected directly to one of the set's HDMI inputs (in my case, a cable box and disc player).
During the final days of the review, I tried a trick that often works for cranky cell phones, routers, and computers. I turned the Vizio off, unplugged it from the wall for a few seconds, plugged it back in, and voila—working sound. I tried this on three occasions and each time it corrected the problem, which was presumably sample-specific.
Setup

Of the Vizio's six available picture modes, Bright looked overcooked while Vivid and Sports were even brighter, with oversaturated, Crayola-like color. I used the Calibrated and Calibrated Dark picture modes, both of which looked respectable out-of-the-box, with even better results following a few subjective tweaks. But later measurements (see Test Bench) revealed an excessive blue tint even with the Warm Color Temperature setting. This was a disappointing result, but it will likely go unnoticed by most buyers, especially those unlikely to pop for a $300-$400 professional calibration of a $1,000 TV.