Picture
Sound
Extras
In The Unbearable Weight of Massive Talent, co-written and directed by Tom Gormican, Nicolas Cage plays "Nick Cage," a fictionalized version of himself. Facing mounting expenses, dried-up roles, and struggling to take care of his daughter and estranged wife, the aging actor is forced to take a million-dollar gig in Mallorca, Spain to attend a birthday party for superfan Javi (Pedro Pascal). Javi turns out to be a dangerous mobster also trying to sell his screenplay and wanting to collaborate with Cage. All of which leads to the Oscar winner being enlisted by a CIA agent (Tiffany Haddish) to go undercover and spy on Javi to help the government bring down his criminal enterprise.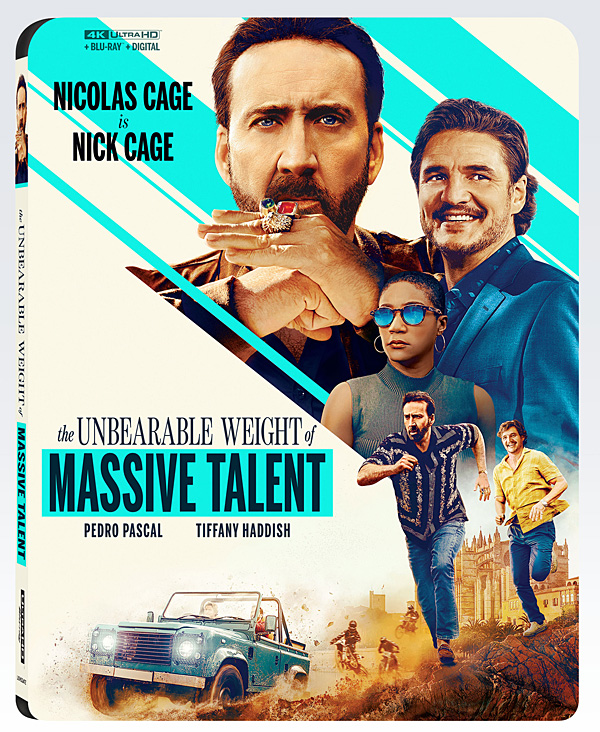 The filmmakers created the perfect role for Cage who slides effortlessly into this hyperbolic persona, while channeling his over-the-topness in the pursuit of justice. Massive Talent mixes multiple genres, from indie family drama in the opening scenes to actioner to straight up comedy.
The film was shot on a variety of Arri Alexa cameras at 4.5K resolution and uses a 4.5K digital intermediate mastered with Dolby Vision. HDR10 metadata shows a MaxLL (Maximum Content Light Level) of 423 nits and a MaxFALL (Maximum Frame Average Light Level) of 231 nits, both on the low side. Dolby Vision doesn't raise brightness much but there are some good specular highlights that add significant pop to headlights, flashlights, and lamplights. Colors have more gradients, such as the beautiful azure water on the seaside in Mallorca or the shimmering pool in Javi's enclave. Though the movie has a pleasing overall appearance with excellent detail, it lacks an organic, filmic character, tending instead toward the unnuanced look of comedies that don't provide the best visual aesthetics.
The Unbearable Weight of Massive Talent packs a Dolby Atmos audio mix with a TrueHD 7.1 core but it is not a soundtrack that will give your home theater system a real workout. Dialogue is clear and the mix is subtle, with low-level foley effects in the surrounds and some stagnant effects in the height channels. And while the bass certainly isn't bombastic, there are a few scenes that offer a chance for your subwoofer to rattle things a bit.
Lionsgate has provided an audio commentary by Gormican and co-writer Kevin Etten, a must-watch SXSW Film Festival Q&A with both writers and the cast, and several "making of" featurettes. An HD Blu-ray with the movie and bonus features is included along with a Digital Copy code.
Ultra HD 4K Blu-ray
Studio: Lionsgate, 2022
Aspect Ratio: 2.39:1
HDR Format: Dolby Vision, HDR10
Audio Format: Dolby Atmos with TrueHD 7.1 core
Length: 107 Mins.
Director: Tom Gormican
Starring: Tom Gormican, Nicolas Cage, Pedro Pascal, Tiffany Haddish, Sharon Horgan, Paco León, Neil Patrick Harris