Picture
Sound
Extras
The Northman is a stylish, brutal, and satisfyingly well-made film about a Viking prince named Amleth whose uncle murders his father and kidnaps his mother. He swears vengeance against his uncle and after locating him years later, devises a plan to exact his revenge, even though all is not as it seems. Writer-director Robert Eggers' is also the man behind the critically acclaimed The Lighthouse, a psychological thriller that can be challenging to watch at times. This film, while a little less disturbing and more accessible to squeamish viewers, still has its fair share of gory violence and frightening imagery.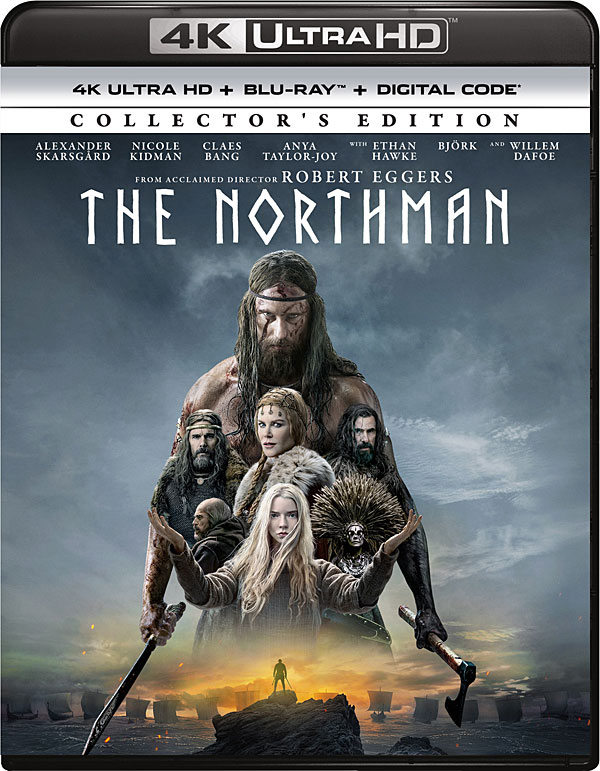 In addition to an intriguing plot, the performances are excellent as you might expect from a cast that is stacked with talent. The visual style is sometimes stark and jarring, like the content, but balances this with some truly gorgeous shots of Northern Ireland's landscapes, a substitute for the story's Icelandic setting. Much of the rest of the film is darkly lit, but exhibits good detail, avoiding black crush and having mostly muted colors that don't really pop, even with Dolby Vision high dynamic range (HDR). The 1080p version of the film included on a standard Blu-ray disc looks almost as good, except for the loss of detail, especially in those very dark scenes.
One of the opening CGI shots of Viking ships looks a little artificial, but once the camera zooms in on a young prince Amleth, the detail in his herring-bone-patterned red tunic, the softness of the fur on his hat, and his slightly freckled complexion look utterly natural. Shot on 35mm film and mastered in 4K, the gray atmospheric look of the outdoor shots perfectly captures the unforgiving conditions of Iceland's landscape. A set piece superbly showcasing the unique visual style of The Northman is the Berserker raid on a village, which is done in one single, continuous shot — a technical feat that's explained in the extras.
The sound design is a stunner from the opening scene with deep bass, a wide, enveloping soundstage, and a rousing orchestral score by Robin Carolan and Sebastian Gainsborough. At times, the soundtrack is subdued with just a few ambient sounds and dialogue, but then all of the channels spring to life as with the Berserker raid where the sounds of battle emanate from all directions along with the pounding drums and percussion.
The extras are presented in standard HD on both discs and include deleted and extended scenes plus six featurettes and audio commentary by Eggers. The standard Blu-ray version of the film includes the fantastic Dolby Atmos soundtrack and a digital code is provided for downloading or streaming.
Ultra HD Blu-Ray
Studio: Universal, 2022
Aspect Ratio: 2.00
HDR Format: Dolby Vision, HDR10
Audio Format: Dolby Atmos with TrueHD 7.1 core
Length: 137 mins.
Director: Robert Eggers
Starring: Alexander Skarsgård, Nicole Kidman, Claes Bang, Anya Taylor-Joy, Ethan Hawke, Willem Dafoe