Last week Sonos previewed a new compact wireless subwoofer designed to pair with its One and One SL powered speakers and soundbars, including the new entry-level Ray (watch for our review) and
Arc
and
Beam
soundbars, both
Sound & Vision
Top Picks.
Slated to ship in early October with a $429 price tag, the Sonos Sub Mini is described as a breeze to set up using the iOS-only Sonos app and can be placed anywhere in the room thanks to the company's long-proven Trueplay software, which measures the acoustics of the room — including reflections off walls and furniture — and automatically adjusts bass output for the best sound.
The app also provides EQ controls for bass and loudness, allowing listeners to make adjustments to achieve a smooth balance between the Sub Mini and the speaker or soundbar with which it is paired.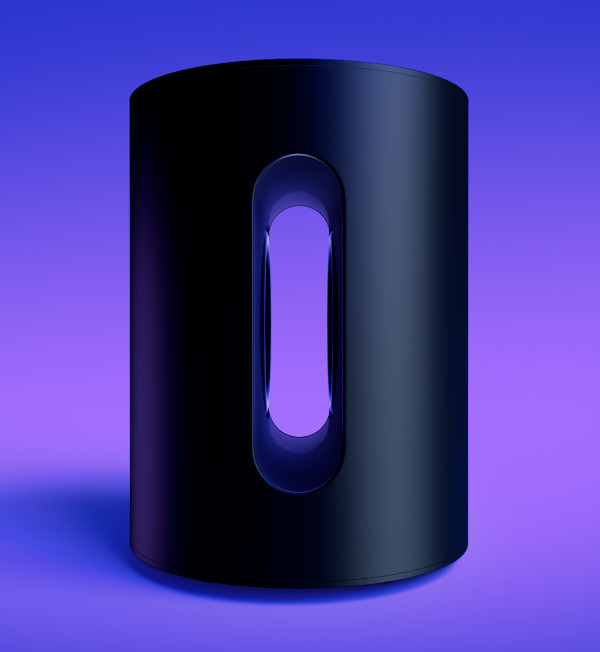 The sub is rated down to 25Hz and employs two inward-facing 6-inch woofers arranged in a "force-cancelling" arrangement that works in tandem with Sonos digital processing to enhance bass while "neutralizing" distortion and eliminating cabinet buzz or rattle, according to the company. The center "tunnel" into which the drivers fire is said to efficiently move air to maximize bass output.
Each woofer is powered by its own class-D amplifier (power is not specified) and everything is housed in a décor-friendly, cylindrical cabinet that weighs 14 pounds, measures 9 inches across, and stands a foot tall.
Compared with its $749 Sub (Gen 3), Sonos says the Sub Mini is a "more compact and affordable way" to boost the bass performance of its speakers and soundbars. A "low-latency" 5GHz Wi-Fi connection is used to connect the Sub Mini with Sonos speakers and the volume of its output automatically adjusts along with the paired speakers or soundbar.
The Sub Mini is offered in a matte black or white finish. For more information and to pre-order, visit sonos.com.