Picture
Sound
Extras
In The Matrix: Resurrections, Neo (Keanu Reeves) is a developer responsible for the most popular game trilogy, one that ponders what would happen if AI took over the world and we didn't realize it. In his everyday life, listless and disconnected, Neo is seeing a therapist called the Analyst (Neil Patrick Harris) who has been prescribing him blue pills so he can get his head right. Turns out that Neo is back in the Matrix and he doesn't know it, but he can feel it. Thankfully, people are trying to rescue him. They also stumble across something new in the Matrix, called "modals," where incidents from Neo's past are being replayed over and over, but the outcomes are slightly different each time.
This meta retread not only ruins the mythology of the original trilogy by resurrecting Neo, but it spends most of its time revisiting moments from the best film in the franchise, only they're now reworked into inferior versions. The film is saved by looking and sounding every bit as great as the originals. The Matrix Resurrections was shot at 6K and 8K resolutions, uses a 4K digital intermediate, and is mastered with Dolby Vision. HDR metadata on the disc shows an impressive MaxLL (Maximum Content Light Level) of 1044 nits and MaxFALL (Maximum Frame Average Light Level) of 648 nits. Right from the opening scene of the Trinity (Carrie-Anne Moss) redux from the first Matrix, we see brilliant specular highlights, deep blacks, and extended details in the shadows. The wide color gamut adds an array of colors to the spectrum that are not there on the included regular HD Blu-ray. These can be seen at various points, particularly during the Trinity pod scene that is awash in shades of red. The purity of the digital production is present throughout, with heightened clarity, extended depth of field, and crisp detail in faces.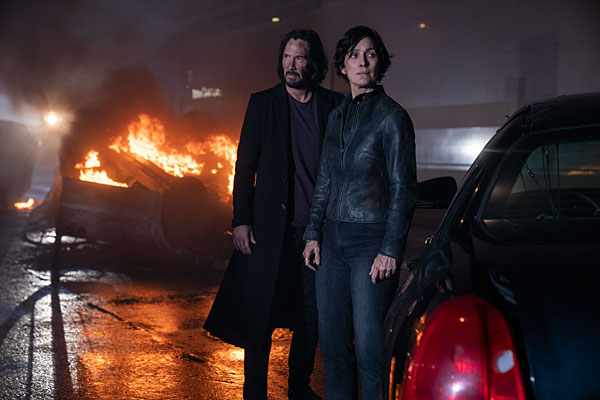 Use of the height channels in the Atmos mix is a little less aggressive than on the older films, but apart from this minor complaint we are encapsulated in a sonic bubble of sound that presents some overhead movement of various objects, solid effects pinging through the surround channels, and clean dialogue hanging above the frenzy. The low end, meanwhile, extends far down for resounding booms and bangs.
Warner provides interviews and behind-the-scenes looks to bolster this release. The best featurettes to check out would be I Still Know Kung Fu and the forty-eight-minute-long The Matrix Reactions. A Movies Anywhere digital code is included.
Ultra HD Blu-ray
Studio: Warner Bros., 2021
Aspect Ratio: 2.39:1
HDR Format: Dolby Vision, HDR10
Audio Format: Dolby Atmos with TrueHD 7.1 core
Length: 148 Mins.
Director: Lana Wachowski
Starring: Keanu Reeves, Carrie-Anne Moss, Yahya Abdul-Mateen II, Jonathan Groff, Jessica Henwick, Neil Patrick Harris, Jada Pinkett Smith