Performance
Sound
Could May 1970's Let It Be possibly be The Beatles' most underrated core studio album—and is such a thing even possible? To be sure, when Let It Be initially dropped as the free-thinking 1960s gave way to the much grittier 1970s, the album was seen as an imperfect endpoint for a once-in-a-lifetime epoch in popular music—whereas September 1969's Abbey Road, which was actually completed after the Let It Be sessions but was still released eight months ahead of that album, actually serves as a better-suited final exclamation point and nod to their fans as the final, definitive statement of the fully active Beatles era.
In the ensuing 51-plus years, Let It Be has continued to take its fair share of knocks even though it contains a score of all-time Fabs favorites like the ever-enduring patented Paul McCartney piano-ballad title track, John Lennon's ethereal pre-No. 9 fever dream "Across the Universe," the we've-still-got-it rooftop concert teaser-pleaser "I've Got a Feeling," and the rumble/shuffle sneer and cheer of "Get Back" among them.
Those of us who have a special affinity for Let It Be—while I continue to cherish my original 1970 Apple LP, it was also one of the very first CDs I ever bought back in 1987—are happy to see how this album finally gets its true due thanks to a lavish 5CD/1BD box set. It's the fourth such all-in, all-out Beatles collection following mega-expanded editions of June 1967's Sgt Pepper's Lonely Hearts Club Band, November 1968's The Beatles (a.k.a. The White Album), and September 1969's aforementioned Abbey Road, all of which contain many multidiscs of well-worthy bonus, alternate, and/or unreleased tracks—and, of course, the respective Holy Grail Dolby Atmos mixes of all three of those core albums on Blu-ray to boot.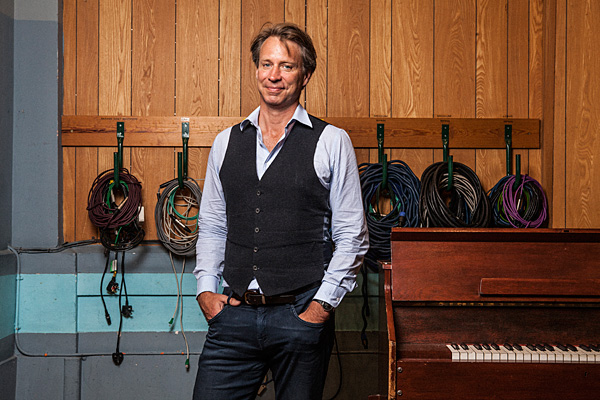 Photo: Alex Lake
Never let it be said Apple Corps ever skimp on how they do box sets, and the Super Deluxe Edition of Let It Be is no exception. Five CDs comprise 57 songs total, 27 of them heretofore officially unreleased. Disc 1 holds the remastered version of the core album's 12 tracks; Discs 2 and 3—subtitled Apple Sessions and Rehearsals and Apple Jams, respectively—serve up a combo of 39 songs and dialogue offerings between them; Disc 4 boasts original engineer Glyn Johns' never fully approved but still intriguing Get Back stereo LP mixes; and Disc 5 encompasses just four songs in total, consisting of two additional Johns 1970 mixes and a pair of 2021 mixes on a disc more correctly designated as an EP. The sixth disc is the Blu-ray containing 24-bit/48kHz Dolby Atmos, 24/96 DTS-HD Master Audio 5.1, and 24/96 PCM Stereo mixes of the main album courtesy The Beatles' right-hand surround sound man Giles Martin—replete with an able assist from Sam Okell, a golden-eared mixing maestro in his own right. The BD houses no video content and no Easter Eggs to speak of, possibly because of the breadth of what's included in the Peter Jackson-curated Get Back docuseries on Disney+. (More on the Let It Be surround and Atmos mixes to come later in this broadcast, er, post.)
The black-hued Be box itself measures 10 inches wide x 12 inches high—which, it must be pointed out, is actually a bit smaller than the comparable super deluxe White Album box set by ¼ inch in width, and ½ inch in height. (At least the Sgt. Pepper and Abbey Road super deluxe boxes are both full-album size.) It continues to mystify me why box set packaging designers don't follow a uniform size and shape footprint for serial historic issuances from the same artist at a bare minimum—especially since that decision, or lack thereof, continues to challenge those of us who have to shelve literally hundreds of box sets that don't align dimensionally. Plus, the Be box opens to the left, meaning the spinal nomenclature is on the right side, and therefore you have to flip the whole bloody thing around backwards in order to have it face toward you for ID purposes when shelved. These are in no way minor issues when it comes to us collectors willing to shell out big bucks for these things, ya know . . .
The four die-cut windows for showcasing the faces of each Beatles bandmember through the box cover itself is a nice visual touch, though that does make it difficult to have a big enough contiguous flat-surface space left over for anyone who prefers affixing the included hype sticker on said front cover (like I do). Meanwhile, the 100-page hardbound book (whose cover also aligns the bandmembers' faces with the die-cut cover windows) contains a wealth of detailed background notes, recording minutiae, track-by-track analysis, and other related cool Fabs data and visuals—just as every Beatles super-collection deserves, and always gets. Likewise, re the separate cardboard foldout sleeve that houses the actual discs in terms of the cover faces showing through the die-cuts. Inside it, each disc is in an individual slot stacked two per page and numbered vertically across, and they all fit "just right" in their half-slots—as in, they're not too snug, and not too loose.
But now, to the music, for there is plenty of it to be had, Jojo! Two-channel and mono lovers alike will find the scope of the mixes on all five CDs to be much to their liking. Disc 1, a remaster of the original album, is, according to the official documentation, "reproduced for disc" to preserve the intent—whether you love/respect it or not—of original producer Phil Spector. Ok, fair enough.
More intriguing are the actual songs-in-progress amidst the 39 tracks tallied between Discs 2 and 3, which are pretty much how you'd expect songs to be performed as warmup run-throughs and/or at soundchecks—the latter way (beyond the rooftop sessioning, of course) if The Beatles had still been a working touring collective at that point. For example, "Let It Be (Take 10)," on Disc 2, is relatively seasoned with the almost-finishing touches you already well know, but it's not quite close enough to the sign-off-approved level of perfection. However, the very next track on Disc 2, "I've Got a Feeling (Take 10)," is much closer to fine, though it too is not quite at the finish line (yet).
And then there's "The Long and Winding Road (Take 19)" toward the end of Disc 2, a performance sans the orchestral elements and one that's much, much better to these ears, including simply wonderful moments of McCartneyesque piano accents and a sweet, sweet electric piano break from Billy Preston with Paul scatting overtop it. Honestly, this take is quite preferable to the final, uber-treacly version on the core album, imo.
Disc 3 includes some Beatles tracks that weren't—namely, George Harrison's embryonic day-shift take on "All Things Must Pass (Rehearsal)" and John Lennon's brief off-the-cuff "Gimme Some Truth (Rehearsal)," not to mention early versions of Abbey Road cuts like the sultry, stop/start-tempo'ed "She Came in Through the Bathroom Window (Rehearsal)" and the tongue-twisting "Polythene Pam (Rehearsal)."
Much has been made of engineer Glyn Johns' ultimately futile attempts at landing his own mix of the album—still titled Get Back at that juncture in 1969—and you can make your own decisions about its merits when you cue up Disc 4 (as well as read his accompanying comments in the hardback). The 4-minute version of "Dig It" is even more playful than the abbreviated version that appears on the final Be album, while "Let It Be" showcases an echo on McCartney's lead vocal and different prominence of Preston's Hammond organ that both lend an even more cathedral-like feel to the track, which I really quite enjoy. I also love the overall character and feel of "Don't Let Me Down (Single Version / 2021 Mix)" on the Disc 5 EP, which continues to make me wonder why any version of this song never made the final cut for the core album.
All that said, it's truly fascinating to hear the development of almost three full hours' worth of such rich material on these CDs, even for someone like yours truly who has many multiple hours of, shall we say, unauthorized recordings of a good bit of this content, albeit in lesser quality (and often of different takes entirely, for that matter). All the bum notes, missed riffs, warbled and/or muffed lead vocals and off-kilter harmonies—a.k.a. "The Beatles in prime shminking mode"—are worthwhile to study and observe. These are true audio talismans of the most important recording unit of the 20th century—so any picked nits ultimately be damned, for these are all audio artifacts of the highest order.
And now, let's dive into the surround! For those of you still without Atmos capabilities, you'll find many rich details to be found in the DTS-HD Master Audio 5.1 offering. For example, the opening track, the Paul and John traveling roadshow adventure known as "Two of Us," brims with pure excitement in terms of vocal clarity—you can easily discern who's who in Paul and John's consistent, intuitive vocal blending all throughout the song—as well as the clear acoustic guitar work in the rear channels (McCartney's Martin D-28, Lennon's Gibson J-160E). This is what you get when you have top-shelf surround vets like Giles Martin and Sam Okell at the helm. Lennon's constant, interstitial remarks after most tracks come to an end, as well as the resultant laughter and tittering from the observers on hand for rooftop tracks like "Get Back," provide a nice sense of space and general geniality for proceedings that are often misinterpreted as being perpetually strained.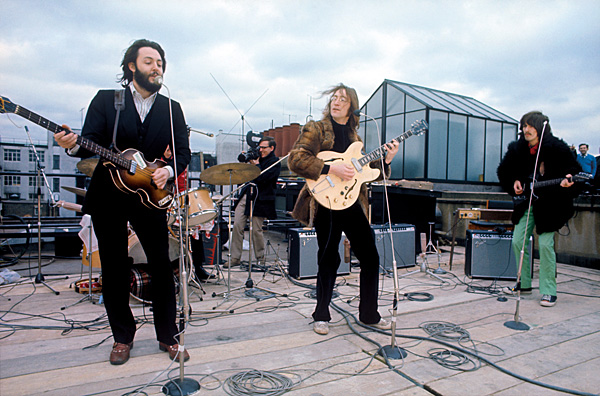 Photo: Ethan A. Russell
The only things that don't float my aural boat here in 5.1 are the all-channel orchestral elements apparent in "Across the Universe," "Let It Be," and most especially "The Long and Winding Road," for which there really is no middle ground—you either love it or hate it, and I'm most definitely in the latter camp. I understand trying to be mindful/respectful of the original album, of course, but even Paul essentially did away with these elements in his November 2003 Let It Be . . . Naked semi-reimagining (which would have been nice to have been included on the time-abbreviated Disc 5 EP, by the way).
Thus, I'm happy to report all the orchestral seasoning very much carries lesser impact and limited presence in the Dolby Atmos mix. (Merci, Messr. Martin!) Speaking of said Atmos mix, I think this version of the album should be immediately renamed Let It Be Higher, for this is where the height capabilities of the burgeoning Atmos format are utilized in full. As clear and present as all the vocal elements are in the 5.1 mix, they literally soar to the heavens in Atmos at just about every turn. The more you hear how Giles Martin takes advantage of all available soundfields, the more you get it, Loretta.
And no, I haven't forgotten about the always vital contributions of George Harrison and Ringo Starr. Harrison's two Be tracks—the self-aware greed indictment "I Me Mine" and his touching ode to a canine friend in "For You Blue"—are dynamic-range standouts. The hard-gallop groove on the choruses to "Me," and Lennon's rear-channel lap-steel guitar soloing, complete with George's joyously verbalized "Go Johnny go!" encouragement on "Blue," remind us all that his breakout moment as a top-of-the-marquee artist and songwriter, November 1970's All Things Must Pass, was literally around the corner.
And Ringo, dear Ringo, proves his drumming prowess yet again as each song maintains a distinct, unique bed not repeated with any other track. In fact, you should feel free to take a separate listening pass to marvel at the acuity of the man's cymbal and snare work alone. Dig, for example, how Ringo holds back on the potentially too-dramatic accent moments in "Get Back," in places where other drummers would go for insistent rat-a-tat thunder or look-at-me flourishes without a second thought. Not Ringo, baby. He puts on a behind-the-kit masterclass with every beat.
My only sticking point about the BD has to do with the onscreen menu. The various, rotating in-motion B&W Kodak Safety Film filmstrips are interesting touches, to be sure, but there's one particular five-frame strip that consistently rolls in from right to left to cover up almost all of the word "Road" in the title listing for "The Long and Winding Road," leaving barely half the "R" visible in the process. I stopped counting around 40 times of this occurring as the entire album played on. This design decision is truly baffling, considering all the other recurrent filmstrips flatten out before covering any other visible text on the menu. There's simply no reason for this to happen, full stop.
Regardless, I think the overall hard-wrought triumph of Let It Be is best characterized by the following round-robin exchange starting at the midpoint of the unfortunately named "I Don't Know Why I'm Moaning (Speech / Mono)" on Disc 2. Harrison observes quite sagely at 35 seconds into this 80-seconds-long track, "The things that worked out [the] best ever for us haven't really been planned any more than this. You just go into something, and it does it itself, you know? Whatever it's going to be, it becomes that." Lennon is heard next, sharing another duly telling comment as he discusses the nuances of how things change during the collaborative process, irrespective of what his brother in arms McCartney may want for any given song of his the band works on: "It's a compromise, so it's actually turned into our number more than his number—that's all." Macca agrees, if somewhat reluctantly: "And that's alright, yeah." In a nutshell, this sequence—complete with whirring film camera noises behind it—encapsulates the secret sauce of The Beatles' M.O. from Day 1. When a Beatles song works, it works, and when someone pushes back or feels compromised, you can tell instantly who won that battle round, and who, well, let it be.
Let It Be is probably the most "compromised" album The Beatles ever made during their lifespan, and it shows here and there—though certainly not everywhere. Even so, "compromised" Beatles music is still light years ahead of the output of most of their contemporaries and just about anyone else who's ever followed their recording blueprint.
Now that the latter-era Fabs catalog has been fully Atmos-ified, here's hoping whatever comes next from Apple Corps central gets the same multidisc respect and full-on Atmos treatment, even if the original masters from 1963-66 aren't as multitrack-stacked as the latter masters are. At the very least, December 1965's Rubber Soul and August 1966's Revolver deserve full Atmos treatment. If you still have doubts, see the DVD-Audio version of November 2006's LOVE for examples of how pre-Pepper Beatles can be done properly in 5.1. And if you've ever experienced the LOVE show at The Mirage in Las Vegas (something I've personally done on six separate occasions, and counting), you'll have a fairly good taste of how mega-multichannel mixing can put any and all Beatles music into the stratosphere.
So, does this Let It Be super deluxe edition pass the audition? Well, if I can speak just a few more words of wisdom here, I would posit that though it's not perfect, this Let It Be uber-package provides more than its share of truly magical moments, both via Atmos and otherwise. I have no qualms this Let It Be edition will imprint memories upon its listeners longer than the aural road that stretches out of here, in turn taking us all right where we've once and forever belonged.
5CD/1BD
Label: Apple/Capitol/UMe
Audio Format: 24-bit/48kHz Dolby Atmos; 24-bit/96kHz DTS-HD Master Audio 5.1; 24-bit/96Hz PCM Stereo
Number of Tracks: 69 (57 on 5 CDs, 12 on 1BD)
Length: 3:23:51 (2:44:40 on 5 CDs; 35:11 on 1BD)
Producers: Jeff Jones (executive producer, super deluxe edition); Jonathan Clyde, Guy Hayden (project producers); The Beatles, George Martin (original sessions on Discs 2 and 3, first half of Disc 5); Glyn Johns (Disc 4 Get Back album mix); Phil Spector (original album); Giles Martin (2021 mixes, 5.1 and Atmos mixes)
Engineers: Glyn Johns (original album and additional sessions); Geoff Emerick, Alan Parsons, Ken Scott, 16 others (original album and various super deluxe edition sessions); Sam Okell (2021 mixes); Emily Lazar (5.1 and Atmos mastering); Miles Showell (stereo and mono mastering)