Picture
Sound
Extras
Batman movies keep evolving, changing and—surprisingly—getting better with each reboot, in one way or another. Director Tim Burton's Batman relied heavily upon its extreme art deco design to sweep away the goofiness of the Adam West TV incarnation, before that film series quickly descended into its own absurdity. Christopher Nolan's Dark Knight Trilogy was the cure, finding ways to make believable the exploits of a vigilante dressed as a flying mouse fighting a clown and a scarecrow, owing in large part to inspired casting choices. Although he never headlined his own solo movie, Ben Affleck's Caped Crusader was a highpoint of his recent DC Extended Universe team outings, but now Robert Pattinson has donned the cowl and armor for a more expressive, heart-on-his-cape take on the hometown hero. He's a deeply damaged man devoting his life and routinely risking it on a lonely quest to protect his beloved Gotham City, and what a city it is. Gotham is practically its own character, a fully realized world teeming with unabashed criminals and a citizenry in dire need of saving.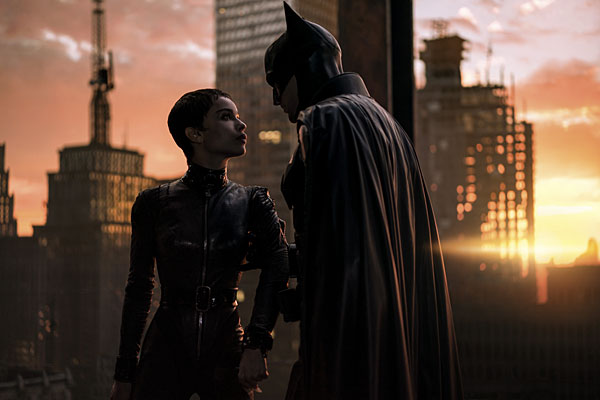 Director/co-writer Matt Reeves pays homage to a lot of other movies here, perhaps none more so than David Fincher's Se7en. Similar to his Oscar-winning approach to Dune, director of photography Greig Fraser shot the The Batman digitally and transferred it to film, before switching back to digital to create the final master. The original capture was in pristine 4K or above, and in this case a 35mm interpositive was created, accentuating the golden/orange hues and adding a layer of grain to further evoke the mood of crime thrillers past and to better immerse us in the carefully crafted environment. That grain structure is definitely visible, but subtly so, imparting subconscious grit.
Custom anamorphic lenses yield striking sharpness in the center of the 2.39:1 frame, falling off at the edges, to really draw your eye where they want you to look. Occasional text overlays or social media comments on the sides, meanwhile, remain sufficiently clear. At times the style is almost Hitchcockian in the way it uses the point of view of disturbed individuals and manipulates focus in the foreground and background. Sunlight is limited, with much of the movie taking place at night and indoors, and even daytime exteriors are often rainy. Thankfully, the shadows are full of appreciable detail, while the darkness is pierced by headlights, streetlights, flashlights, and fire—all dramatically bright in Dolby Vision.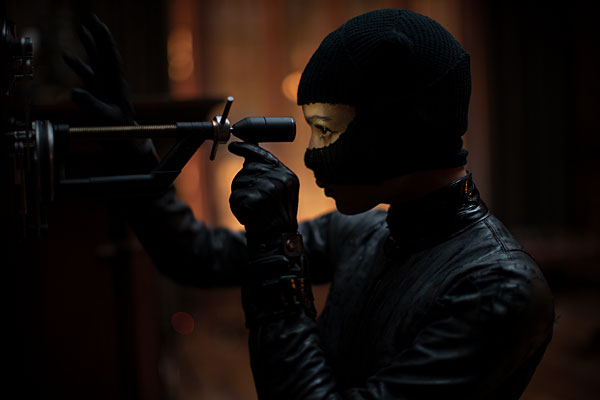 The Dolby Atmos mix is enveloping from the opening moments and you can almost feel the Riddler's conspicuous breathing on the back of your neck as he studies his prey. Later, when Selina radios Batman, her voice is dispersed around the room instead of being localized in one spot (Bat's radio)—an interesting but weird surround effect. Frequent rainfall keeps your speakers active, creating a sense of envelopment during outside scenes, though rain is also heard indoors as a pattering from above. The soundtrack really comes alive through the thumping, all-encompassing dance beats in a packed nightclub and beefy rumble of the rocket-assisted Batmobile, which is enough to make bad guys scurry, not to mention the mighty explosions that rock the city. This is an aggressive track that, unlike Batman, never pulls its punches.
There are no extras on either the 4K or HD movie discs, but a separate Blu-ray bonus platter contains two deleted scenes, the longer famously featuring the Joker, a.k.a. "Unseen Arkham Prisoner," both with optional director commentary (but none for the movie itself…?) There are also nine featurettes, which dissect the production in topic-specific fashion (start with my favorite, "Anatomy of the Car Chase"), and an almost hour-long documentary, Vengeance in the Making, is particularly illuminating on the scripting process. The scannable Movies Anywhere code unlocks a 4K digital copy along with all of the supplements and an additional behind-the-scenes clip.
The Batman on 4K is an easy recommendation, an extremely enjoyable entry in his long and varied canon, and a demo-worthy disc to boot.
Ultra HD Blu-ray
Studio: Warner, 2022
Aspect Ratio: 2.39:1
HDR Format: Dolby Vision, HDR10
Audio Format: Dolby Atmos with TrueHD 7.1 core
Length: 176 mins.
Director: Matt Reeves
Starring: Robert Pattinson, Zoë Kravitz, Jeffrey Wright, Paul Dano, Colin Farrell, Andy Serkis