There are few names as synonymous with turntables as Technics, a brand that has consistently pushed the boundaries of what's possible with vinyl playback. I recently had the opportunity to attend a presentation by Bill Voss, Business Development Manager at Technics, where he unveiled the latest addition to the Grand Class series—the SL-1200GR2 turntable.
What's New: Features & Improvements
The SL-1200GR2 comes as an upgrade to the already popular SL-1200GR and incorporates several technological enhancements aimed at refining the vinyl listening experience. Built upon the iconic SL-1200 platform, the new model retains fan-favorite elements like the strobe light, strobe etchings, variable pitch control, quick start and stop functions, and easy VTA adjustments.
However, the attention-grabbing updates are the advancements Technics has made in the turntable's motor control. Since their re-entry into turntable manufacturing in 2016 it has been using coreless direct drive motors to eliminate the dreaded "cogging" effect, which can taint the audio signal. With the SL-1200GR2, this technology has been refined even further; the new turntable features a Delta Sigma Drive motor and a digital power supply—improvements trickled down from Technics' flagship SL-1000 turntable—that reduce micro-vibrations resulting in a purer sound quality.
Check out the demo which was recorded with an Audio-Technica AT-8022 stereo microphone:
During the presentation, the SL-1200GR2 was part of a $15,000 Grand Class Mark II system, including the SU-G700M2 stereo integrated amp, SL-G700M2 SACD/CD player, and SB-G90M2 speakers. All the electronic gear is available in black or silver, and the turntable even has subtle style changes, such as a black tonearm for the new model.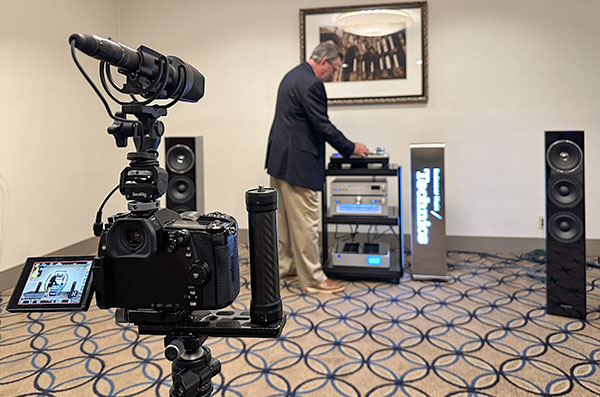 The Audio-Technica AT-8022 and Panasonic Lumix G9 camera used to capture the demo.
For the sound test, we listened to numerous cuts including Technics' in-house record—the Technics Audio Inspection, originally created in 1980 on Technics gear. The experience was immersive and eye-opening. I had nothing to compare it to, but the turntable delivered impressive sonics with all the qualities you'd look for in an audiophile system. Clear separation of instruments, depth and width of soundstage, crisp and detailed sound, extended tight bass, it's all there.
Advanced Customizability and Setup

The SL-1200GR2 offers robust customization options. Torque and braking adjustments can be made through the thumb hole using a small screwdriver, with a blinking light to confirm your settings. The platter and plinth are designed with two layers and heavy rubber to avoid any ringing. Additionally, there's a two-layer molded rubber platter and adjustable metal footings. It's a truly well-thought-out piece of engineering and an iconic design.
As someone deeply entrenched in the world of audio—not to mention a fan of hip-hop music and turntablism in particular—I found the SL-1200GR2 to be a compelling step forward in turntable technology. Whether you're an audiophile or a casual listener, the beautiful simplicity of this robust design deserves respect. Plus, it serves as a reminder that even in an era dominated by digital media, there's still room for innovation in the analog domain.
Retail Details
The SL-1200GR2 is set to retail for $2,199 in the U.S. and comes in both silver and black. It also comes bundled with a cartridge spacer, allowing users a wider variety of cartridge options right out of the box—a thoughtful addition by Technics. Find out more at Technics.com.