Cables are the least sexy parts of a home entertainment system, but without them your components may as well be talking to themselves. Enter the new line of SoundPath Ultra HDMI Cables from speaker manufacturer SVS.
The certified 8K high-speed HDMI 2.1a cables can transfer signals up to 48Gbps at 60Hz and are ARC/eARC compliant. Picture quality is delivered at resolutions up to 10K, and the 2.1a specification enables such future-proof features as 8K/60Hz and 4K/120Hz for smooth fast-action detail.
By supporting a bandwidth of 48Gbps, the SoundPath cables can transfer uncompressed 8K video with dynamic high dynamic range (HDR) support, ensuring that video frames are displayed with their optimal values for depth, detail, brightness, contrast, and wider color gamuts. Dolby Atmos and DTS:X are among the surround sound formats supported, and the cables are backward compatible, so they can be connected to any older devices with HDMI ports.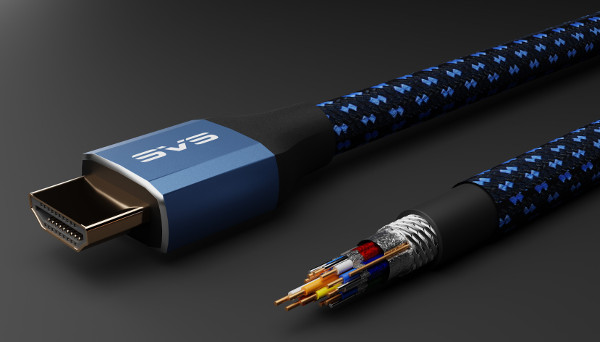 In terms of video games and fast-action movies, the cables support Variable Refresh Rate (VRR) to reduce or eliminate lag, stutter, and frame tearing for more fluid images. Support for Quick Frame Transport (QFT) reduces latency in real-time for interactive virtual reality applications.
The cables are made from premium materials and built for longevity. Five pairs of pure-copper conductors are said to maintain lossless signal transfer, while 24K gold-plated connectors provide optimal conductivity at the contact points. Aluminum alloy braided Mylar shielding in an HDPE (High-Density Polyethylene) jacket helps keep the signal clear of interference. An aircraft-grade aluminum shell adds durability along with a densely braided easy-grip cotton sheath that protects against kinking.
The line of HDMI cables represents the latest expansion in the SoundPath line of accessories from Ohio-based SVS. This spring the company introduced optical digital and balanced XLR audio cables.
SVS SoundPath Ultra HDMI Cables are available in lengths of 1 meter, $30; 2 meters, $40; and 3 meters, $50. The cables are covered by a 5-year unconditional warranty.
For more information, visit svsound.com.