Ambitious, original, yet largely underappreciated, the first Star Trek film stands alone. Rushed into theaters in December 1979 with unfinished special effects and a studio-mandated runtime of only 130 minutes, it was not the version director Robert Wise intended. In 2001, a talented team under the leadership of producer David C. Fein and including postproduction supervisor Michael Matessino and visual effects supervisor Daren Dochterman assembled the "Director's Edition" DVD with enhanced visuals and reinstated, reorganized, and extended scenes to better represent Wise's vision. Two decades later, they have returned to complete the project at 4K resolution with high dynamic range (HDR) and a new Dolby Atmos sound mix, in addition to further honing the story through many subtle yet engaging creative choices. With the release of the new Director's Edition on Ultra HD Blu-ray Disc, we sat down with Fein and crew to give S&V readers an exclusive glimpse of what it took to boldly go where no one has gone before.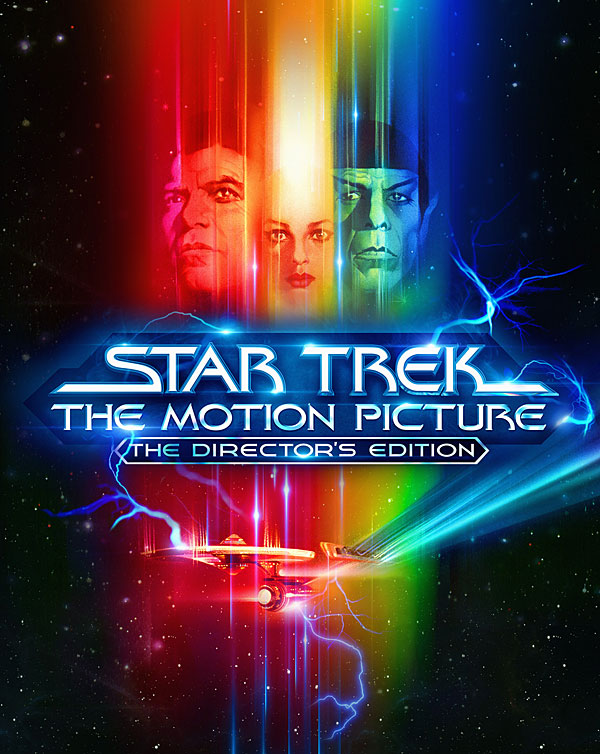 S&V: What is it about The Motion Picture that has inspired so much enthusiasm all these years later?
David C. Fein: Star Trek is always there to give great hope for the future. And plenty of fans who first saw the film in theaters in 1979, and then on ABC and home video, loved and appreciated the film's potential.
Michael Matessino: It remains the only one of the Star Trek films that truly feels epic, and that is entirely about a future that involves interstellar travel, what that technology would have to be like, and how humans would have to evolve in their relationship with that technology while still holding on to what it means to be human.
Daren Dochterman: The buildup for fans who had waited patiently for the film for ten years since the series ended was huge. At 12 years old, I loved it and saw it over and over because it was the first time Star Trek actually felt "real" to me, as if the TV show was just a rendition of what had actually happened.
S&V: And what is it about this movie that still excites you?
Fein: The joy I feel knowing it's now working better than ever for audiences. I love disappearing into a film, and I'm excited that people are truly having that experience.
Dochterman: It is still the only "motion picture" in the series. The other movies are like very well-done episodes of the TV show, but this one actually broke the bonds of the small screen and delivered a huge experience in the theater.
Matessino: The movie is more relevant today because it's all about people constantly interfacing with technology and staring at screens, yet yearning for true connection with each other. That was a crazy notion in the '60s that was still basically unusual in the '70s, but now we're all living it.
S&V: You all worked together on the now-famous 2001 DVD of The Director's Edition: How did that prepare you for the 4K in 2022?
Matessino: The whole project in 2001 was the preparation!
Fein: The DVD was a successful proof of concept, but more like yet another workprint to the finished 2022 version. The structure of the edit and the smoothing of the story were worked out during that DVD production.
Dochterman: Mr. Wise leading the way and helping us complete what became the blueprint for the final version. It was such a great thing to see him open up about this project that he had remained silent on for nearly 20 years.
Matessino: The expectation from the outset was that we would return to it and complete it. It took longer than any of us thought, but in the end we were even more able to achieve Robert Wise's true vision for the film. It was like crossing a stream but having the benefit of knowing where the rocks were this time.
S&V: What was the genesis of this project?
Fein: Our goal was always to finish the movie on film. In 2001, we got it finished for DVD, and Bob was thrilled that his Star Trek legacy would now be The Director's Edition, but he asked me to promise to never give up and get the film finished at the highest possible quality. Three years ago, after a number of stalled attempts, I was able to bring the project back to the studio and thanks to Paramount Home Entertainment and the financial support of Paramount+, the project was greenlit. This time the goal was a new 4K digital negative equivalent with a new theatrical sound mix.
S&V: How long did it take from start to finish?
Fein: From green light to delivery was a six-month schedule.
S&V: Wow, that's a fast turnaround for a project of this magnitude. What was the biggest challenge?
Fein: We were able to color-grade the film, to bring the images alive, essentially for the first time. Another challenge was developing a new system that enabled every frame of the original negative to be examined and make subtle and necessary adjustments: shaky frames, distracting grain, unfinished effects, missing color elements and even necessary framing tweaks.
Dochterman: Our crew was spread around the world, and all the work was being done remotely, so we couldn't always directly give notes while an artist was actively working. Revisions took time that was very precious.
Matessino: The challenge was also the greatest blessing, which was dealing with technology that has gotten very sophisticated. It meant we had great potential for both picture and sound to achieve tremendous quality, but that quality is merciless when it comes to revealing flaws.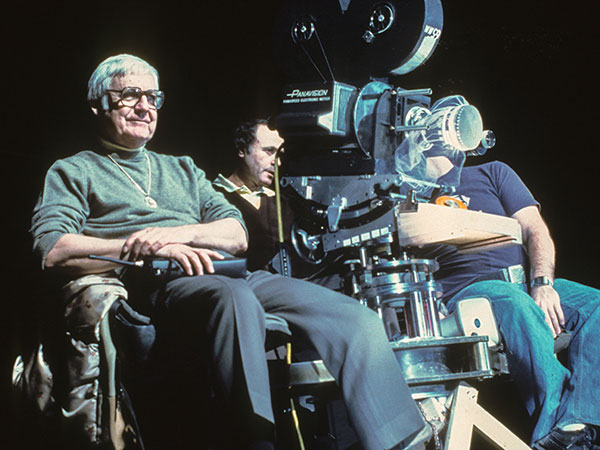 Director Robert Wise, shown here on the set with cinematographer Richard Kline.
S&V: We lost the great Robert Wise in 2005: How has the process been different in his absence?
Dochterman: Bob Wise is still the key creative force in our ears for this. We had many long discussions going over the 2001 version with him, including things that we wanted to do but couldn't due to time and money. We're happy to be able to do them now.
Matessino: He remains my mentor and role model. When we were mixing, I had a picture of Bob and (composer) Jerry Goldsmith on the screen to make sure they were with us and I'd look at them and make sure they'd be happy with what we were doing. So this experience was different on the surface, but in a way, I feel like we never really stopped working on it.
Fein: When the DVD version was created, I met the amazing John Lowry of Lowry Digital. He may have been the first person to discover that film emulsion can be deeply scanned, revealing additional images that you can't see with the naked eye. I would talk to Bob about discoveries like this, and improvements in multichannel sound, and we'd speculate about the future. He told me to focus on how all of these advances would help reach the goal of telling the story through pure immersion in sound and picture using the best tools possible. So this time, Lowry's discovery can be properly reproduced, and Dolby Atmos audio was also a huge part of making Star Trek: The Motion Picture—The Director's Edition the best "2022 film" possible.