So, how's the holiday shopping going? Have you nailed it (bravo, if so!), or are you still searching for the perfect gift for that special someone? If, like me, you fall into the latter category, I have a few mostly audio-oriented gift suggestions worth considering. As a follow-up to last month's
Jump Start Your Holiday Shopping
, I laid my hands and ears on a handful of gift-worthy products that can be had for $250 or less — way less in the case of 1More's $60 wireless earbuds. Several of the items featured are on sale as of this writing but that could change at any time so be sure to check current pricing and pay attention to return policies. To expand your gift-giving options, I also offer up a few of my favorite Top Picks — all budget products we've reviewed at
Sound & Vision
throughout the year.
Wireless 'Phones that Deliver a Big Bang for Your Buck
Wireless headphones and earbuds can be a great gift for the right person but the sheer number of options is enough to make your head spin. The most important considerations, of course, are sound quality and comfort, and then it becomes a question of whether you (or your giftee) needs noise cancellation or plans to use the 'buds while exercising or engaging in outdoor activities like working in the yard. I was hoping to recommend a third set of wireless earbuds but dropped them from consideration after hours of testing. They sounded great but were so bulky I had to continually adjust them to maintain a good fit/seal, despite trying three different eartips. Making matters worse, the 'buds kept falling out of my ears while I was raking leaves and put an uncomfortable strain on my ears after a couple hours. I bring up this experience in the spirit of the sharing some of the ergonomic considerations to keep in mind while shopping for earbuds.
1More ComfoBuds 2 Wireless Earbuds ($60)
On the budget end of the earbud spectrum, the ComfoBuds 2 are hard to beat and (as of this writing) you can pick 'em up for $51, making a sweet deal even sweeter. They're comfortable, easy to operate, have a long battery life, and sound shockingly good for the money. Don't expect a fancy app or lavish controls. The 1More Music app is pretty bare bones, although it does have a low-latency Gaming mode, an equalizer with 12 presets, and a Soothing Sounds mode for playing short audio clips with names like Summer Rain and Forest.
You use your phone to control volume and the 'buds turn on or off automatically when they're removed from (or placed back into) their charging case. You can pause or resume playback and answer/end calls with a double tap on the stem of either earbud or summon your voice assistant with three taps. That's it. The ComfoBuds 2 are rated to provide up to 6 hours on a single charge but I got closer to 7 hours during a marathon listening session while working at my desk and experienced no discomfort whatsoever. And when I used them during a workout, they stayed put. 1More says an additional 18 hours of playtime is possible with the charging case. Click here for more information.
Cleer Audio Enduro ANC Noise Canceling Wireless Headphones ($150)
I was impressed with Cleer's original Enduro 100 wireless headphones when I reviewed them a couple years ago. I was especially intrigued by the impossibly long 100-hour battery life so I was eager to check out the Enduro ANC, which brings noise canceling into the mix while maintaining a still-remarkable 60-hour battery life. I brought the ANCs on a 6-hour flight to Seattle to see if they could win the battle over the roar of jet engines and was not disappointed.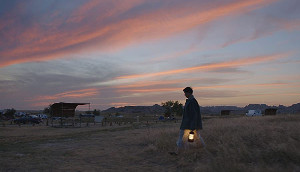 Though the noise cancellation didn't completely eradicate the powerful drone, it pushed it far enough into the background so I could relax while listening to music or watching Nomadland, the 2020 Best Motion Picture of the Year. Even though the soundtrack is mostly subdued and at times stark, dialogue and aural subtleties like the wind blowing gently across the prairie sounded clean and natural. And scenes featuring music—including fireside banjo picking and the acoustic guitar-backed "in our vans again" sing-along—came across with clarity and lifelike ambience.
The headphones are super easy to control using up and down volume buttons above and below a raised tab for starting and stopping the music or skipping tracks. Just below this cluster is a button for toggling between noise-cancellation and ambient on/off modes. The Cleer+ companion app is basic: You can turn noise canceling on or off, select one of 10 EQ presets (two of which can be customized), and skip forward and back. I've been using them on and off for several days and the battery level is still above 50%. When the battery is finally exhausted, Cleer says a 10-minute charge will get you 2 hours of playback. At $150 (on sale for $120 as of this writing), these headphones are a great value. They come in navy blue (shown) or light gray. Click here for more information.
Wireless Speakers for $250 or Less
Finding a good set of wireless speakers can be just as frustrating as tracking down a decent set of headphones due to the mind-boggling array of models and brands on the market. Here are a couple stereo speaker systems to consider — one Wi-Fi based with multiroom capabilities, the other strictly Bluetooth and both decidedly not smart speakers with built-in virtual assistants and their requisite microphones.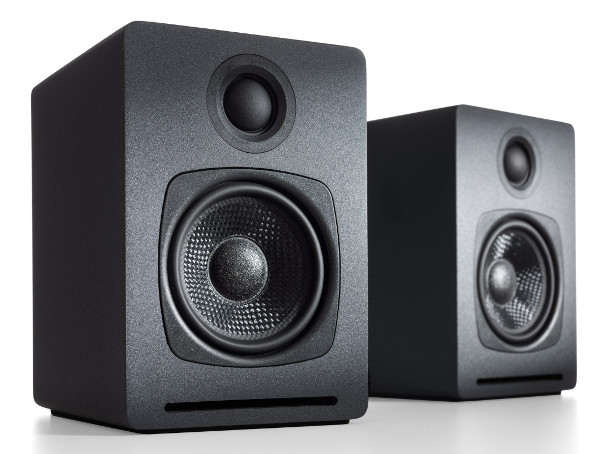 Audioengine A1-MR Multiroom-Capable Wireless Speakers ($229/pair)
At all of 6 inches tall, the A1-MR is super compact but don't be fooled by its size. A couple of these little guys can fill a medium-sized room with surprisingly big sound, making them a great gift for anyone with limited space and a desire for good sound (city dwellers and college students come to mind). The A1-MR is a Wi-Fi-based follow-up to last year's Bluetooth-only A1, which is a lower-priced descendant of the excellent A2+, a Sound & Vision Top Pick in 2019. The system delivers warm, rich sound with more bass than you would think is possible from such tiny enclosures and packs enough power to play plenty loud.
Wireless streaming is supported through Apple's AirPlay platform and the iOS/Android-compatible Audioengine Control app, which facilitates synchronized playback through multiple speakers around the house and provides access to a number of music services, including Tidal, Amazon Music, Qobuz, and Spotify. The app also provides an alarm clock, sleep timer, and presets for easy access to favorite content, though it doesn't provide an equalizer or tone controls (which would be nice). The only physical connections are an analog input and a subwoofer output to keep the bass hounds happy. Click here for more information.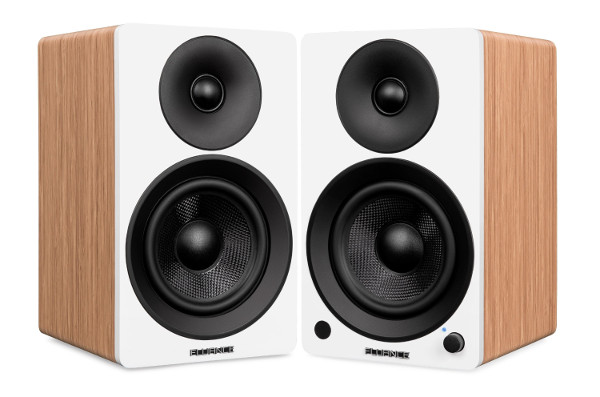 Fluance Ai41 Wireless Bluetooth Speaker System ($250)
The Ai41 is an update of the Top Value Ai40 powered bookshelf speaker system from Fluance, one of the many excellent speaker companies hailing from Canada. At 11 inches tall, the Ai41 boasts a 5-inch woofer and 1-inch silk-dome tweeter in a cabinet four times the size of Audioengine's petite A1-MR, and with that comes a brighter, more open and spacious sound with substantially deeper bass. (By comparison, the A1-MR has a 2.75-inch woofer and 0.75-inch silk-dome tweeter.) But The Ai41 is an entirely different animal, offering only Bluetooth streaming with no multiroom capability, though it can be paired with Apple TV or an Amazon Echo or Google Home speaker for Wi-Fi casting.
Fluance does, however, provide an excellent remote control, which is a big plus for folks like me who prefer a dedicated controller over a slippery smartphone you have to continually wake up to use. The compact wand covers all the essentials with buttons for power, play/pause, volume, track up/down, mute, source select, and a feature missing from many wireless speakers: dedicated bass and treble controls. There's even button to dim or turn off the front-panel LED. Addressing concerns over the limited connection options of its predecessor, the Ai41 provides analog RCA and optical digital inputs plus a subwoofer output with an integral 80Hz low-pass crossover. Four finish options are available: black ash, black walnut, white/walnut, or white/bamboo (shown). Click here for more information. Watch for my full report on the Ai41s.