PRICE $279
AT A GLANCE

Plus

Fantastic vocal clarity
Small footprint
Forward-firing design for easy placement

Minus

Trueplay tuning app only for iOS
Basic surround processing
Limited connectivity
THE VERDICT

The Ray is an affordable entry into the Sonos ecosystem—one that excels in meeting the most basic requirement for any soundbar: dialogue clarity.
Sonos always seems to be one step ahead of the competition, coming out with new products before people even realize they need them. That playbook hasn't changed with Sonos Ray, a new budget-friendly soundbar small enough to fit on a shelf or under almost any TV. While it's a simple design that lacks a ton of features and input options, its sound quality and price ($279) more than make up for those omissions.
The Ray is offered in black or white and has three capacitive touch controls on top for adjusting volume, starting or pausing playback, and skipping tracks. Its speakers (two tweeters and two full-range drivers) are powered by Class-D amplifiers and face forward to, as Sonos puts it, "minimize interference from nearby surfaces," and two front-firing ports bolster low-end performance, while high-frequency waveguides enhance stereo imaging.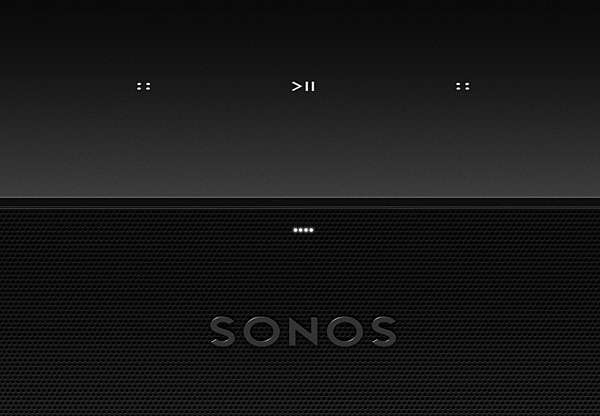 Setup

Getting the Ray up and running was a breeze. The back panel has a receptacle for its power cord, an Ethernet port, and an optical digital input. That's it. There's no USB, and more noticeably, no HDMI, which rules out support for 7.1, Dolby Atmos, Dolby Digital Plus, and other formats. The soundbar does, however, support stereo PCM, Dolby Digital 5.1, and DTS Digital Surround. No question, the lack of an HDMI port limits your connection options, so make sure your TV has an optical audio input. Sonos doesn't provide a remote control but the Ray can be controlled via the Sonos app and has an infrared (IR) receiver so you can use your TV remote to adjust the volume.
The app recognized the soundbar as soon as it was powered up and began its automatic setup routine. Alas, my brand new Samsung S22 Plus (or any Android phone) is not compatible with the Trueplay tuning feature, which adjusts the sound to compensate for room acoustics. Sonos' solution? Borrow an iPhone from a friend. They assume I have friends… Hopefully, someday Sonos will include Android support for Trueplay, or I'll have to make a friend. The soundbar supports Apple AirPlay 2 (iOS 11.4 and higher) but all other controls and features—including Speech Enhancement and Night Sound modes, loudness, bass, and treble—can be accessed through the app regardless of your phone's operating system.

The Ray lacks onboard voice control and doesn't support Bluetooth, but streams over Wi-Fi from the Sonos app and can be paired with other Sonos speakers. The app provides access to Tidal, Spotify, SiriusXM, Amazon Music, Sonos Radio, and more.
Performance

With setup complete, I loaded my Spotify playlist. Up first: Maggie Rogers' "New Song." I was immediately impressed with the clarity of the acoustic guitar and vocals, especially on a system in this price range. There was none of the harshness or brash high-end that plagues budget speakers and the guitar sounded natural and transparent. Stereo imaging was limited—it wasn't extremely wide or expansive, but the sound extended a bit beyond the physical speaker, and when the drums and bass kicked in, the system held up nicely. Though I would have appreciated more bass impact, what was there was clean and free of distortion. A wireless subwoofer would be a welcome addition but, unfortunately, you can't use a third-party sub with this system and, at $749, the Sonos Sub doesn't come cheap.
Switching over to movies, I streamed Needle in a Timestack, a sci-fi film set in a future where time travel is possible. One of the characters even collects vintage audio gear. What's not to love? Again, I was very impressed with the clarity of the dialogue, even in scenes dominated by Mark Isham's music score. When I turned on Speech Enhancement, the difference was subtle but noticeable—voices were lifted up in the mix without sounding overly bright, sibilant, or artificially enhanced.
In a scene where the "time-shift wave" sweeps over a conference room, the swirling sound created a sense of movement and space that extended beyond the edges of the soundbar. When a second wave hit, the effect was even more immersive thanks to the waveguides and slightly flared shape of the cabinet—it was as if the sound was coming from a much larger enclosure.
Night Mode is a great feature for late-night viewing. It compresses dynamic range, lowers the volume of effects, and rolls off the bass—all without interfering with dialogue intelligibility. Switch in Speech Enhancement and you'll never miss a line.
Conclusion

You can buy a more expensive soundbar and get more features, connections, and processing than Sonos Ray offers. However, for the price, it has quite a bit going for it. I've reviewed many soundbars, and the Ray is one of the best for vocal clarity. It's also a wonderful fit for secondary spaces such as a guest room or office where a small form factor is essential. If these things are more important to you than surround processing and deep bass, the Ray is most certainly the soundbar for you.