PRICE $449
AT A GLANCE

Plus

Compact, with exceptional build and sound quality
Built-in Google Assistant and Alexa voice control
Expandable with Sonos speakers and SUB

Minus

Modest bass output
Single HDMI input
No display for volume level or sound mode
THE VERDICT

The next-gen version of the Sonos Beam soundbar is remarkably full-featured considering its size. It's also attractive, great-sounding, and a snap to set up.
Both the original Sonos Beam and the company's new Beam Gen 2 soundbar use beamforming, a technology that combines an array of drivers with advanced signal processing, to create an enveloping audio experience without need for multiple speakers. With the Beam Gen 2 ($449), Sonos builds upon the virtual surround sound abilities of the original by adding Dolby Atmos processing to up the sense of immersion it can create. The cost for this upgrade: a mere $50 premium over the original's $399 price.
The presumed advantage to virtualized Atmos, which is much less dependent on room acoustics, is that it will work in a space with a vaulted ceiling as opposed to the flat ceiling Dolby recommends for the format. The disadvantage is that the height effect is less impactful than what you'd hear with a standard Atmos system with sound coming from above, whether reflected or direct. But if you set your expectations realistically, what the Beam Gen 2 accomplishes comes across as quite remarkable.
Features & Specs
A total of five active drivers and three passive radiators are used in the Beam Gen 2. A dome tweeter is located in the center of the front panel and can reasonably be credited for the focused clarity of dialogue. It's flanked to the left and right by a pair of active elliptical cone drivers, while a pair of passive radiators to enhance bass output are located at the front outer edges, with a third one on the back baffle. Lastly, a second pair of active elliptical drivers are located at the soundbar's outer edges and partially angled forward. The way Dolby Atmos uses these side-firing drivers to expand the soundstage represents the most fundamental audio processing difference versus the original Beam.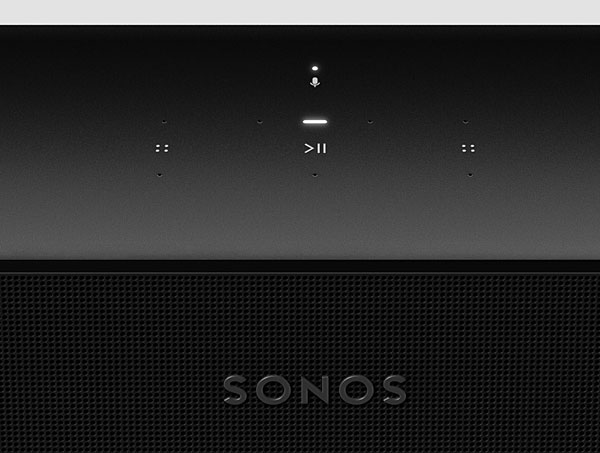 The Beam Gen 2's precision-perforated grill is both functional and aesthetically pleasing, allowing audio to pass through unobstructed while creating a seamless look. Sonos is meticulous about the design of each element in its products down to the screws; everything fits snugly and the look and feel is of a unified object, not just an assemblage of parts.
A power/status light on the soundbar's top panel indicates operational status in a minimalist manner, and there are capacitive touch controls for key functions like volume and playback. An eARC- and ARC-compatible HDMI port is the only input. If your TV lacks that connection, Sonos includes an optical digital-to-HDMI adapter that you can use to link up the set's optical digital audio output.
Setup

I expect intuitive setup with Sonos gear and the Beam Gen 2 did not disappoint. The first nice touch I noted was that even before connecting to the Sonos control app the Beam Gen 2 sent a video signal to my projector showing, what else, photos of Sonos gear. This imagery lets you know right away that the soundbar is properly connected.
After launching the Sonos app, signing in (you must create a Sonos account if you don't already have one), and giving permissions for Bluetooth access and location, the app automatically found the Beam Gen 2 and linked with it. There was zero stress, fuss, or drama—just a soft "ping" sound to confirm that the soundbar was communicating with the smartphone controlling it.
The next step was to connect to Wi-Fi, with the Beam Gen 2 next prompting me to update its software. Lastly, it verified CEC control of the display, which allows the TV or projector's remote (in this case, a Hisense L9G ultra short throw projector) to control various functions on the soundbar via HDMI, including the all-important volume level.
The Beam Gen 2's Trueplay tuning requires an iPhone or iPad and takes a few minutes to complete. This process, which we've covered in many previous Sound & Vision reviews of Sonos gear, involves two separate steps: hold your iOS device at eye-level in your preferred listening or viewing position, and then walk around the room slowly raising and lowering it until the app tells you it has captured enough information.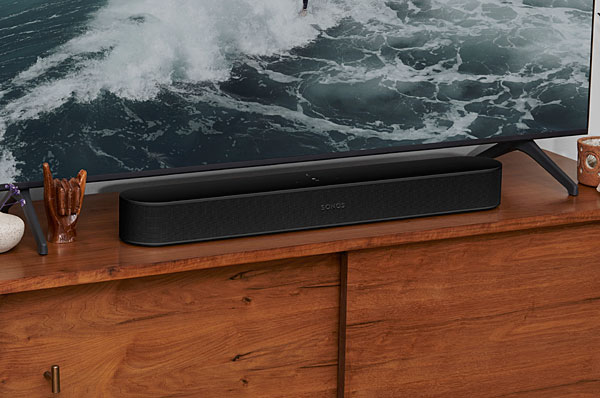 Trueplay tuning completed, the last major setup step was to input my Tidal streaming music service account info to the Sonos app. (Other available service options: Qobuz, Apple Music, Spotify, Amazon Music HD, Deezer, and Bandcamp.) I decided to take my first listen, cueing up a reggae dub track "Safe Space" by Sly & Robbie. It was at that moment I knew that testing the Beam Gen 2 was going to be fun, because this little soundbar sounded fantastic right out of the box.
Like its predecessor, the Beam Gen 2 has built-in far-field microphones to work with Amazon Alexa or Google Assistant voice control—a nice touch that negates the need for a separate smart speaker. The Sonos was at least as good as my third-generation Amazon Echo in picking up my voice, even when playing music or movie soundtracks.
PerformanceSame as with running room correction on an A/V receiver, the effects of Trueplay are audibly significant; it's a crucial step that users should not skip. I found that the result of the processing didn't just improve the balance of music, but it fleshed out the soundfield to make it wider and deeper. It put me into a believable bubble of sound and made stereo music sound like it was coming from a larger, more expensive system. Much of this can be attributed to the side-firing drivers. The Beam Gen 2 also did a remarkably decent job delivering bass—surprising given its compact form.