PRICE $2,189
AT A GLANCE

Plus
Foundation-shaking bass
Outstanding Build Quality
Servo-control is the real-deal
Minus
Very Heavy
Large footprint can make room placement challenging
THE VERDICT
Rythmik's direct servo technology isn't a marketing slogan—it provides the most precise bass these ears have ever heard.
Rythmik Audio is a company that specializes in the design and manufacture of high-performance subwoofers. It was founded in 2001 by Brian Ding, who is an avid audiophile and music lover. His passion for music led him to experiment with different subwoofer designs and technologies, ultimately leading to his own patented Direct Servo-controlled subwoofer.
Servo technology uses a feedback loop to continuously monitor and adjust the subwoofer's output, resulting in extremely low distortion and greater accuracy in reproducing low-frequency sounds. While I had read about this technology for years, I never had a chance to audition it myself—until now. Rythmik's website is loaded with technical information on how the Direct Servo-controlled subwoofer technology works.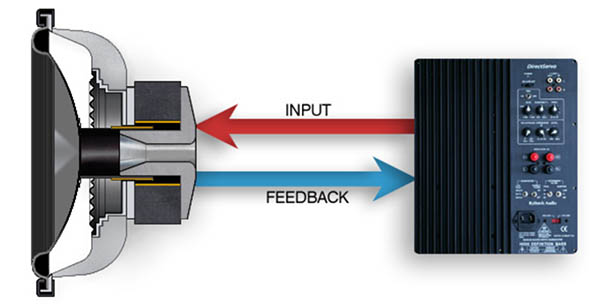 Rythmik Audio is an Internet Direct company, so you get a lot of bass for your buck. The company has a commendable business philosophy—keep their overhead as low as possible so they can offer exceptional value and couple that with intelligent design decisions to save costs. How? Well, don't put a 2,000-watt amplifier in a subwoofer when you can get the job done with 900 watts. Round that out with exceptional customer service—where you can send and receive emails directly with the founder of the company with any technical questions—and you have a winning formula.
Bring on the Beast
We reached out directly to Brian Ding to inquire about a review sample. He treated us like a customer, asking probing questions about the type of listening environment we would be using. He asked if it was mainly for music or movies. Being a movie lover first, you know my answer and he suggested the FV15HP2 in order to get the most output at the lower frequencies.
Since I use a multi-subwoofer setup in my listening room, he kindly sent two subwoofers for the review. They arrived a few weeks later via freight truck. At over 130 pounds each shipped, I wouldn't want to subject these subs to the rigors of UPS or FedEx; they aren't too kind with heavy packages versus the safety of shipping them on their own pallet. Thankfully, they arrived in perfect condition.
Given their size and weight, I needed to get help from a neighbor to get them in the house and I couldn't wait to get them open. They come double-boxed with heavy-duty cardboard for maximum protection, and instructions for unpacking are found printed on the lid of the outer box. I loved how one side of the inner packaging is labeled "skateboard," which is used to slide the 115-pound subwoofer from its container.
Also in the box is a detachable power cord, four rubber feet that screw into the bottom of the sub (spikes are available at an additional cost), and a dual-sided piece of paper with an Installation Guide on one side and a Quick Guide on the other.
Once unpacked, I used furniture sliders to move the subs into place.
My first impression of the subwoofer is extremely positive. The piano gloss black finish is flawless and very classy but there is a $260 upcharge versus the standard black oak or matte finish. However, if you want the look of a luxury sports car in your theater, then spend the extra money—it looks marvelous! Furthermore, the cabinet is built like a tank and is well braced to minimize cabinet resonances or coloration.
Setting Up is Hard to Do
Thank goodness that Rythmik provides a quick setup guide with the subwoofer, because the back panel looks like the controls in a vintage Boeing 737! This includes:
Inputs: Both XLR and RCA line-in connections, with designated LFE inputs (which I employed)
LIMITER Switch: Recommended to be kept ON for home theater use and OFF for audiophile music
Power Settings: Three options available (On, Auto, Off), as well as +12VDC Trigger
Defeatable Parametric Equalization (PEQ): With Gain, Bandwidth, and Frequency dials
Delay/Phase Control: For non-LFE use
Low Pass Filter Setting
Rumble Filter: Dependent on whether you use one port or two
Volume Level Setting
Crossover Setting: Non-LFE only
Bass Extension Filters: Include two switches, Frequency (14, 20, 28) and Damping (Low, Mid, High)
Sadly, there's no Bluetooth app control, which would have made setup and testing a lot easier versus grabbing a flashlight and making manual adjustments.

The FV15HP's driver
The FV15HP2s sent to me use a HX1000XLR3 amp, which is rated at 900 watts RMS and is powered with a class-D Hypex UCD module versus the standard H600XLR3 600 watt Class H amplifier. While the power specs are slightly higher on the HX1000, it also has the advantage of better heat dissipation which allows for more flexible placement, either close to the wall or on its side. Regardless of which model you choose, they both power a 15" black anodized aluminum high excursion driver built to provide foundation-shaking bass response.
I tested each of the different Bass Extension modes with REW and ended up going with Rythmik's recommended settings for home theater use—One Port open and a 14 Hz low damping for a full-bodied home theater sound. See the attached measurements to see how each of these settings change the output of the sub.
Given their size and weight, integrating two of these subs into a room is not a task to be done in haste. And with my unfamiliarity with the company and its products, I wanted to set up the subs as if they were going to be a permanent fixture in my theater so I broke out my UMIK-2 and REW to carefully measure and evaluate the placement of the subs in my room. Rythmik recommends two installation modes—the first is in the front corners of the room, which unfortunately wasn't possible because I have a fireplace hearth that gets in the way in the front-right corner. With that option off the table, I opted for option #2—1/4 and 3/4 placement along my front wall.
Using REW, I verified that this provided smooth response from both subs and I used REW's alignment tool and a MiniDSP to get their summed response in line (a 2.1ms delay on the right hand sub at my main listening position).
Given that I have a MiniDSP, I bypassed the onboard PEQ and created custom filters using REW to get the flattest response before running my room correction software in my Trinnov Altitude 16 processor. I've found that this is the best process to get a premium listening experience. With all the calibration and setup out of the way, it was time to see if the Direct Servo technology is as good as advertised.
In Use
Rythmik touts all of their subs as being very musical, so with this in mind I started my official audition with some musical tracks. Up first is the subwoofer killer otherwise known as "Bass I Love You," by Bassotronics. The notes dig as low as 7 Hz, a frequency you can't hear unless you're a pigeon, but you can certainly feel them. In fact, at -10dB from reference, I think I dislodged a filling from the vibrations. I've heard this track countless times the past 10-plus years and this is the first time I've felt this type of visceral reaction. My wife was upstairs at the time and rushed downstairs thinking we were having a typical California earthquake. She was quite surprised when I greeted her with a smile and said, "This is a test, this is only a test!" Needless to say, she was less impressed than I was with the prowess of the dual FV15HP2s.
The notes above 20 Hz I could hear and the dual Rythmiks were as clean and detailed as I've ever heard. In fact, if I hadn't known better, I would have sworn I was listening to sealed subs because of the precision and quickness of the bass. Very musical indeed.
I've had the pleasure of using a Kaleidescape Strato system in my theater since August 2022 and I love how I can go through countless demo sequences without having to leave my couch. One of my favorite concerts for subwoofer testing is Imagine Dragons: Smoke + Mirror Live concert filmed in Toronto, Canada. Some may argue that the bass is a bit hot on the Dolby Atmos track, which I wouldn't disagree with, but is that really a bad thing? One of my favorite tracks is "Polaroid," which is filled with an upbeat and energetic sound, blending elements of rock, pop, and electronic music all held together by the beat of a kick drum. As expected, the dual Rythmiks didn't break a sweat and hit the 50 Hz notes with authority and utmost accuracy. The bass didn't hang in the air one bit and was extremely precise and detailed. If my reference subs had emotions, they'd be hanging their heads in shame because while I never had complaints about them before, they don't sound this good. It was like hearing the song from an entirely new perspective.
Jumping into movies on the Kaleidescape, I had to stick with the music theme and pulled up Bohemian Rhapsody with its Atmos track and queued up the Live Aid concert, which is arguably one of the most iconic and memorable live music performances in history that was faithfully recreated for the film. The performance begins with "Bohemian Rhapsody," which showcases Mercury's impressive vocal range and the band's ability to seamlessly transition between different musical sections. While Mercury's vocals are great, I couldn't wait for the drums to kick into high gear and when finally employed, they didn't disappoint. Precise, energetic, and powerful. While I wasn't at the actual concert, with the help of the Rythmik subs coupled with my M&K S150 speakers I was transported back in time and it felt like I was sitting in the first row of Wembley Stadium.
The Batman from Matt Reeves is not a pick-me-up type film and couldn't be more different than the campy Batman TV show that introduced me to the character during my formative years. While the movie has received mixed reviews due to its length and tone, it does feature one of the best demo sequences of any film released over the past five years—the car chase involving The Penguin and our caped hero. Unlike Nolan's Batman who utilized military tech in his batmobile, Reeves goes the muscle car route whose engine digs well below 30 Hz when the pedal is to the metal. It was hard to wipe the grin off my face the first time I heard—and felt—the car with the Rythmiks in my system. My first instinct was to let out a series of grunts like Tim "The Toolman" Taylor because the FV15HP2s helped in emphasizing the muscle in the muscle car—roaringly deep and powerful.
Next, I jumped to the Iceberg Lounge nightclub, where the music comes at you from every direction and the chest-pounding bass dig deep. Even at reference levels, the Rythmiks keep to the beat and never even broke a sweat. My wife wasn't pleased with this demo because she could hear it from the back yard and complained I was going to break the seal on our newly installed double paned windows. I kept the demo running inside the house and went to take a gander outside, and sure enough, you could physically see them vibrating although I doubt the subs are powerful enough to break the seals (or at least that's my hope).
No matter what bass-intensive movie I threw at the Rythmiks, they never failed to bring a smile to my face. Whether it was the barroom scene in Alita: Battle Angel or the second wave attack in 13 Hours: The Secret Soldiers of Benghazi, the precision and speed of the FV15HP2s continued to impress. In fact, something happened during one demo that I can honestly say was a first for me. My wife was out of the house and I decided to see how well the subs could handle the "soften them up" scene from Hacksaw Ridge.
While I was prepared to be impressed, I didn't expect the salvo to literally move the hair on my head! At first I thought it was a spider that dropped from above but when I replayed the scene, the same thing happened a second time—it was moving enough air in a 4500 cubic foot room to make the hair on my head flutter. While I never listen at this volume level outside of testing gear, it's nice to know that I can push the subs as hard as I want without any worry of them being overmatched.
Conclusion
For the past couple of years, there have been comments on the Sound & Vision website on virtually every subwoofer review as to when we were going to review a Rythmik sub. To those readers, your patience is being rewarded, and I owe all of you a big Thank You! Without your prodding, I'm not sure if this review would have ever happened.
While I've reviewed countless subs over the years, there are very few that have had this type of visceral impact on me. In fact, there's only one—the MK Sound X15+. What's so amazing about the FV15HP2, is that you can buy two of them for the price of one X15+ and have about $1500 left in your wallet. I've been in bass heaven since employing two of these subs, and now the real fun begins—convincing the person who must not be crossed that they need to be a permanent fixture in our theater. Wish me luck!
Specs
Name of sub, Subwoofer: Rythmik FV15HP2
Enclosure Type: Ported
Woofer (size in inches, type): 15″ Anodized Aluminum
Rated Power (watts): 900 RMS class D patented servo controlled
Connections: XLR Input
Crossover Bypass: Fixed & Variable
Available Finishes: Gloss Piano Black, Black Oak, Matte Black, Matte White
Dimensions (H x W x D): 24.5" x 18.25" x 24.25
Weight (pounds): 115
Price: $2189
Peak Output Measurements

Peak output was measured using a UMIK-2 along with REW. The amp volume was turned to max, and all measurements were taken with the UMIK-2 facing down 90 degrees, at exactly 1 foot from the center of the woofer. The woofer was placed in the middle of my room to minimize the room effect on the measurements. The volume level from my preamplifier/processor (pre/pro) was increased in 10dB increments until distortion occurred while playing a 10-300Hz sine wave. From there, the volume was dropped in 1 dB increments until distortion was no longer present.
Peak output was 109.2dB at 54.6Hz, with 2 ports open and the Bass Extension filter set to High. As setup for the review (1 port, Bass Extension filter Low), it provides a Peak Output of 109.1 dB at 54.6Hz with a 3dB gain at 19.5Hz (107dB versus 104dB). This setting also provides a smoother roll-off below 20Hz.