Picture
Sound
Extras
Ranked as the fourth greatest love story of all time by the American Film Institute, Roman Holiday — director William Wyler's 1953 fairy tale — memorably captures the bustling streets and iconic sites of Rome. The story is set against the backdrop of post-war Europe, expressing the exhilaration of not only embracing long-awaited peace but joyously breaking free as young Princess Ann retreats from her royal obligations and finds adventure. This movie put Audrey Hepburn on the map, and I thoroughly enjoy the story's unapologetically schmaltzy romance blended with light humor.
There are lots of wonderful little moments in this film which is a testament to the inspired writing and direction. It's difficult to not be enamored by Ms. Hepburn and we can see why she is revered as a true screen legend, and her chemistry with co-star Gregory Peck adds to the film's allure. Roman Holiday earned ten Academy Award nominations including Best Picture, and won Best Actress, Best
Costume Design and Best Writing, Motion Picture Story for Dalton Trumbo, who famously submitted his screenplay via a "front" due to the Hollywood Blacklist of the era.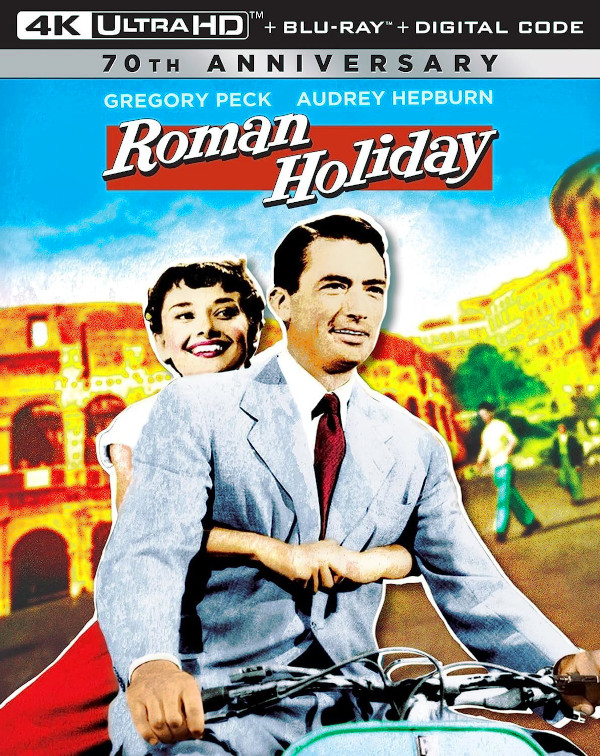 The film was digitally restored using the dupe negative and a fine grain element to capture the best possible image. The results deliver marvelous video quality with revealing imagery that preserves the finest details seen in the various locations, dwellings and sets featured in the story. Contrast is stable and blacks are fairly deep and delineated. High dynamic range doesn't play an integral role in the presentation but that isn't deleterious given the film's innate appearance. Grain is presented in even layers that provide a satisfyingly filmic texture. This cinematic gem looks terrific thanks to a well-executed restoration.
The restored monaural soundtrack renders the components of the recording beautifully. Dialogue intelligibility is excellent as it is never lost amidst the other sounds coming through the center channel. Dynamic range is limited, however overall fidelity is excellent and the track sounds airy and detailed. I suspect that purists will appreciate the time and effort that went into maintaining the integrity of the original elements while updating it.
Bonus features include a Filmmaker Focus segment with Leonard Maltin, four photo galleries, two production featurettes, another on screenwriter Trumbo, two retrospectives on Hepburn and several trailers for the film. I found them all to be time well-spent. An HD Blu-ray and digital code complete the set. Roman Holiday is a fondly influential and purely delightful film. This excellent Ultra HD Blu-ray release is a must-have for fans.
ULTRA HD 4K BLU-RAY
STUDIO: Paramount, 1953 (black-and-white)
ASPECT RATIO: 1.37:1
HDR FORMAT: Dolby Vision, HDR10
AUDIO FORMAT: Dolby TrueHD Mono
LENGTH: 118 mins., no rating
DIRECTOR: William Wyler
STARRING: Audrey Hepburn, Gregory Peck, Eddie Albert, Hartley Power, Harcourt Williams, Margaret Rawlings