Tears For Fears vaulted into the international big leagues with the take-no-prisoners layered-sound approach to their February 1985 sophomore album,
Songs From The Big Chair
. It was a calculated production leap from the aural cocoon of their more minimalistic, electronic-leaning debut, March 1982's
The Hurting
— and it was a move that paid off handsomely with multi-platinum sales and upper-echelon chart domination around the globe.
"Once we had dipped our toe in the water, it set us on a course to have a much bigger, much more robust, and not-so-introspective sound," TFF guitarist/vocalist Roland Orzabal told me while we were discussing the album's 30th anniversary edition reissues back in late 2014. Orzabal and his TFF partner in creativity, bassist/vocalist Curt Smith, had each taken special note of the giant-sized production values Trevor Horn had deployed for Frankie Goes to Hollywood's October 1984 magnus opus Welcome to the Pleasure Dome, and they immediately knew they had to up their respective game.
Songs From The Big Chair was an early CD-era favorite disc alongside Dire Straits' own 1985 benchmark, Brothers in Arms, so I followed the physical digital trajectory of this release through a number of CD iterations over the years before eventually getting my hands on any Big Chair vinyl. I began with the initial 1985 Mercury Redbook CD, then incrementally added the 1998 Mobile Fidelity UltraDisc II gold CD, 1999 Mercury remastered CD, and 2006 Mercury Deluxe Edition 2CD set (above). The 2CD collection was a most worthwhile acquisition, as it added seven B-sides on Disc 1 plus seven 7-inch singles and five 12-inch singles on Disc 2.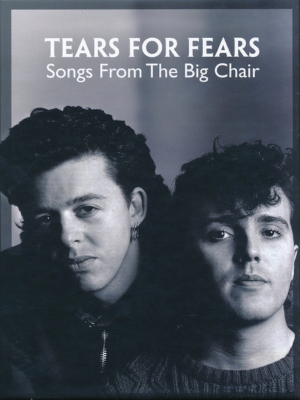 These and other bonus cuts, remixes, and unreleased tracks also appear on the lavish 2014 30th anniversary 4CD/2DVD Mercury/UMG Big Chair box set (right) — something that comes housed in what I'm calling the "mini-shoebox" format, which measures 5¾ x 1⅝ x 7¾ inches (w/h/d). Universal — and, to a lesser extent, Rhino — have released more than a few box sets in this size over the past decade-plus (albeit mainly in Europe), so shelving these mini-shoeboxes can become an issue if you haven't budgeted the space for them.
As for Big Chair vinyl, I finally picked up the 1985 Mercury LP for collector's purposes, and, not long ago, obtained the 2021 Mercury/UMG reissue pressed at Optimal in Germany. Hopefully, the UMG powers that be will see fit to enlist Miles Showell at Abbey Road Studios to do a half-speed-mastered 180-gram Big Chair LP, just as he recently did for the 40th anniversary of TFF's aforementioned debut, The Hurting.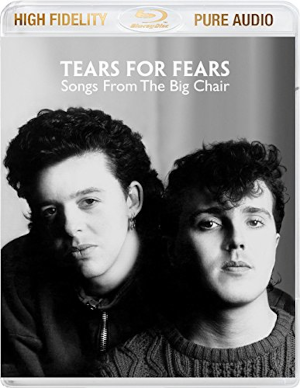 Naturally, my preferred Big Chair listening experience is in surround sound — specifically via the 24-bit/96kHz DTS-HD Master Audio 5.1 mix courtesy of the ever-ubiquitous Steven Wilson as found on Universal's 2014 High Fidelity Pure Audio Blu-ray edition, which I defer to over the comparable DVD in the big box set. Both Smith and Orzabal very much favor the 5.1 version of Big Chair as well. "I love this mix," Smith confirms. "You get a far greater spectrum of sound, and the low end is definitely improved." Adds Orzabal, "It gives you a chance to see what we were doing sonically at the time — something that got lost in all the pomp and commercial success."
Indeed, all you have to do is cue up the surround mix of the thunderclap forcefield that is "Shout" to truly get the full effect of the five Lexicon digital reverbs Orzabal and original Big Chair producer Chris Hughes had co-opted for the track. Massive drums, insistent recurring triangle hits, and a volume-swelling back-half percussive payoff all add up to making this "Shout" a surround masterstroke. Other 5.1 highlights include a clearer presentation of Smith's throaty, well-enunciated lead vocal on "Everybody Wants to Rule the World" in the center channel, the rhythm section thrust of "Mothers
Talk" that should put your sub channel on low-end-impact high alert, the clever call-and-response vocal placements during Verse 2 and all-channel "Hey Jude"-like singalong sequence on "Head Over Heels."
Given how good this decade-old surround mix is, UMG and TFF conscript Wilson to do a proper Dolby
Atmos mix of Big Chair, just as he's done for The Hurting and is purportedly in the midst of completing for TFF's opulently grand September 1989 album, The Seeds of Love. At any rate, Songs From The Big Chair is a prime example of palette-expanding music from a British band positing the idea that, yes, while everybody wants to rule the world, Tears For Fears were among the only ones who actually did exactly that for a spell in those heady, MTV-dominant day-glo days of 1985.