By the time November 1980's
Gaucho
rolled around, Steely Dan were more than ready to close up shop and take a self-imposed two-decade hiatus. Indeed,
Gaucho
's sparkly veneer was a fitting then-final coating on the acclaimed jazz-leaning but genre-defying band's first decade, fully encapsulating the dark-humored observational worldview of its principal creators—bassist/ guitarist Walter Becker and keyboardist/vocalist Donald Fagen—to a literal T.
In certain circles, Gaucho is chided for sounding too pristine—but, ahem, that was always Steely Dan's M.O., folks. True, Gaucho takes Becker and Fagen's pursuit of studio perfection to the nth degree, requiring practically two years' worth of studio-tan time to get them there (plus a drum machine named Wendel). Or, as Fagen once told me, "It really has a lot to do with having the experience of knowing a good sound from a not-so-good sound. You've got to know it's going to sound good next month, not just at that moment."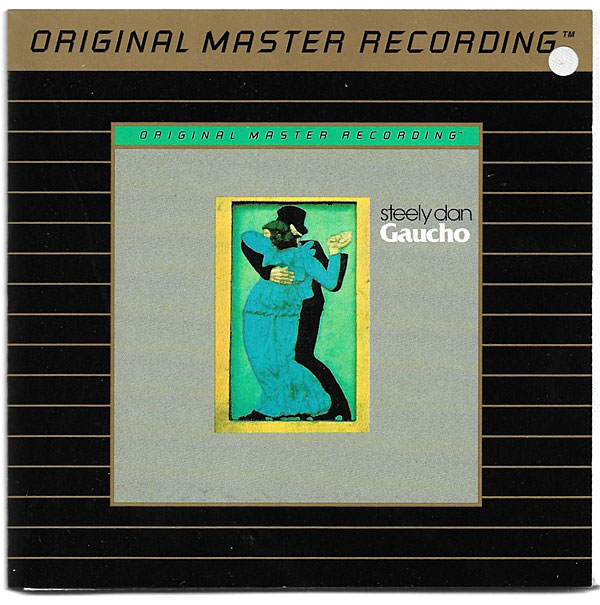 1991 MOBILE FIDELITY ULTRADISC CD COVER
Frankly, it's no wonder Gaucho won the 1981 Grammy for Non-Classical Engineered Recording, something that's readily apparent when you drop the needle on the original 1980 MCA LP and cue up Side 1's chord-progressive, funky-tunk shuffle "Glamour Profession" or Side 2's title track, featuring Tom Scott's très-sweet tenor sax and a multi-layered vocal chorus rightly taking charge whenever Fagen's lead vocal moves back in the mix. Clarifies Gaucho's original mixer Elliott Scheiner, "Fagen's vocals are never bad"—and he would know. My original, and much cherished, Bob Ludwig-mastered Gaucho LP has long been rendered unplayable and serves as a shelf-only collectible. Thankfully, I made sure to obtain a well-maintained backup copy years ago.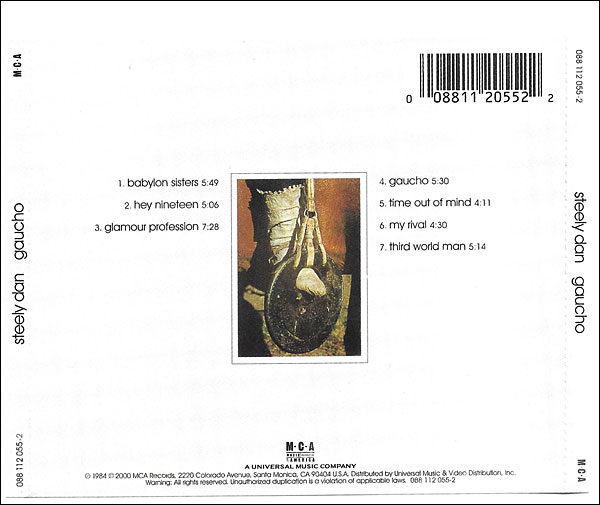 2002 MCA CD BACK COVER
"Those guys are an enigma in the sense that the music was so strange and beautiful and different—and certainly not anything you imagine would be Top 40," observes Michael McDonald, a frequent Dan collaborator. Take special note of McDonald's soulful reads on the key words, "right here," eyes," and "grace" in the second chorus of "Time Out of Mind."
Of course, Gaucho has seen more than its share of CD offerings, among them being the 1984 MCA Redbook CD (actually quite worthy, thanks to engineer Roger Nichols), the 1991 Mobile Fidelity UltraDisc (love it or hate it; there really is no in-between), and the 2003 MCA Chronicles reissue (perhaps a bit too bright for some ears, but worthwhile for the informative and deliberately cheeky liner notes from Becker and Fagen).
2003 MCA CHRONICLES SACD COVER
Naturally, my favorite version of Gaucho remains the 24-bit/96kHz 5.1 mix done by Scheiner for both its 2003 SACD and 2004 DVD-Audio incarnations. Scheiner's surround mix, again mastered by the incomparable Bob Ludwig, opens Gaucho's inherent insularity to reveal some true aural delights. "Elliot's Gaucho mix really opened my ears to surround sound in non-movie applications," Becker told me in 2005. "The idea of having more channels of information and being able to bring more detail into a listening environment is in and of itself an intriguing one."
2004 MCA CHRONICLES DVD-AUDIO COVER
The opening track, the seductively slow- rolling "Babylon Sisters," is definitely beyond intriguing in 5.1, courtesy of Randy Brecker's just-left-of-center flugelhorn, as well as the rear-channel-centric stacked background vocals and the additional horn-section accents. And how can you not love the wide front-stage berth given to the iconic sustained guitar riff that opens the generation-gap defining "Hey Nineteen"? As Fagen succinctly puts it circa the percussion break: "Nice!"
One would think Gaucho is the perfect candidate for a higher-res Blu-ray edition—but it's just not in the cards yet, amigo. Until then, we'll continue to chase the sonic dragon via the SACD and/or DVD-A 5.1 options we do have, marveling at all the ways Steely Dan turn seven Gaucho songs into cherry wine.