Performance
Sound
R.E.M. were the undisputed kings of American-bred alt-rock by the time the mid-1990s rolled around. Emerging from the college-town kudzu of Athens, Georgia, with the game-changing jangle of July 1981's "Radio Free Europe" single and August 1982's subsequent Chronic Town EP, the underground quartet perfected a more fully realized signature sound on their April 1983 full-length debut, Murmur. (Hmm, was lead singer Michael Stipe one of the foremost progenitors of mumblecore? A discussion for another time.) Soon enough, R.E.M. vaulted from indie-label darlings to major-label envelope-pushers, bringing their garage-and-club-bred sonics into the mainstream with bigger-budget production values best exemplified with March 1991's Out of Time and most especially October 1992's Automatic for the People. Following September 1994's primal-driven Monster, R.E.M. wanted to reconnect with the charge they got from creating new music during their lengthy, rousing sound-checks—hence, the blueprint for the lively, propulsive feel of September's 1996's New Adventures in Hi-Fi.
On point with the band's predilection for recognizing 25th anniversaries, Hi-Fi has recently been refurbished as a lavish three-disc box set including two CDs—one with the remastered album, the other with a baker's dozen of B-sides and rarities—plus one Blu-ray, the latter complete with Elliot Scheiner's vintage 5.1 mix culled from 2005's Hi-Fi CD/DVD-A combo release, plus scores of visual extras. The symmetrically inclined among us will grumble at the new set's nonconformist dimensions, as no two R.E.M. boxes carry the same footprint—which may very well be the intention of the aforementioned Stipe, who oversees the band's visual and physical presentations. The Hi-Fi box measures 71⁄2 x 71⁄2 inches square and 5⁄8-inch deep—essentially comparable to a slim box for 45s. While I understand the philosophy behind this "no repeats" creative M.O., the grumpy voice accompanying my perpetual collector's shelving dilemma doesn't wanna hear about it.
Nevertheless, all three Hi-Fi discs are nestled snug in quarter-moon- shaped, full die-cuts positioned at the top center of each sturdy card- board page near the back of this 56-page hardback collection. An extensive historical essay, photos, lyrics, and credits handsomely fill out the hardback's contents.
Disc 1's remastered one-two punch of the swirling siren call of the 7-minute Atlanta soundcheck epic "Leave" (dig those ARP Odyssey accents, courtesy producer Scott Litt) and the balls-out raucous slam of "Departure" (featuring Mike Mills' fuzz bass and high-register counter- harmony vocals) will re-attenuate you with the non-linear thrust of the core album. Disc 2's additive gems, like the twangy acoustic interpretation of Richard & Linda Thompson's "Wall of Death" and the shiny happy spin on The Troggs' perennially hopeful "Love Is All Around," reinforce R.E.M.'s penchant for piling on the bonus tracks in addition to making covers truly their own.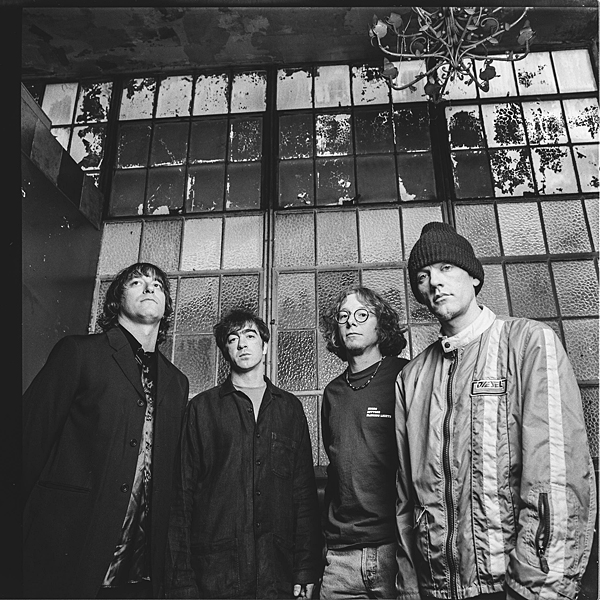 The Blu-ray ups the ante on what the older DVD-A offered—for the most part. New Hi-Fi BD additions include 65 minutes' worth of "outdoor projections" (though I dare anyone to sit through the entirety of this "looks better on paper" inclusion), an extended 29-minute EPK, and five videos. (Feel free to admire and/or wince at every- one's steeped-in-the-'90s fashion choices and sartorial preferences.) In comparison, the 2005 DVD-A includes on-screen lyrics, photos, interactive discography and videography menus, album credits, and a weblink, as well as a somewhat shorter EPK. The DVD-A also sports a Dolby Digital 5.1 Surround option, which the BD does not.
Though R.E.M. aficionados remain split on the 5.1 mixing approach Scheiner deployed on many key entries in the band's studio catalog, I would submit his overall "let it breathe" methodology suits the Hi-Fi vibe particularly well. Take the opening track, "How the West Was Won and Where It Got Us," where the atmospheric nature of Stipe's narrative rolls out like a sonic wagon train, with piano accompaniment circling both the front left and rear left quadrants, countered with buzzing organ lines tapped out in the rear right channel like a clandestine Morse code message from the Dust Bowl. The Elliot Scheiner style also suits the structure-averse "E-Bow the Letter"—Patti Smith's haunting guest vocal is placed far enough back in the front stage to cast her as a sultry chanteuse nestled within your subconscious—not to mention the low-end hiss und drang of "Undertow."
My one semi-rhetorical Q of sorts is, "Where be the Dolby Atmos?" Presently, only Automatic for the People has been granted full, and decidedly exciting, Atmos treatment on Blu-ray. (Its spatial audio equivalent is available for streaming via Amazon Music Unlimited.) Perhaps the sanctioning of an Atmos mix will be part of the conversation trail when the next R.E.M. historical release comes under discussion. Would I like to hear what, say, Chronic Town's "1,000,000" and/or Document's "Oddfellows Local 151" sound like in Atmos? (You bet your boxcars I would.)
R.E.M.'s mid-'90s Hi-Fi adventures signaled that the band wasn't quite done experimenting with their aural ethos, preferring not to remain trapped inside an endless garage-band loop. Instead, to modify a line from "Electrolite," the expanded edition of New Adventures in Hi-Fi has the band in the place they should be—and we're all the lucky beneficiaries.
Label: Craft Recordings
Audio Format: 16-bit/44.1kHz PCM Stereo (CD); 24-bit/96kHz LPCM Stereo (BD); 24-bit/96kHz DTS-HD Master Audio 5.1 (BD)
Number of Tracks: 49 (27 on 2 CDs, 22 on 1 BD)
Length: 5:03:43 (2:00:38 on 2 CDs; 3:03:05 on 1 BD)
Producers: Sig Sigworth (deluxe edition); Scott Litt, R.E.M. (original album, B-sides & rarities)
Engineers: Adam Ayan, Paul Blakemore, David May, Tim Hoogenakker (deluxe edition mixing & mastering); Adam Kaspar, John Keane, Sam Hofstedt, William "Billy" Field, five others (original album, B-sides & rarities); Elliot Scheiner (5.1 mix)