Nobody ever went broke betting that the latest turntables and phono stages from the Austria's Pro-Ject delivered good sound and high value. With that precept in mind, I headed to Brooklyn's trendy Café Kitsune last week to attend a demonstration of the company's new "True Balanced Connection" turntables and phono stages.
Waiting for me in one of the venue's private rooms was Jeff Coates from Pro-Ject's distributor Finesounds Americas. The new belt-drive turntables and phono stages, which Pro-Ject calls "phono boxes," were on silent display: The X1 B ($1,299), X2 B ($1,799), and X8 Evolution ($2,499) 'tables and the S3 B ($499), DS3 B ($799), and RS2 ($1,999) phono boxes.
In an adjoining room, music was playing on a $15,000 stereo system (shown in opening photo) featuring an X8 turntable fitted with a Sumiko Starling moving coil (MC) cartridge ($1,799), an RS2 phono box, a Rotel Diamond Series RA-6000 integrated amplifier ($4,499), and a pair of Sonus faber Lumina III speakers ($2,399). The gear was stacked in a stylish component rack from Italy's Bassocontinuo.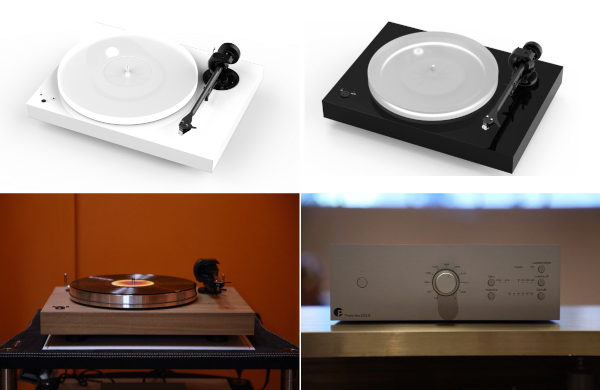 Clockwise from top left: X1 B, X2 B, DS3 B phono box, and X8 Evolution turntable.
Coates and I discussed the benefits of using a balanced audio connection from a turntable to a phono stage. Most turntables use common unbalanced RCA connections as they are inexpensive and widely adopted. However, the presence in the modern home of "electrosmog" caused by wireless networks and other electronic devices, can interfere with an unbalanced signal, restricting dynamics and creating noise. The key advantage of using a balanced connection, which is common in recording studios and professional audio settings where stable and interference-free connections are critical, is that by using two signal conductors plus a ground, noise is cancelled by inverting the polarity of one of the signals.

Most of the Pro-Ject's True Balanced Connection turntables have a balanced mini-XLR output (shown here) that allows for the use of one of Pro-Ject's fully balanced phono boxes. For these 'tables, Pro-Ject sells a stereo cable terminated with mini-XLR connectors for $109. The turntables also have a set of unbalanced stereo RCA outputs to ensure compatibility with most brands of phono stages. But to take advantage of a fully balanced connection, the turntable must have a moving-coil cartridge and a phono stage with balanced inputs (moving-magnet cartridges are inherently unbalanced), which means you have to replace the stock moving magnet cartridge that comes with each of the new turntables and upgrade to a moving coil design.
Coates walked me through the new models. The X1 B and X 2 B turntables each come with a factory-mounted Sumiko Rainier moving-magnet cartridge, an acrylic platter, and, as previously noted, a mini-XLR output and a stereo set of standard RCA outputs. Each 'table also uses a carbon-fiber-wrapped, one-piece aluminum tonearm built to provide maximum rigidity and optimal damping. Arm length is 8.6 inches and 9 inches, respectively, for the X1 B and X 2 B and both employ a stainless-steel main bearing contained in a Teflon-lined brass bushing, all mounted in a heavy, machined bearing block.
With design features borrowed from Pro-Ject's upper-tier Xtension 9 Evolution ($3,699 base price) and Xtension 10 Evolution ($4,999 base price) turntables, the X8 Evolution is billed as a true high-end analog solution and comes with a factory-mounted Sumiko Moonstone moving-magnet cartridge, but instead of the mini-XLR output it has a 5-pin DIN output for use with Pro-Ject's semi-balanced Connect it Phono 5-pin-to-RCA cable. To take advantage of a fully balanced connection, a five-pin to XLR cable is sold separately for use with a balanced phono stage.
The X8 Evolution turntable also features the company's tapered one-piece carbon-fiber 9cc Evolution tonearm, a massive MDF plinth, and a heavy (11.25-pound), TPE-dampened and mass-loaded platter precision machined from a single piece of aluminum. Other features include an electronic speed control, height-adjustable, damped metal feet, and a dust cover. The platter, which is topped by a felt mat, is supported by a neodymium magnet, said to decrease the load on the 'table's bearing system, which in turn reduces rumble and wear on the bearing while increasing speed stability. The main bearing is manufactured to an extremely high tolerance for low friction and minimal wear.
In addition to the True Balanced Connection, the entry-level S3 B phono box includes features previously available only in Pro-Ject's more expensive RS model products. The box can be simultaneously used with two turntables — it stores the parameters for each in its memory — and uses a fully discrete circuit design with a symmetrical gain stage that can match the output to the requirements of other sources, such as a CD player or streaming device. The larger DS3 B phono box duplicates the S3 B's functionality but is a dual-mono design that adds, among other things, split passive RIAA equalization and stepless impedance matching. The reference class RS2 phono box builds on the features of the two lower priced models with the addition of Decca equalization, extremely fine cartridge loading options ranging from 40-70dB, a steel chassis, and the ability to use a high-performance external power supply.
It was time for the rubber to meet the road so we adjourned into the other room to do some listening. Due to its small, irregular shape, the room presented some serious sonic challenges. Still, led by the X8 turntable and the RS2 phono box, the system acquitted itself admirably on "Rikki Don't Lose That Number," the opening track from Steely Dan's Pretzel Logic. Donald Fagen's voice was appropriately nasal and Michael Omartarian's piano flourishes sounded clear and elegant. Walter Becker's bass also came across as well-controlled, even if bass overall was somewhat subdued by the less-than-ideal room conditions.
My guess is that when placed in a proper room — or even any other room — it might make many audiophiles wonder if there's a pressing need to spend more to get audiophile-grade sound.