Polk Audio has been in the soundbar game for quite some time but has just now gotten around to offering a Dolby Atmos system — and it's priced to sell.
At $399, the Signa S4 is one of the least expensive Atmos-equipped soundbar systems on the market and designed to deliver an immersive 3.1.2 surround-sound experience. The system comprises a wireless subwoofer and a slender soundbar featuring a 1-inch full-range driver flanked by stereo pairs of 1-inch tweeters and 1.6 x 4.7-inch midrange drivers in an enclosure 41 inches wide and only 2.4 inches tall and 3.7 inches deep with an upward-firing 2.6-inch driver on either end to create a sense of height.
The companion subwoofer is a ported design with a 6-inch driver and amplifier (power not specified) housed in a reasonably compact cabinet measuring 8 x 13 x 11 inches. The subwoofer automatically pairs with the soundbar to complete system setup in a matter of seconds once cables are connected to the TV.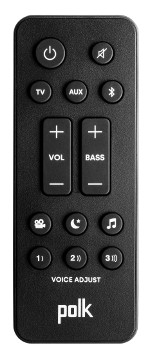 The system supports Bluetooth streaming and provides analog minijack and optical digital inputs plus a high-bandwidth eARC (enhanced Audio Return Channel) HDMI port that passes 8K video signals. HDMI and optical cables are included. In addition to decoding Atmos soundtracks when the soundbar is connected to the TV via its HDMI jack, stereo audio can be up-mixed to create a virtual Dolby Atmos surround-sound experience. A template and spacers are provided for mounting the soundbar on the wall.
Polk includes a compact remote control, which is preprogrammed to work with most TV remotes and provides presets for music, movies, late-night listening, and three levels of Polk's patented VoiceAdjust technology to improve dialogue intelligibility. There are also buttons for changing inputs, adjusting or muting volume, and turning the bass (on both the soundbar and subwoofer) up or down. The night mode preset attenuates the bass while accentuating dialogue so listeners can enjoy movies during late-night binge sessions without disturbing neighbors or family members.
For more information, visit, polkaudio.com.