Innovation is what CES is all about and it was on display in everything from autonomous cars and robots to the latest audio and video technologies at
last week's show in Las Vegas
. Though audio had a subdued presence at an event vastly scaled back due to concerns over Covid, we still uncovered some intriguing products — like the N1 smart speaker from Israel's Noveto that uses proprietary facial tracking and smart beaming technology to create a personal listening experience.
Facial tracking follows the listener's head and sound is projected at ultrasonic frequencies so it converges in "small audible pockets outside the listener's ears." The company says the listener experiences "thoroughly immersive 3D stereo, while people nearby barely hear a thing." Put another way, s/he experiences "personal and immersive 3D binaural sound without headphones."
Noveto calls the phenomenon "invisible headphones" and claims the N1 suppresses audio by up to 90% for anyone standing up to 3 feet away from the listener. In other words, someone standing near you will hear only 10% of what you hear. Even so, the system is capable of producing sound-pressure levels (SPL) as high as 85 dB.
"Whether listening to a favorite podcast or meditating to the sounds of nature, smart beaming creates a personalized, cocooned experience, elevating the relaxation of meditation, music, casual entertainment, podcasts, and sound therapy," Noveto says, noting that the N1 can be used as an effective desktop speaker in work-at-home environments.
"Historically there were only two ways to listen to sound: Out loud and publicly via speakers, or quietly and privately wearing headphones," the company explains on its website. "We're introducing a third way of listening…a personal 3D sensory listening experience without disturbing others — no speakers or headphones."
So how's it work?
The technology uses non-audible acoustic waves and beamforming to place the audio just outside the user's ears. Noveto explains: "Acoustic waves are pushed into the air via the proprietary Noveto transducer array, which is controlled by Noveto's patented chipset and software," while a "3D sensing module and camera built into the hardware locates and tracks the position of your ears in real time.
"Move your head in any direction and the two sound pockets will follow. The sound can be heard as normal acoustic waves without disturbing people nearby. Additionally, the technology is capable of creating 3D spatial sounds and can place sounds anywhere in space regardless of head movement."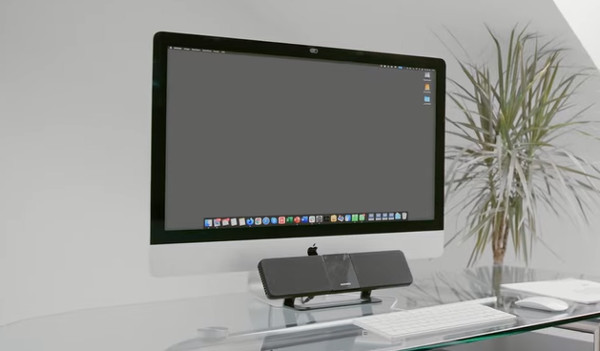 The Wi-Fi-enabled N1 is elevated on an adjustable stand and small enough to sit on a desk without commandeering it. The speaker incorporates Amazon's Alexa voice platform and face ID in addition to featuring to an "intuitive" circular LED display and top-mounted buttons for volume, Bluetooth pairing, and muting its array of microphones. Around back there's a USB-C port and a 3.5mm minijack input/output.
Made of aluminum and finished in matte black, the N1 speaker can also be controlled via the companion iOS/Android Noveto App. Production was slated to begin in December with U.S. pricing and availability to follow. For more information, visit noveto.com.