ATSC's Madeleine Noland and Pearl TV's Anne Schelle provide a progress report on the ATSC 3.0 broadcast system rolling out across the country
Terrestrial television broadcasting may seem quaint in the age of streaming and artificial intelligence but the age-old practice of pulling TV signals out of thin air is alive and well in 2023 and continuing to make strides. The number of people using an antenna to watch TV for free — no subscriptions required — continues to trend upward while NEXTGEN TV (a.k.a. ATSC 3.0) technology builds on and improves the ATSC 1.0 system that kicked off the HDTV revolution more than 30 years ago.
Since we spoke with Madeleine Noland, president of the Advanced Television Systems Committee (ATSC), in the fall of 2020, there has been a great deal of progress in rolling out NEXTGEN TV service around the U.S. We caught up Madeleine Noland and Anne Schelle to get an update on NEXTGEN TV. Schelle is managing director of Pearl TV, an alliance of broadcast companies that runs the website watchnextgentv.com.
S&V: The deployment map on atsc.org shows ATSC 3.0 services on the air in 72 markets across 34 states and Washington, D.C., up from fewer than 20 markets two-and-a-half years ago, and I understand Reno, Philadelphia, and Minneapolis are each getting ready to launch service in the near future. Impressive. Can you give us a sense of how broadcasters in these markets are using ATSC 3.0 technology?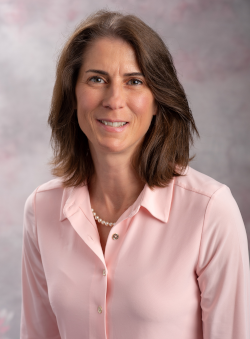 Madeleine Noland: ATSC 3.0 takes a fresh look at broadcast television and how content is being delivered. It's the world's first system to deliver Internet Protocol (IP) over-the-air. So the same language of IP used by Netflix, Hulu, Disney+, and other streamers is now transmitted by local TV stations. As with the jump from analog to digital (ATSC 1.0) [the digital TV standard that brought us HDTV in the late 1990s], there are some startling improvements for viewers.
For one, picture quality is greatly enhanced. 1080p signals can now be broadcast and enhanced with high dynamic range (HDR). The system is also built to accommodate 4K Ultra HDTV, and could even be configured someday to do more. From the beginning, we created a technology that could easily be upgraded. Audio quality is also enhanced with Dolby AC-4, which gives the viewer expanded choices through technologies such as Voice+, which brings dialogue to the foreground. Because the system is IP-based, there is also the ability to merge over-the-air signals with "over-the-top" offerings from local stations. That could be the local weather report, sports updates, news, or other high interest and "on demand" content stations already make available on their websites. No need to carry a laptop into the living room. You'll be able to see local content on-demand in your easy chair.
To take advantage of these benefits, broadcasters first have to work together to launch service in a given market. That is not an easy task. FCC rules require broadcasters to keep their traditional ATSC 1.0 digital signals available. To launch ATSC 3.0, a single station has to step forward to voluntarily become the "Host Station." That station provides all of the ATSC 3.0 signals in a market, while another station — usually a competitor — keeps the host station's ATSC 1.0 channels on the air. So there's a tremendous amount of collaboration needed to effectively launch in a given market. And while the pace was dented a bit by the Covid-19 pandemic, it's really encouraging to see that more than 70 markets are now on-the-air with ATSC 3.0 service that reaches millions of consumers.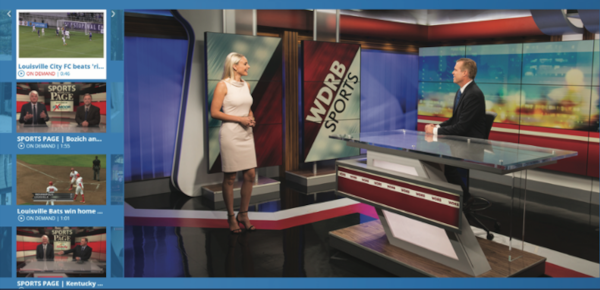 S&V: Are the IP-based offerings from local stations you mentioned currently in use?

Noland: Yes. Stations in several markets have deployed Pearl's web platform that the stations know internally as "RUN3TV." It gives stations the ability to repurpose content that in most cases they already have made available through their websites, or it could be used for a "start over" feature — which is commonplace on other platforms. This capability is in its infancy but stations around the country are using the platform to provide viewers quick and easy access to news reports, weather updates, sports reports, documentary episodes, and more by overlaying these streaming options on the main broadcast.
Another example of over-the-top delivery (not related to RUN3TV) is South Florida PBS. NEXTGEN TV viewers in Miami see South Florida PBS on their program guide even though the channel is not broadcast (there's no room for it) — it comes through the TV's internet connection. To the viewer, this is seamless — it's just another NEXTGEN TV channel.
S&V: Which applications are most popular, and is a 4K signal being broadcast in any of those markets?


Anne Schelle: 4K is not yet on-the-air because of the requirements from the Federal Communications Commission (FCC) that broadcasters continue to transmit ATSC 1.0 signals while simultaneously (and voluntarily) launching ATSC 3.0 service on a market-by-market basis. We are spectrum-constrained for the moment because almost every ATSC 3.0 transmission is done in a way where multiple channels are carried and consuming all of the available bandwidth. Once we get further along and add more stations, it will be possible to offer 4K. But that's not coming this year.
Broadcasters in some markets are, however, offering HDR-enhanced 1080p transmissions. Readers of Sound & Vision might be surprised by the astounding quality of HDTV broadcasts enhanced with high dynamic range (HDR). Many people who have seen HDR demonstrations at trade shows think they are looking at 4K — the brighter and deeper presentation of HDR with 1080p is a remarkable improvement and it's much easier to broadcast.
Some of the most impressive video with high dynamic range is live sports, and we anticipate that this enhancement will deliver incredible picture quality — with deeper blacks, brighter highlights, and higher contrast. The first HDR-enabled broadcasts are on the air now in San Francisco and Miami, with more to come.
S&V: Over the past couple of years, have there been any upgrades/additions or changes in the over-the-air services ATSC 3.0 technology makes possible? Are any updates or changes planned for the future?

Schelle: The next big improvement will be the availability of enhanced audio, which will deliver a better audio experience for ATSC 3.0 viewers. From the get-go, though, viewers of ATSC 3.0 broadcasts have been hearing something different with the Dolby suite of audio improvements. In consumer testing done by Pearl TV, we found that the audio enhancements scored highest. That was a surprise, and a pleasant one. Immersive audio and multi-language tracks are also possible and will be coming in key programming produced with those audio features.
S&V: Madeleine specifically noted the importance of Dolby AC-4. Can you expand on that a bit?

Schelle: Dolby AC-4 is the successor to the Dolby AC-3 (a.k.a. Dolby Digital) audio system used with today's HDTV. AC-4 audio will bring Dolby Atmos enhanced surround-sound technology and increased accessibility and personalization to the audience. Atmos-enabled shows will add immersive surround sound, expanding HD's current 5.1 sound to 5.1.4 with four overhead channels of effects. A lot of today's cinematic audio is Atmos-enabled and this format lends itself nicely to the TV's episodic soundtracks and sporting events, with hope for much adoption in the future as networks and their content providers transition to NEXTGEN TV.
AC-4's accessibility and personalization features can enhance important services like audio description for the blind and alternate languages, moving from today's limited mono soundtracks to a full immersive surround-sound experience. For enabled shows, the listener will simply make the selection from their TV or set-top box to enjoy these benefits. In addition, the Voice+ dialogue enhancing technology Madeleine mentioned earlier will be available on all AC-4 audio, giving consumers the ability to bring dialogue to the foreground when there is competing music and sound effects in the background.
Because AC-4 is modern and bandwidth efficient, it also includes loudness optimization to maintain even volume across programs, commercials, and channel changes. Multiple versions of soundtracks that may offer optional commentary, like home and away announcers for sporting events, are possible too.
Content suppliers, networks and their distributors are already experimenting with all of these improvements. The results have exceeded expectations and are drawing tremendous interest and promise for the future.
Broadcasters are excited about the possibilities NEXTGEN TV audio provides to content creators and especially the improvements it can bring to audiences.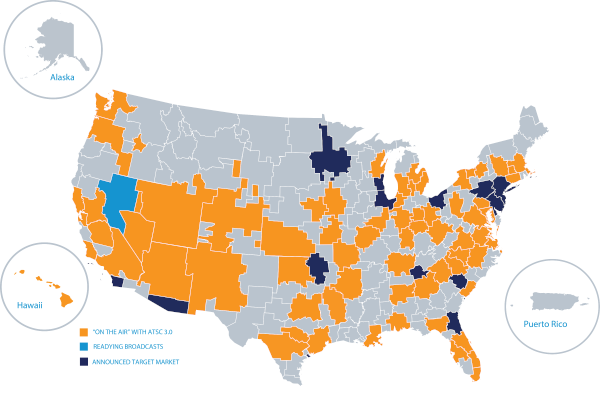 This map depicts Nielsen Designated Market Areas in which one or more cities have at least one station broadcasting ATSC 3.0 services. Source: atsc.org.
S&V: Do we know how many Americans are actually receiving NEXTGEN TV broadcasts?

Noland: Broadcasters have generally prioritized the markets with the largest number of viewers first, although the largest cities in the country are more difficult because of the sheer number of stations that are on-the-air. And, as I mentioned earlier, broadcasters must both maintain their ATSC 1.0 signals while launching ATSC 3.0 signals. We know that more than two-thirds of viewers can receive an over-the-air ATSC 3.0 signal today. We also know that the consumer technology industry is expected to cumulatively sell some 10 million receivers by the end of 2023. Both of those numbers — the number of available channels and the number of receivers — will only continue to grow.
S&V: The top three TV brands in the U.S. — Samsung, LG, and Sony — and China's Hisense are currently offering more than 130 TVs with built-in ATSC 3.0 capability. Do you expect Vizio, TCL, and other brands to add this capability to their TVs?

Schelle: We certainly expect to see other manufacturers come aboard – both for TV sets and for accessory receivers that upgrade existing TVs to receive ATSC 3.0 signals.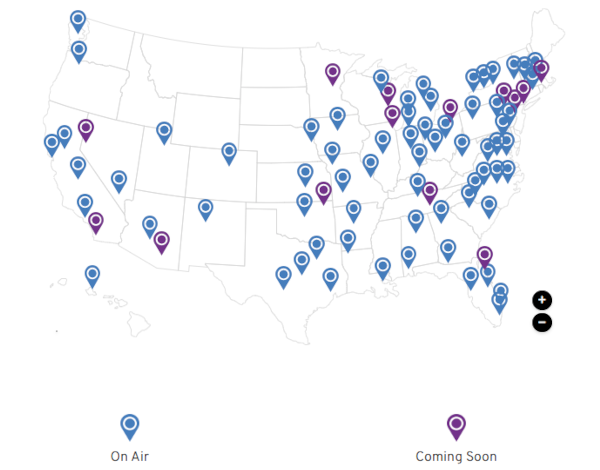 This map shows on a state-by-state basis where ATSC 3.0 is on the air or scheduled to go on the air soon. Source: watchnextgentv.com.
S&V: It would seem that the trend toward cord-cutting combined with today's confusing (and potentially expensive) array of streaming options work in the favor of NEXTGEN TV? What are your thoughts?

Noland: Recent data shows a rise in over-the-air (OTA) viewership in the U.S. with OTA audiences (ATSC 1.0 and/or ATSC 3.0) comprising about 24 million viewers and continuing to trend up. I think it's accurate to say that more people are reaching for an over-the-air antenna than since the 1970's. Some people are cord-cutting — dropping subscriptions to cable TV. But there are a lot of "cord nevers" — especially younger viewers — who aren't really cord-cutting because they never had a traditional pay TV service to begin with.
Local stations remain popular because they are the best source for local news, weather, and sports. And those same stations have always been available free and over-the-air with an antenna. So ATSC 3.0 is the beneficiary of more viewers being interested in accessing free local TV channels to complement the streaming services they subscribe to. Some broadcasters are embracing this trend, such as E.W. Scripps, which has launched a comprehensive campaign to encourage over-the-air viewing, called thefreetvproject.org.
S&V: To receive NEXTGEN TV signals you need a compatible TV or an outboard decoder if your existing TV isn't so-equipped, and an indoor or outdoor antenna (depending on your proximity to broadcast towers). I understand the first certified set-top receivers are due out soon. Can you explain the significance of the certification?
Schelle: "Set-top" receivers from ADTH and Zinwell were recently certified with the Consumer Technology Association's NEXTGEN TV logo. Certification is important because it ensures that an [ATSC 3.0] broadcast will be properly received and decoded for viewing, and that the consumer is getting the full benefits of this technology, including all of the audio functionality and the outstanding picture quality.
The first NEXTGEN TV-certified receiver is now available from ADTH for less than $100. But we know that many other companies are planning to enter the market and could offer even lower pricing. It's our hope that a strong assortment of NEXTGEN TV upgrade accessory receivers will join the mix of TV sets with this capability. There are currently 130-plus televisions certified with NEXTGEN TV electronics that start at under $600 and go up from there. We're working with all of the set-top manufacturers to get them on board with certified NEXTGEN TV products. You can find a list of all available NEXTGEN TV sets and accessory receivers on watchnextgentv.com.
S&V: A few weeks ago the Federal Communications Commission (FCC) extended its "substantially similar" rule applying to ATSC 1.0 and ATSC 3.0 broadcasts to 2027. Without getting too deep into the weeds, what does this decision mean for existing NEXTGEN TV broadcasters and the ongoing rollout of NEXTGEN services to new markets?

Schelle: The decision was positive in that it set a timeline of four years for broadcasters to be able to offer new or different content through NEXTGEN TV broadcasts. In the meantime, broadcasters and the consumer technology industry are working to drive the further adoption of low-cost TV sets and to certify more affordable upgrade accessory receivers so we get more people watching ATSC 3.0 with an antenna. As Madeleine noted, we're expecting to see some 10 million households with NEXTGEN TV receivers by the end of the year. That should continue to grow as more manufacturers support the technology and as sales of NEXTGEN TV sets and accessory receivers climb.
S&V: Delving into the technical rules governing ATSC 3.0 adoption is beyond the scope of this conversation but, generally speaking, what role has the FCC and state/local/federal government played in the adoption and roll out of NEXTGEN TV? Have these bodies been receptive to ATSC 3.0? Has there been any major resistance or hurdles to overcome?

Schelle: The FCC has generally supported the desire of broadcasters to upgrade their capabilities, much the same as wireless companies have been permitted to upgrade from 2G to 3G to 5G. Such innovation is essential to our future, and that's why we are so excited about the potential that exists with a technology that is based on Internet Protocol — just like streaming services. NEXTGEN TV delivers over-the-air and over-the-top streaming at the same time. U.S. broadcasters look forward to taking full advantage of these capabilities.
S&V: What is the biggest challenge in getting NEXTGEN TV on the air?

Noland: As I mentioned earlier, it's still a fairly complex situation for broadcasters. They have to collaborate on a market-by-market business with traditional competitors. They aren't permitted to vary what they are transmitting in ATSC 3.0 from what is broadcast in ATSC 1.0. They are spectrum-limited and unable at the present time to take full advantage of ATSC 3.0 capability to permit 24/7 broadcasting of 4K Ultra HDTV broadcasts. But I can tell you from personal experience that you don't need to have 4K to see a surprising difference in video quality. In my home market of Boston, I'm astounded what a difference it makes to have a 1080p signal. It just pops off the screen, even without HDR. And it's only going to get better and better.
S&V: What is the next milestone you hope to achieve for NEXTGEN TV?

Noland: We hope to see new markets — particularly the difficult big-city markets like Philadelphia, New York, and Chicago — launch in the coming months. Equally important are the smallest markets that really have no option for a Host Station because those markets may only have a single broadcaster. But the next milestone will be wide availability of affordable certified NEXTGEN TV accessory devices that will give even more viewers the ability to affordably upgrade to receive NEXTGEN TV. That will be a big development. And we're expecting to see those first receivers very soon — probably before Labor Day 2023. There are also exciting developments happening elsewhere in the world, including continued expansion of 3.0 in South Korea (now reaching about 80% of households), the launch of 3.0 in Jamaica with Trinidad and Tobago following suit this year, and the selection of many key 3.0 technologies for Brazil's next-generation system planned to launch in 2025.
S&V: Where is the best place to go to get up-to-date information on NEXTGEN TV?

Schelle: The best resource for consumers is the website that Pearl and its broadcasters maintain: watchnextgentv.com. You can find details on NEXTGEN TV, including a list of compatible TV sets and certified upgrade accessories and where to find them, a rundown of the markets now broadcasting NEXTGEN TV, and a search tool that provides a list of channels you can receive over-the-air in your area when you enter your address.
S&V: Okay, to wrap things up: What's the argument for getting an antenna and adopting NEXTGEN TV? Why should people consider it?

Schelle: Sound & Vision readers have always been interested in the best possible video and audio quality. While some of the streaming services and even pay-TV providers have leapfrogged over-the-air broadcasters in recent years, now local stations are jumping ahead with enhanced video and audio capabilities of NEXTGEN TV. Plus, local broadcasters will be able to offer over-the-top streaming choices that they have never before featured in the living room — including access to the latest news, weather, and sports reports on demand. And that's just the beginning. So if you're shopping for a new TV, make sure to look for the NEXTGEN TV logo.