Since
CES 2022
ended a few weeks ago, new A/V gear has trickled into the market and A/V companies have continued to issue press releases, though at a slower than usual pace. Here's some of the latest news to cross our desks.
Sony Promises 'Powerful Cinematic Experience' from $300 Soundbar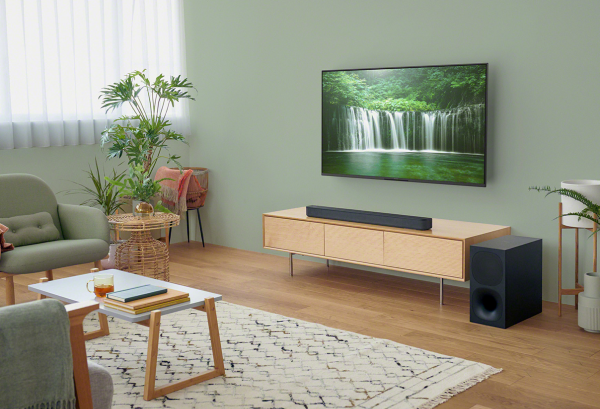 Is it possible to achieve a "powerful cinematic experience" from a two-piece soundbar system that costs only $300? Sony thinks so and credits the S-Force PRO virtual surround technology used in its new HT-S400 system with making a higher-than-expected level of performance possible.
The HT-S400 comprises a 36-inch-wide soundbar and wireless subwoofer that mates a 6.3-inch woofer with an amp rated to deliver 330 watts of total system power in an enclosure just over 15 inches tall; the soundbar receives 2 x 100 watts, while 130 watts is dedicated to the subwoofer. Sony expects to begin taking orders for the new system in April.
In addition to delivering Dolby Digital surround sound using only front speakers, the soundbar deploys oblong X-Balanced drivers with a notched-surround design that's said to improve clarity and lower distortion. Notches are "strategically placed" on the edge of the surround — the material that attaches the diaphragm to the driver's frame — to help control stress along the inside and outside edges of the diaphragm, according to Sony.
The system is designed for quick and easy wireless connection to Sony Bravia TVs that support Bluetooth A2DP and boasts an integrated user interface that displays soundbar settings on the TV screen. It also has an OLED display window that shows system status and includes a simple remote with buttons for volume up/down and mute, bass level, input selection, and three listening modes — Voice for clearer dialogue, Night for late-night listening, and Sound Field for creating a virtual surround experience with stereo soundtracks.
Connections include optical digital and ARC-enabled HDMI inputs. For more information, visit electronics.sony.com.
DSCC Sees Lower LCD TV Prices, Higher OLED Shipments in 2022
Display Supply Chain Consultants (DSCC), the Austin-based company dedicated to tracking developments in the flat-panel display industry, recently issued a report outlining 10 predictions for the New Year. Among the prognostications…
LCD TV Panel Prices Will Decline Through Early 2022
Increased demand during the pandemic combined with supply chain disruptions and component shortages led to historically high increases in the price of LCD TV panels between May 2020 and June 2021 when prices more than doubled before peaking in June. "For decades prior to the pandemic, TV prices showed negative inflation, and in the flat-panel era it was almost always in the double digits," the report said. "The massive increases in LCD
TV panel prices [during that period] drove TV prices higher and TV inflation turned positive for the first time ever, peaking at 13.3% in August." Following price peak in June 2021, prices declined 46% through the remainder of 2021. DSCC expects LCD panel prices to continue falling in the early months of 2022 but says they will stabilize in the spring before reaching new all-time lows.
Shipments of OLED TV Panels Will Exceed 10 Million
Following five years of double-digit increases in shipments of OLED TV panels, the DSCC expects OLED shipments to exceed 10 million, a historic high for the category dominated by LG. The report also referred to persistent (but unconfirmed) reports that Samsung will join LG and Sony in the OLED TV space in 2022.
Sales of Quantum Dot (QD)-OLED TVs Will Kick Off…Slowly
Samsung and Sony will introduce TVs based on QD-OLED technology in 2022 but DSCC predicts unit sales will fall short of 1 million due to challenges both in manufacturing the new TVs and marketing them to the public. "The QD-OLED product has several attributes that will make it challenging to manufacture, and we expect [Samsung Display] to struggle with low yields," the report said, adding that it is unclear whether advantages in color gamut and perhaps viewing angle "will be noticeable enough to justify the price premium. WOLED panels already achieve the best possible black level, and LG and Sony have spent years educating the public on the benefits of OLED technology. It remains to be seen how the QD-OLED TVs will be marketed, but by the very nature of being at the premium end of the market, sales volumes will be limited."
US-China Trade War Will Continue to Disrupt the Display Industry
Tensions between the U.S. and China are "unlikely to ease in 2022 and will likely lead to unforeseen disruptions in the value chain for display-related products," the DSCC report warns. "The trade war that was initiated by the Trump Administration has continued in the Biden Administration, and broader relations have not improved. In a series of moves from 2017-2019, Trump instituted punitive tariffs on imports from China. While many display products were exempt — including monitors, notebooks and tablets — TVs were hit with the punitive tariffs, and even after a "Phase 1" trade deal was negotiated in January 2020, TV imports from China have been subject to a punitive tariff of 7.5% and a total tariff of 11.4%…In the low-margin TV business, the tariff makes Chinese production for the U.S. TV market unprofitable, so TV production has shifted to Mexico, Vietnam, and Thailand. In 2018, China was the source of 55% of U.S. TV imports, but by the third quarter of 2021, this share had been reduced to 16%. We expect this trend to continue for TVs."
Audioengine's New Mini Sub Rumbles Down to 33Hz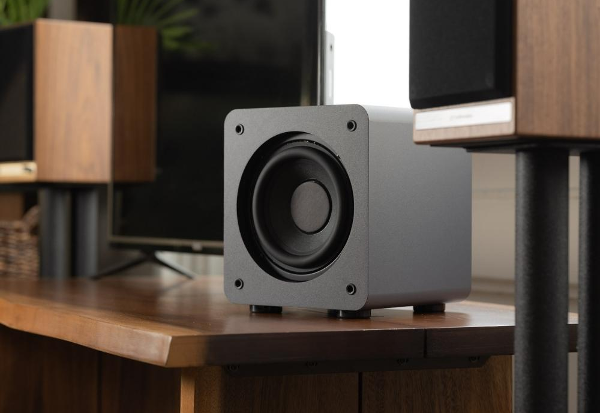 Don't be fooled by its size. Audioengine's new S6 powered subwoofer may be smaller than a 10-inch cube but it's built to play down to 33Hz (±1.5 dB), making it ideal for audio setups in tight spaces.
The S6 ($299) mates a 6-inch woofer with a 210-watt class-D amplifier in a sealed MDF enclosure that measures 10 x 8.7 x 10 inches and weighs about 15 pounds. The sub has a removable fabric grille and protection circuitry that limits output current and guards against overheating and transient pops that occur when the unit is powered on and off.
Dual line-level RCA stereo/LFE inputs are provided along with a 3.5mm minijack input, level control, crossover control (variable between 40 and 130Hz), phase switch, and standby auto-sensing bypass switch. The sub also has a detachable power cord and USB charging port that can be used to connect an optional wireless transmitter/receiver kit.
Audioengine includes minijack and RCA audio cables — both 6.5 feet long — and offers a 30-day money-back guarantee with free return shipping if you opt for store credit, otherwise the sender pays for shipping. For more information, visit audioengineusa.com.
Craft Recordings Readies Ornette Coleman Box Set
Craft Recordings, the Los Angeles-based reissue label that kicked off its Small Batch Series last year with a limited-edition vinyl reissue of John Coltrane's Lush Life, has announced the release of a new box set jazz fans will appreciate: Ornette Coleman – Genesis of Genius: The Contemporary Albums, featuring two seminal releases — 1958's Something Else!!!! The Music of Ornette Coleman and 1959's Tomorrow Is the Question! The New Music of Ornette Coleman.
Slated for release on March 25, the $75.99 set includes digital versions of the albums, a 32-page booklet with archival photos, and new liner notes by music historian Ashley Kahn. Both albums were originally recorded for the Contemporary Records label by celebrated engineer Roy DuNann and have been newly mastered by his protégé Bernie Grundman. The original analog tapes were used to cut the 180-gram vinyl LPs and create new hi-res transfers for the CDs and digital editions. Craft is also releasing SACD versions of both albums ($29.99 each) and a CD-only box set for $24.99.
"The Contemporary discs were the foundation of Ornette's career and the bellwether of a new age, arriving at the close of one decade, and the onset of a brave, new one," Kahn writes in the liner notes. "Embraced or derided, the music challenged long-held ideas of what jazz — what music — should sound like."
Craft's reissues are far ranging and include albums by Andrew Gold, Buddy Guy, Creedence Clearwater Revival, James Taylor, Vince Guaraldi, John Lee Hooker, Joan Baez, Little Richard, R.E.M., and Nine Inch Nails to name a few. Visit craftrecordings.com for more information and to pre-order Genesis of Genius.