As the pandemic winds down (again) and spring draws near, new product introductions are starting to pick up. Will they reach pre-2020 pandemic levels? Probably not, though the volume of press releases seems a bit higher than it was a year ago. Ongoing labor shortages and supply-chain disruptions chain caused by the logjam of shipping containers in major ports continue to hinder a return to normalcy — a situation that some analysts predict is here to stay for the rest of the year and possibly beyond. In the spirit of being thankful for the goods and services we can get, here's a look at some of the latest A/V gear with a little news thrown into the mix.
CanJam NYC 2022 Opens February 26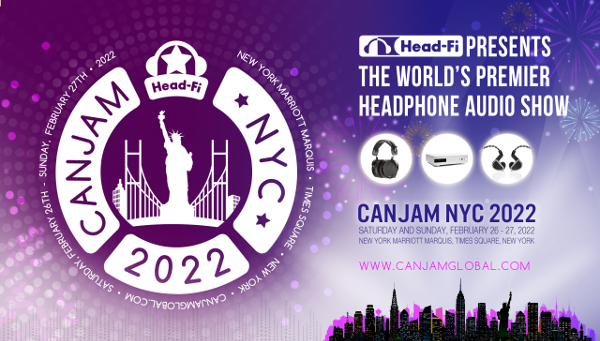 CanJam, hailed as the world's premier headphone audio show, is returning to New York City on the weekend of February 26-27 after a two-year hiatus. (The 2020 event narrowly escaped the grip of the pandemic, ending just 23 days before the World Health Organization sounded the alarm, and last year's show was cancelled.) Produced by the online forum Head-Fi.org, CanJam NYC 2022 will host more than 100 brands in a 20,000-square-foot exhibition space at the New York Marriott Marquis, located in the heart of Times Square. Attendees will have the opportunity to see and hear the latest products and innovations in headphones and personal electronics at prices ranging from $50 to $50,000.
Showgoers also gain access to a slate of seminars, most of which are geared to newcomers. Saturday's opening session, "Headphones 101," will provide an overview of different driver designs (dynamic, planar magnetic, electrostatic, etc.) before delving into the basics of acoustics, frequency response, impedance, and sensitivity. Other seminars slated for Saturday include "Headphones 201," "Amplification 101," "Digital Audio 101," and "Streaming 101," a session led by industry personality David Solomon. Solomon is chief hi-res music evangelist for the hi-res streaming service Qobuz USA, which celebrated its third anniversary on Valentine's Day and is one of the event's sponsors.
Sunday sessions include "Measurements 101 and two "Special Presentations" — one on the new Mojo 2 portable DAC/amp from England's Chord Electronics and one entitled "Modern Measurement Techniques for Headphones, DACs, and Related Audio Devices." Click here and scroll down to "Seminars" for session times and descriptions; for a list of CanJam exhibitors, scroll down to "Exhibitors."
Show hours are 10 a.m. to 6 p.m. on Saturday and 10 a.m. to 5 p.m. on Sunday. Tickets and are $30 for the weekend or $20 per day and can be ordered in advance at canjamglobal.com. CanJam events are also scheduled to take place in Singapore (April 2-3), Shenzhen, China (April 9-10), Chicago (June 18-19), London (July 30-31), Irvine, CA (CanJam SoCal 2022, September 17-18), and Shanghai (December 3-4).
LG to Expand its CineBeam Series of 4K Projectors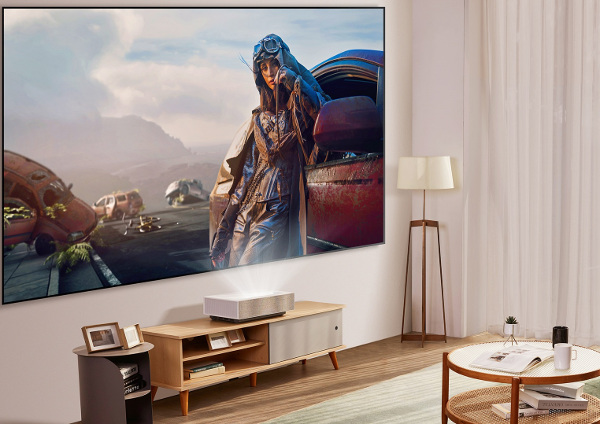 We usually receive new product news from LG's U.S. arm but every now and then the company issues press announcements — like this one — from its worldwide headquarters in Seoul, South Korea. In the coming weeks, LG is adding two "advanced" 4K laser projectors to its CineBeam series: the ultra-short-throw HU715Q and the conventional HU710P. Seoul bucked the question of U.S. pricing to LG USA but we haven't heard back from them as of this writing.
Designed to project images between 80 and 120 inches (diagonal), the HU715Q has a laser light source with a rated brightness of 2,500 ANSI lumens and can deliver a 100-inch picture when placed 8.5 inches from the wall/screen. The HU710P uses a hybrid laser/LED light source with a rated brightness of 2,000 ANSI lumens and accommodates screen sizes between 40 and 300 inches with a throw distance of 9.5 to 15 feet.
Both projectors have a rated lifespan of 20,000 hours and incorporate LG's webOS smart platform for easy access to Netflix, Amazon Prime Video, Disney+, YouTube, Apple TV, and other popular streaming services in addition to sharing a number of other features, including a brightness optimizer that adjusts light output according to ambient light conditions.
Other common features include keystone correction with 4-, 9-, and 15-point warping to ease horizontal and vertical alignment for flexible placement without image distortion, dynamic tone mapping, which fine tunes high dynamic range (HDR) performance by analyzing each video frame on the fly, and Filmmaker Mode, which aims to honor creative intent by preserving the film's original aspect ratio, frame rate, and color palette.
Both models have integrated stereo speakers powered by a 2 x 20- (HU715Q) or 2 x 5-watt (HU710P) amplifier and, since it's designed for placement front and center, the HU715Q is covered in décor-friendly fabric produced by the Danish textile firm Kvadrat.
Elite's New Projection Screen Rises Up from the Floor
Projection screens that drop down from the ceiling are cool but how about a screen that rises up from the floor? Elite Screens has introduced a portable motorized screen that does just that.
Designed for use indoors or outdoors, the Kestrel Tab-Tension uses remote controllable "scissor-backed" cross risers to raise and lower the 16:9 screen from a moisture-resistant aluminum housing, making it ideal for spaces where a wall or ceiling installation is not practical.
With a rated gain of 1.2, the Kestrel is designed to maintain a flat and taut projection surface suitable for use with ultra-short throw projectors and features Elite's CineWhite X material, which is ISF-certified for accurate color reproduction and said to accommodate an "ultra-wide" viewing angle. Offered in 122-, 133-, and 150-inch (diagonal) sizes, the screen is equipped with a 12-volt trigger and ships with two remote controls — one RF (radio frequency), the other and IR (infrared). Prices start at $2,999.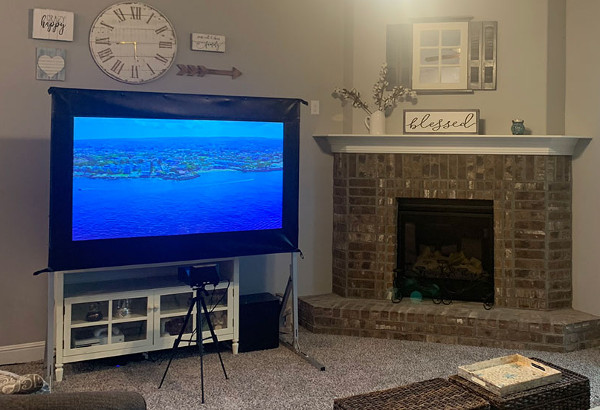 Elite also introduced a portable 16:9 screen designed to absorb up to 90% of overhead light minimize. Designed specifically for use with portable ultra-short-throw projectors, the Light-On CLR 3 screen is offered in a tripod version with a 55-inch (diagonal) screen and a folding-frame version with a 60-inch screen.
The Tripod model is a retractable, pull-up design with a tensioning system designed to provide a ripple-free projection surface. The folding-frame model has adjustable legs and the screen material is stretched flat onto the frame using corner pull-tabs. Both models include a carrying bag. Prices start at $499.
For more information on the Kestrel, visit elitescreens.com. Click here for more on the CLR 3.
KEF Launches Updated Reference and Blade Speakers
KEF has introduced new versions of its Reference series home theater speakers and flagship Blade speaker (right in photo), both of which are hand-assembled in Maidstone, England. Five Reference models and two Blade models have been updated with the company's latest acoustic innovations, including redesigned crossovers and a "greatest yet" 12th generation version of its signature Uni-Q driver, now featuring Metamaterial Absorption Technology (MAT).
Developed in conjunction with Hong Kong's Acoustic Metamaterials Group (AMG), the new MAT technology is said to absorb 99% of unwanted sound, resulting in "more natural acoustic performance" from KEF's Uni-Q concentric driver design, which places a tweeter in the throat of a woofer.
The crossover in both series has also been fully reworked with new, low-distortion components in an effort to ensure signal integrity.
The updated design goes a step further in Blade models, which also incorporate KEF's Single Apparent Source technology, which is said to "expand the benefits of Uni-Q across all frequencies by closely following the acoustic ideal of a point source." Woofers in the updated Blade models are also now braced against one another in an effort to cancel out destructive vibrations that would excite the cabinet.
Topping the list of Reference series upgrades is a "massive, vented magnet assembly paired with a huge aluminum voice coil and a stiff, yet cleverly damped alloy cone to ensure [the speaker] is fully capable of achieving pipe-organ depths." Additional upgrades include a new Shadow Flare trim ring around each driver to reduce the negative effects of diffraction and the use of constrained layer damping and tuned internal chambers to mitigate vibration and standing waves, respectively.
The updated Blade One Meta ($35,000/pair) and smaller Blade Two Meta ($28,000/pair) are offered in four standard finishes: piano black/gray, white/champagne, charcoal gray/bronze, frosted blue/blue). Additional special-order finishes will be available in June.
The Reference series models are offered in three standard finishes — satin walnut/silver, gloss white/champagne, gloss black/gray — and two special-order finishes (gloss white/blue and gloss black/copper). Pricing for the new Reference models is as follows: Reference 5 Meta tower ($22,000/pair), Reference 3 Meta tower ($15,000/pair), Reference 1 Meta stand-mount ($9,000/pair), Reference 4 Meta LCR speaker ($8,000 each), and Reference 2 Meta LCR speaker ($6,000 each). The S-RF1 floor stand for the Reference 1 Meta is priced at $1,200/pair and available in black or white. For more information, visit us.kef.com.