Sound Quality Matters
When you think about the role sound plays in our everyday lives — from listening to music over wireless earbuds or making work-related calls while on the go to watching movies or playing videogames at home — it's no surprise that the quality of that sound is more important today than ever before. And not just for enthusiasts.
In Qualcomm's just-published "The State of Sound Report 2022", well over half (58%) of the respondents not only recognize the importance of having high quality sound but say they expect "high-resolution" or "lossless audio" from wireless speakers, earbuds, headphones, and other audio gear they own or are considering buying. More to the point, 70% of those surveyed say having good audio gives the "best experience" when listening with a smartphone and that, in general, listening to music has a positive impact on their wellbeing.
Spatial audio, a.k.a. 3D audio, also ranks high in importance with four in 10 (41%) of those surveyed saying they would be willing to pay more for true wireless earbuds offering that feature, while noting that listening to music (62%) is important than watching movies in surround sound (48%).
That these messages are resonating among the general public is great news and a sign that efforts by this magazine and others to espouse the importance of high quality sound are not going unnoticed by those outside of enthusiast circles.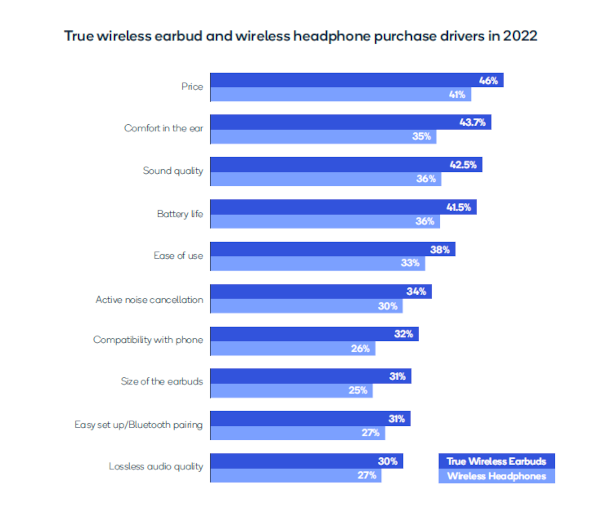 The survey also found that wireless earbuds are fast becoming integral to mobile gaming with respondents reporting that they use them to play games on their phones for 2 or so hours a day.
Along with the welcome focus on earbud sound quality comes the desire (demand?) for a long battery life. The study found battery life to be the top consideration among those looking to buy wireless speakers — suggesting that speaker portability and convenience are key — and that long life has become a standard expectation for true wireless earbuds and headphones. Most respondents want at least 5 hours of play time from wireless earbuds before they need to be recharged with a quarter (26%) of those surveyed looking for up to 14 hours.
Price and comfort are also of paramount importance among those shopping for true wireless earbuds and wireless headphones, ranking No. 1 and No. 2 in a list of "top purchase drivers" (see chart above), followed by sound quality, battery life, ease of use, and active noise cancellation (ANC).
Compared with last year's survey, the 2022 report noted a significant increase of 13% each in ANC, high-resolution audio, and spatial audio when it comes to features most desired by potential buyers of true wireless earbuds. Furthermore, active noise cancellation is a must-have feature for a majority (68%) of respondents but it comes with drawbacks, which include draining battery life (36%) and difficulty getting a good fit with the earbuds (30%). Bottom line: today's shoppers expect more from wireless earbuds than they did a year ago.
Isolating "purchase drivers" for wireless Bluetooth speakers and smart speakers that go beyond the desire for a long battery life, survey respondents ranked sound quality, price, and ease of use as the next three most important considerations.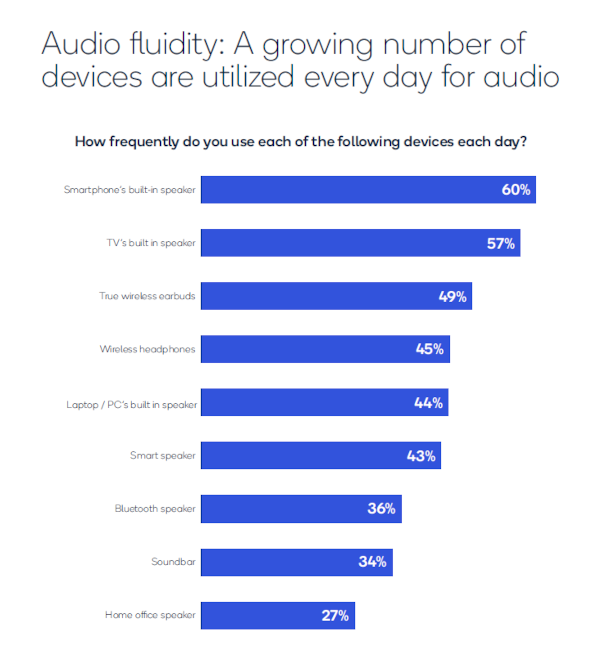 At the end of the day, the backdrop for the survey's overall findings is that people are using multiple audio devices every day for listening to music or podcasts, playing games, and watching TV (see chart). Clearly, there is work to be done here if 62% of those surveyed listen through the speaker built into their smartphone (time for earbuds or headphones!) and 57% listen through the TV's speaker TV (time for a soundbar!).
Conducted in July, "The State of Sound Report 2022" is based on a sample of 6,000 smartphone users 18-64 years old in the U.S, U.K., Germany, China, India, and Japan; the sample for each country was 1,000.
Bond and B&W, Perfect Together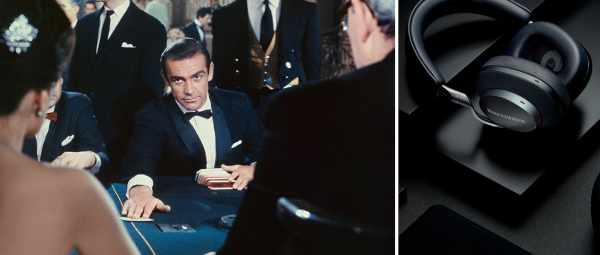 Dr. No © 1962 Danjaq, LLC and Metro-Goldwyn-Mayer Studios Inc. All Rights Reserved.
Bowers & Wilkins and the 60-year-old James Bond film franchise are celebrating the iconic musical themes behind the 26 movies made between 1962 (Dr. No) and 2021 (No Time to Die) with a multi-faceted and very British partnership that includes the release of the Px8 007 Edition wireless headphones and the use of B&W speakers to mix the new Bond 25 album. The album features new arrangements of 25 Bond themes that were recorded by the Royal Philharmonic Orchestra at London's renowned Abbey Road Studios.
The Bond-inspired version of the Px8 active noise canceling headphones B&W launched in September feature a classy midnight blue finish inspired by the dinner jacket worn by James Bond (Sean Connery) in Dr. No, the film that introduced moviegoers to the ever-cool secret agent.
At $799, the PX8 007 Edition flagship headphones are $100 more than the regular PX8 model, and use aptX Adaptive-enabled Bluetooth to deliver high-resolution audio to a pair of full-range 1.6-inch (40 mm) custom drivers ensconced in earcups with nappa leather ear cushions. The headphones can be controlled by physical controls on each earcup or via the Bowers & Wilkins Music App. Rated battery life is an impressive 30 hours with a 15-minute quick charge option that provides 7 hours of playtime.
"We are immensely proud of our long-standing relationship with the James Bond franchise," commented B&W VP Giles Pocock. "Our new partnership gives us the perfect opportunity to highlight the close connection we've had with some of the iconic music of 007 over the years. Together, we will continue to celebrate the instrumental role that music plays in this global cultural phenomenon."
For more information on the Px8 007 Edition headphones, visit bowerswilkins.com.
Bluetooth Speakers Bring a Modern Twist to Historic Victrola Name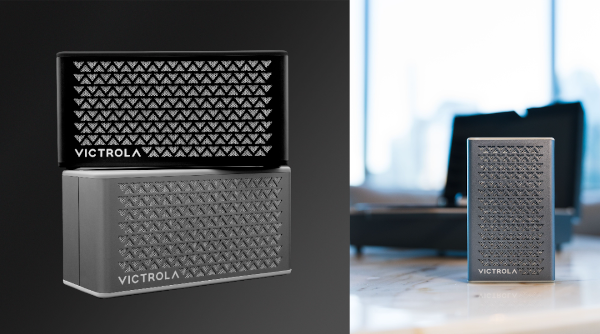 Victrola, a brand name synonymous with phonograph that dates back more than 100 years to the earliest days of recorded music, is going for a clean modern look with two portable Bluetooth speakers that were first shown back in January at CES 2022. For whatever reason (and there are likely many given ongoing parts shortages and supply chain issues), the Victrola Music Edition speakers are just now hitting the market.
The ultra-portable ME1 ($100, right in photo) and tabletop ME2 ($200, left) are battery-powered speakers featuring waterproof enclosures with stylish anodized-aluminum grilles. Both carry an IP67 rating, meaning they are impervious to dust and can be submerged in up to 10 feet of water without damage. The ME1, designed for grab-and-go listening, pairs a 2-inch driver with a passive bass radiator in an ultra-compact enclosure. To maintain a smooth profile without protrusions, controls are mounted flush in the edge along with a USB charging port. Battery life is rated for up to 12 hours of continuous play.
The ME2 mates a 3.5-inch driver and 1-inch tweeter with two passive bass radiators and a more powerful amplifier in a larger enclosure with top mounted controls and an auxiliary input. Battery life is rated for up to 20 hours of continuous play.
Both models are offered in black or silver with additional colors coming in 2023. For more information, visit Victrola.com.
Record Inflation Spurs Interest in Streaming Bundles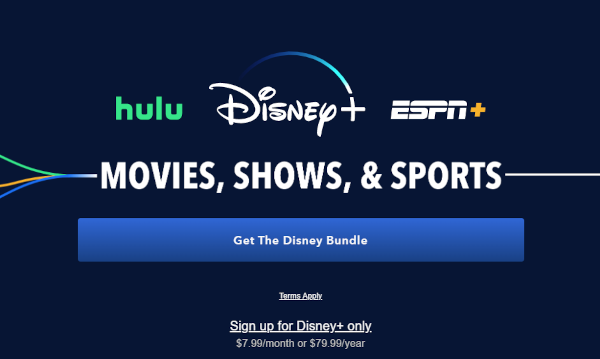 It's hard to avoid the subject of soaring inflation these days as it impacts just about everything, including streaming subscriptions, but perhaps not in the way you would expect.
A new report from the National Research Group (NRG) finds that just over half of consumers say subscriptions now make up a "significant" portion of their monthly spending, forcing them to make hard choices.
Two-thirds of consumers say they expect to have to make cutbacks to their regular spending due to inflation but only 28% they plan to decrease the number of subscriptions they have over the next 6 months. And of those subscriptions, dating apps, personal efficiency apps, and beauty boxes are far more likely to be canceled than subscriptions to Amazon Prime, TV and movie streaming services, and home security systems.
Instead, 57% of consumers with at least one streaming subscription are moving to streaming bundles, with Disney+, Hulu and ESPN+, T-Mobile and Netflix, and Hulu with HBO Max among the most popular packages. Ironic, considering that bloated bundles tend to be what people hate most about cable TV and what pushes many to finally cut the cord.
Here are a few other interesting findings…
• 24% of U.S. consumers admit to password-sharing — that is, using a streaming service they don't subscribe to
• $10.60 is the maximum amount the average consumer is willing to pay for a streaming service that included ads
• 66% of consumers agree it's hard to keep track of all the streaming services that have launched in the last few years
• 56% of consumers have taken out a subscription planning to cancel before the free trial ended — and 73% of them wind up being charged because they forgot to do cancel.
Does any of this sound familiar?
LG OLED TVs Get WiSA SoundSend Certification
The Wireless Speaker & Audio Association (WiSA) recently announced that a number of LG OLED TVs are now certified to work with the WiSA SoundSend wireless audio transmitter, a $179 adapter/transmitter that converts the TV's audio output into a high-quality wireless signal compatible with WiSA Certified speakers.
LG TVs that received the certification belong to one of the following TVs series: C2, G2, Signature Z2, ART90, LX1, LX3, QNED99, or QNED90.
The SoundSend transmitter automatically finds and connects with WiSA Certified speakers once it's plugged into the TV's optical audio output or ARC/eARC (enhanced Audio Return Channel)-enabled HDMI port. The device is able to transmit up to eight audio channels in addition to decoding Dolby Digital, Dolby Digital+, and Dolby Atmos soundtracks.
When a wireless connection is established, the SoundSend mobile app can be used to fine-tune the sound with individual-speaker and master volume control, multi-band equalization, audio presets (movie, sports, gaming, etc.), and a My Zone automatic level control that ensures balanced sound by "calibrating each speaker to the listener's location." The TV's remote is used for day-to-day system operation.
The WiSA protocol supports audio resolutions up to 24 bits/96 kHz and is designed to ensure low latency and less than 1 microsecond of synchronization between speakers.
For more information about WiSA, including a list of WiSA-compatible speakers, visit wisatechnologies.com.