When our neighbors' rambunctious puppy recently sat mesmerized by their daughter's cello playing, it proved again that music soothes the savage beast.
The dog's reaction would come as no surprise to the promoters of Make Music Day, a series of live concerts presented in 120 countries and 1,000 cities that happen annually during the summer solstice. This June 21, in fact, marked Make Music Day's 40th Anniversary.
In an opinion poll released in conjunction with the global event, results showed that 60 percent of respondents think music has the power to help save the planet. The same percentage agreed that music influences human emotions and motivates people to fight for societal issues. The belief climbs to 70 percent among 18- to 25-year-olds. The poll was taken in the United States, United Kingdom, France, Japan, Germany, Spain, and the Netherlands.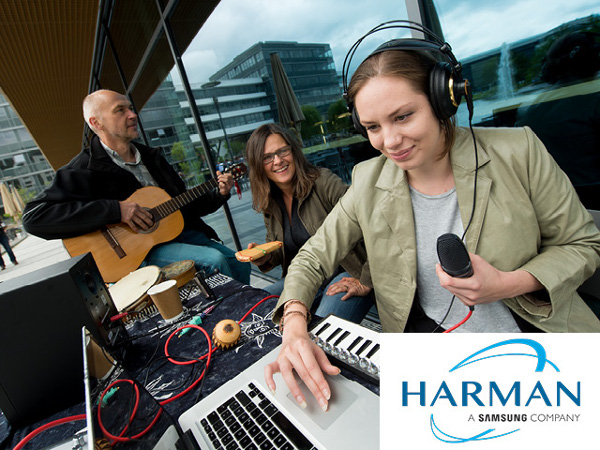 Additionally, 50 percent of respondents felt that artists should address racial issues and 42 percent felt that songs could inspire them to join social movements. According to survey respondents, the artists, Macklemore and Beyoncé, have taken up the mantle of expressing ideas in songs that had earlier been the purview of artists like Bob Dylan, Aretha Franklin, Jimi Hendrix, and Joan Baez.
Rock is the most effective musical genre for spreading social messages, according to 30 percent of those surveyed, followed by country or rap (at 27 percent each), and hip hop or pop (at 26 percent apiece).
The Make Music Day survey was sponsored by Harman, a Samsung subsidiary, in collaboration with the British market research and data analytics firm YouGov.
Now onto the gear…
KEF Aims to Elevate Wireless Hi-Fi with the LSX II
With its new LSX II system ($1,400), KEF is offering up a complete music solution contained in a pair of compact speakers that stand less than 10 inches tall. Though the speakers look almost identical to their LSX predecessors, the system incorporates the W2 wireless platform used in KEF's LS50 and LS60 speakers and provides ARC-enabled HDMI and USB-C connections in addition to the optical digital and 3.5mm analog inputs found on the LSX, making the LSX II practical for both TV and desktop computer systems.
Each LSX II speaker uses the latest version of KEF's 11th generation Uni-Q driver array in which an aluminum-dome tweeter is placed at the acoustic center of the woofer — a 4.5-inch magnesium/aluminum alloy cone in this case — to recreate how sound is produced naturally and eliminate listening restrictions imposed by a conventional "sweet spot."
The system is Roon Ready and supports streaming via AirPlay 2, Google Chromecast, and Bluetooth in addition to providing direct access to Amazon Music, Qobuz, Tidal, Deezer, internet radio, and podcasts through the KEF Connect app, which also walks you through set-up and provides system controls, including
KEF's Room EQ DSP. The equalizer/processor provides Normal and Expert modes to help listeners personalize the sound and presets to ease integration with a KEF subwoofer.
Total system power is 200 watts with each tweeter receiving 30 watts and each woofer receiving 70 watts. The cabinets are available in five finishes: white or red in matte or high-gloss, black or blue with fabric-clad sides, and a Soundwave edition featuring sides clad in a special fabric design from Danish textile designer, Kvadrat.
For more information, visit us.kef.com.
In other KEF news, the brand's Sound of Summer Sale, offering deals on more than a dozen speakers, is underway through August 1.
Highlights include a $400 discount on the Q950 floorstanding speaker, which is offered in walnut for $800 instead of the regular per-speaker price of $1,100. The Q Series Q950 home theater package comprising two Q950 towers, a Q250c center speaker, two Q150 bookshelf speakers — all finished in walnut — and a black Kube 10b subwoofer (with wireless kit) is on sale for $3,100, a savings of almost 30% off the regular price of $4,350. The Sopranos' Paulie Walnuts would be pleased.
Significant discounts are also offered on the five-speaker T205 Sat Pack system, originally $2,000, now on sale for $1,000, and the Mu3 Earbuds, originally $229, on sale for $130. To peruse all of KEF's summer specials, visit us.kef.com.
McIntosh Decluttering Solution from McIntosh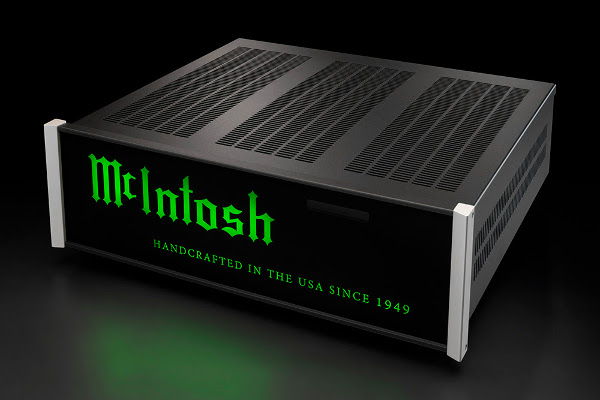 Summer may be the best time to beautify a cluttered home audio system.
McIntosh Labs has introduced the elegant LB200 Light Box, a spacious storage compartment for housing unattractive devices. The removable back panel reveals a 16 x 4.4 x 13.4-inch (WxHxD) compartment for hiding unsightly components such as streaming devices and cable boxes. The top can also be removed for inserting components. Empty, the LB200 weighs 14 pounds.
The front displays an illuminated McIntosh logo along with the words "Handcrafted in the USA since 1949." (Ironically, hardly any electronics from that era would fit inside.) According to the company, RF and Wi-Fi commands will typically be able to pass through the LB200 without signal loss. For infrared (IR) remote controls, a receiver kit is supplied for use with the extra-wide sensor window on the front panel. Dedicated holes are included on the back panel to help with cable management. The LB200 is $1,500.
For more information, visit mcintoshlabs.com.
May the Force Be with Your TV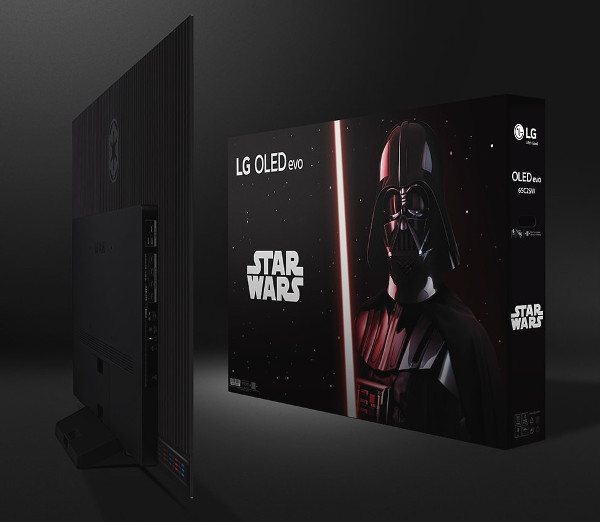 Longtime fans may remember that it was almost summer when the very first Star Wars movie was released in May of 1977. Now, those who wear the film's identity on their sleeves can share their enthusiasm with their TV.
The LG OLED Evo C2 Star Wars Special Edition TV ($3,000) imbues a galaxy far, far away. The smart TV comes with a Star Wars-labeled remote that's supposed to suggest a Lightsaber, so be careful where you point it. Turn on the TV, and you'll hear Darth Vader breathing. (The sound effect can be defeated.)
Each TV comes with a numbered certificate of authenticity and LG is planning to release just 501 units in the U.S. (You may want to save the Star Wars-themed carton in which the TV ships to help distinguish it from other LG Evo TVs.) Like all C2 series models, the 4K set incorporates LG's Alpha 9 Gen 5 processor, which is said to leverage artificial intelligence to enhance upscaling performance and give onscreen images a more three-dimensional quality by distinguishing foreground and background elements from one another.
The TV is available in 65-inches only. Get it before the Death Star arrives to annihilate further buying choices. For more information, visit lg.com.
Good Thing This Mammoth Speaker Has the Floor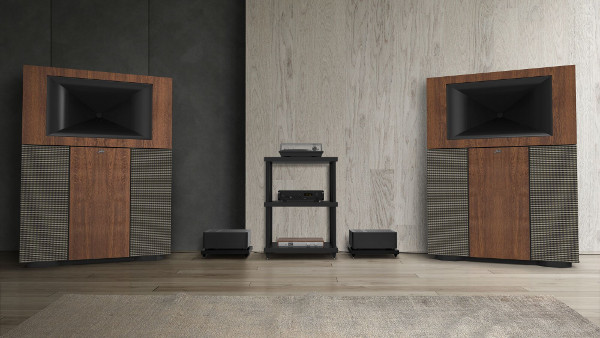 The latest addition to Klipsch's ever-popular Heritage series is the new flagship Jubilee speaker, a behemoth that stands almost 6 feet (69.5 inches) tall and weighs 330 pounds.
Meant to deliver an extreme listening experience, the Klipsch Jubilee is a fully horn-loaded two-way loudspeaker incorporating the latest acoustic technology. With a rated frequency response of 18Hz-20kHz, the Jubilee mates dual 12-inch woofers with an all-new compression driver featuring a 7-inch "axiperiodic" titanium diaphragm in a vented enclosure with three 4-inch ports. The high-efficiency axiperiodic design lowers the crossover point for a seamless transition to the woofers and is said to provide maximum output with minimal distortion while extending response.
The Jubilee includes a rack-mountable active crossover with built-in equalization and digital signal processing that's designed to eliminate phase cancellation in the crossover region and enable the use of separate amplifiers for the speaker's high- and low-frequency sections.
The Jubilee is available in walnut or black ash real-wood veneer; both speakers are finished using grain-matched panels to ensure a consistent look. The Jubilee sells for $35,000/pair and is covered by a generous 10-year warranty.
For more information, visit klipsch.com.