Premium VOD (Video On Demand), Early Access, Theater at Home, In-Theater Rental. Each of these terms essentially describe the same thing: new movies screening in theaters that can also be streamed for home viewing. Premium VOD (we'll run with that label) is a fairly recent development, one that quickly accelerated with the arrival of Covid. And while theaters have since re-opened, Premium VOD appears to be here to stay in a big way, with many new movies available to stream from services such as Vudu, Amazon Prime, Apple TV, and more.
What's the catch with Premium VOD? Cost, mainly, with around $20 per stream being the typical going rate. For many folks, twenty bucks — or the cost of a movie ticket plus a small popcorn and Coke — is enough of a deal-breaker to make them re-consider pushing a remote control button to make a purchase and start a stream. It would be for me. At least that's what I thought.
I was quick to buy my IMAX ticket when Dune was released in theaters back in late October, a time when new Covid cases were in retreat and mask restrictions were being lifted, and I was glad that I did. But the next time I wanted to watch a new film out in theaters, instead of bolting up from my reclining sofa, I found myself looking over the current Premium VOD options. The film in question was Lamb, an Icelandic family horror-drama released by A24, a studio that seems to specialize in such hybrid sub-genres. Did I really want to pay $20 to stream Lamb? More to the point, did I need to go out to a theater to see it? In the end, I ended up hitting the onscreen Buy button and viewing from home.
There's a lot to be said for watching movies at home with a 4K projector on a 100-inch diagonal screen with a carefully dialed-in Atmos surround sound system, and my Lamb viewing experience certainly benefited from all of that. And though my home theater serves my needs well, it's a modest one by any standard. Our semi-regular Media Room Insider feature Apartment Theater details a much more luxurious system (check out those reclining seats!). I was very enthusiastic about running this article because it documents a sophisticated A/V installation in the kind of apartment setting empty nesters might find themselves living in. You don't necessarily need to live in a house to have a home theater!
The installation uses a Zappiti Pro 4K HDR media server — an S&V Top Pick from 2020 — as a video source. Also be sure to check out our more recent review of a similar product from Kaleidescape, or rather update on contributing video technical editor Kris Deering's ongoing Kaleidescape Experience. If you're not familiar with Kaleidescape, the company's media ecosystem lets you purchase and download 4K/HDR movies with the same lossless high-resolution Dolby and DTS soundtrack formats you'd get on Blu-ray disc. (In comparison, streamed movies, even ones you pay $20 to view once, use Dolby Digital Plus, a soundtrack format that employs lossy audio compression.) The company recently added movie rentals to its online store, including Premium VOD offerings, with the unique option to purchase many movies at a discount for a limited time after you rent them. So, there you have it: another way to watch new movies at home, but this one with completely uncompromised A/V quality.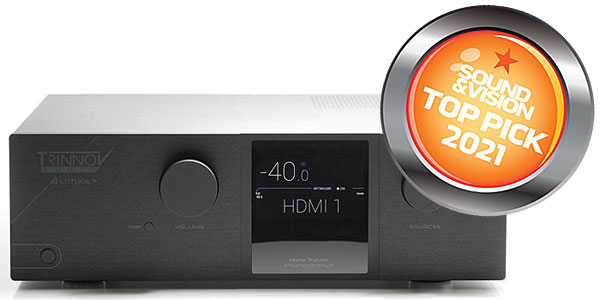 Top Picks of the Year
While we're on the subject of special gear, if you haven't already checked out our 2021 Top Picks of the Year, be sure to do so. While our overall Top Pick is Trinnov Audio's Altitude16, a state-of-the-art surround sound processor that costs a cool $18,000, our list is also packed with plenty of budget-friendly gear, with numerous Top Picks listing for under $1,000. In response to the urging of a vocal segment of our readers, we made a concerted effort in 2021 to review more affordable products. The much larger than usual list of gear in the Top Value category is a testament to that, and we will be on the lookout for similar high-value offerings throughout 2022. Sure, luxury home theater has its place in the world, but a basic A/V system can also be greatly improved through low-cost additions. We want our readers to know about those.