Summer is ending. School is starting. Transitioning into a new season is an outstanding opportunity to consider new gear like the equipment that follows. This crop includes a TV with bragging rights, a pair of stylish earbuds that the company terms in-ear computers, a THX-certified home theater in a box, noise-cancelling headphones that let in the outside—or not, and a cool turntable that plugs into the company's speaker system or your own receiver.
An OLED Meant to Elicit OMG!
Calling it the "world's largest OLED TV," LG has announced the 97-inch G2 OLED Evo Gallery Edition television set. The humongous flat panel TV becomes the eighth and largest TV in LG's line of G2 OLED sets that started out at 42 inches and until now extended up to "only" 83 inches.
Pricing and availability on the 97-inch model known as the OLED97G2PUA has not yet been released but we can take an educated guess on price based on the premiums charged by LG as consumers step up in size on its other 4K-resolution OLED models.
LG's 83-incher lists for $6,499, $2,500 more than the 77-incher at $3,999. If you do the math, and figure that the OLED97G2PUA is 14-inches more than the current 83-incher, you can roughly double the cost of the additional 6 inches of diagonal to come up with at least $5,000, thereby hanging a price tag of approximately $11,499 on the 97-inch model, though some display experts think it will be closer to fifteen grand. In any case, compared with LG's 88-inch 8K Signature line OLED priced at $25,000, the company's 97-incher with 4K resolution is bound to be a bargain.
In addition to the TV sets discussed, the company's 2022 OLEDs come in 42-, 48-, 55-, 65-inch size options. OLEDs employ self-illuminating pixels, so the panels don't have backlights. This results in blacker blacks (no light to block) and very thin panels. The 97-inch OLED incorporates LG's α (Alpha) 9 Gen5 AI Processor and advanced picture algorithms that analyze and improve picture performance on the fly. The set will be on display at the giant IFA electronics show in Berlin September 2 through 6.
For more information visit lg.com.
Unique Ear "Computer" Features Pendant Charger
Ear Micro and Klipsch Audio have launched the T10 Bespoke Ear Computers, tiny wireless earbuds designed to deliver an advanced audio signal. About a third the size of typical wireless earphones, the T10 Bespoke Ear Computers are stored in a jewel-encrusted charging case that can be worn like a pendant just like Mr. T in The A-Team. The audio signal path boasts 96kHz/24-bit resolution rendered through an LDAC codec, enhanced by twin Cadence/Tensilica Hi-Fi digital signal processors, passed through class-D amplifiers and into your ears through "acoustically accurate" Sonion precision balanced armature transducers.
Pricing ranges from $2,500 to $5,000, depending on what semi-precious or precious gemstones you select. You can choose 18k yellow gold, rose gold, sterling silver, stainless steel, copper, or a blackened nickel finish for the charger frame and doors. You can choose from natural polished pearl or charcoal ceramic zirconia for the charger top/bottom cover. The zirconia components come in any color. For the cover inserts you can opt for carbon fiber or real wood veneer. If you prefer leather, you can personalize the cover with a laser etched or embossed motif.
Customization is quoted upon request. However, for those who'd rather not wait for their Bespoke Edition to be hand-crafted to order, the company offers the same ultra-high-end materials and finishes in a variety of preconfigured combinations.
For more information visit t10bespoke.com.
THX Certification in the Box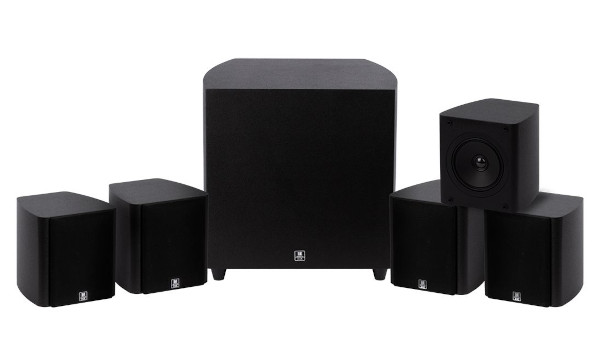 The Monolith M518HT home theater speaker system, the latest product in Monoprice's ever-expanding roster of A/V products, comprises five compact satellite speakers and a THX-certified powered subwoofer — everything you need to enjoy 5.1-channel surround sound except an A/V receiver and source component.
Each satellite speaker mates a 4.5-inch woofer with a 0.8-inch silk-dome tweeter that sits in the throat of the woofer in a concentric arrangement. The dual driver is housed in a near-cube sealed MDF cabinet just over 6 inches tall and finished in black vinyl with five-way binding posts and a keyhole for wall mounting. The satellites have a nominal impedance of 4 ohms and hand the signal off to the subwoofer at 80Hz.
The subwoofer meets THX's rigorous performance specifications by pairing an 8-inch pulp/glass-fiber woofer with a 150-watt (RMS) amplifier/digital processor in a ported cabinet that weighs just under 20 pounds with a matching black-vinyl finish (Monoprice didn't specify the size of the cabinet). The sub is rated down to 30Hz and provides a stereo set of RCA inputs and outputs along with crossover (40-160Hz), phase (0-180°), and level controls plus switches for THX crossover and EQ and auto/always-on power. After 30 minutes of non-use, the subwoofer turns off automatically.
Monoprice backs the system with a 5-year warranty and offers a 30-day money-back guarantee. For more information visit monoprice.com.