CES 2022
closed a day early with less half the number of exhibitors and a fraction of attendees you would expect in normal times. Even so, the show was still a
launchpad for important innovations and A/V product announcements
— especially in TV/display arena — though, truth be told, CES is far from the end-all, be-all A/V show it once was. And it's been that way for a long time. I bring this up because in past years we still had plenty of CES news to write about a week after the show, but that's not the case in 2022 — a situation made worse by what turned out to be a vastly scaled back event. Show or no show, A/V manufacturers continue to turn out new products despite lingering component shortages, shipping delays, and, now, mounting inflation. Here's a rundown of some of the latest A/V news and product announcements, including two from the Big Show that wasn't.
HiFiMan Revives Popular Planar-Magnetic Headphones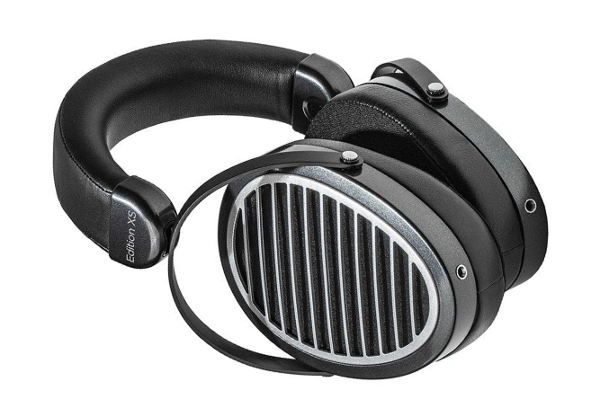 New York's HiFiMan is kicking off its 15th year in business with an update of one of its most popular open-back planar-magnetic headphones, the Edition X.
The new Edition XS ($499) features a handful of technical and ergonomic upgrades intended to improve audio performance and comfort, starting with the use of the stealth magnet technology originally developed for the company's $6,000 Susvara headphones.
The uniquely shaped stealth magnets are said to improve detail and transparency by "dramatically reducing the wave diffraction turbulence" caused by standard magnets. The XS headphones have also been upgraded with HiFiMan's Neo "supernano" diaphragm, which is 75% thinner than previous designs, resulting in "lightning fast response for detailed sonic output without discernible distortion."
On the ergonomic side, improvements include a new lightweight headband filled with high-grade memory foam to ensure lasting elasticity and a comfortable fit. The Edition XS headphones weigh just over 14 ounces and ship with a detachable and replaceable cable terminated with standard 3.5mm connectors. Revised specs include a rated impedance of 18 ohms, sensitivity of 92dB, and a bandwidth of 8Hz-50kHz.
"Edition X was one of our biggest successes," said HiFiMan CEO Dr. Fang Bian. "I knew that if I were going to bring it back to the market, there would have to be demonstrable improvements to the original's sonic signature. Thanks to stealth magnet technology, a qualified follow-up is now a reality."
For more information, visit store.hifiman.com.
AudioControl's DSP-Powered Subwoofer Amps Are Bass Customization Marvels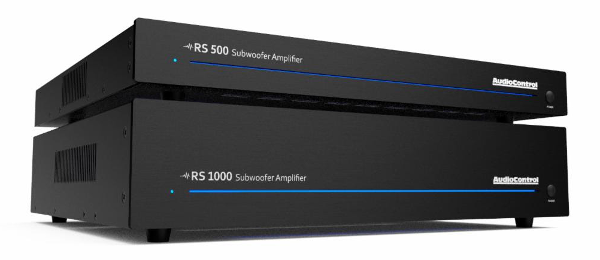 AudioControl, the Seattle-based company that has been specializing in car and home audio electronics for 45 years, ago, has announced the availability of its new DSP-powered RS Series subwoofer amplifiers.
Hailed as the ultimate bass amplification solution for any application, the 500-watt RS 500 ($1,490) and 1,000-watt RS 1000 ($1,890) mono amplifiers are rated to deliver continuous power down to 2 ohms and provide a bevy of sophisticated features to help system builders dial in the bass.
Each amplifier is equipped with a six-band graphic equalizer (EQ), eight-band parametric EQ, phase and delay controls, an adjustable crossover with a subsonic filter, and built-in speaker optimization profiles developed in partnership with Origin Acoustics, Monitor Audio, Triad, Dynaudio, and several other companies that make in-wall/ceiling "architectural" speakers. Profiles based on critical performance data provided by the partnering speaker companies can be accessed through the amplifier's onboard DSP and tailored to the acoustics of a specific installation; the resulting profile can then be stored in software.
Both amplifiers provide a generous selection of inputs, including balanced, unbalanced (2), LFE, and speaker-level (2) connections. They also support IP and IR control as well as loop outputs with an optional high-pass filter. And unlike many of today's A/V products, the RS 500 and RS 1000 are made in the U.S. For more information, visit audiocontrol.com.
Rotel Goes Old School with New Amp and CD Players
No question, CDs are passé — unless you happen to own a few hundred classics you like to listen to from time to time. Recognizing this fact, Japan's Rotel today introduced two new CD players and a matching integrated amplifier.
The CD14MKII ($899) and RCD-1572MKII ($1,099) players are built around a new CD controller chipset and 32-bit digital-to-analog converter (DAC) in addition to featuring an upgraded CD-drive mechanism and critically tuned acoustic components. Both models provide analog RCA outputs and a coaxial digital output, which enables the player to be used as a CD transport with an outboard DAC. For the extra $200, the RCD-1572MKII adds a balanced XLR output.
Continuing the old-school audio theme, the A12MKII integrated amp ($1,099) is largely devoid of streaming options, though it is certified as Roon Tested and supports aptX-enabled Bluetooth streaming. Instead, the focus is on audio performance as it employs the same DAC used in the CD players as well as a new digital processor and chipset for its digital interface. The Class AB amplifier section, which Rotel says has been significantly upgraded, is rated to deliver 2 x 60 watts of continuous power into 8 ohms or 120 watts/channel maximum into 4 ohms with total harmonic distortion (THD) of less than 0.018%.
Connections on the A12MKII include a moving-magnet phono input, four analog RCA inputs, four digital inputs (two coaxial and two optical), pre-out jacks, and a PC-USB port that supports resolutions up to 32-bit/384kHz.
Rotel says all of the new models benefit from innovations and improvements in circuit design, enhancements in critical audio components, a refined power supply, and new isolation techniques designed to lower noise and reduce distortion.
"Rotel's engineers leveraged over 60 years of experience with the latest technologies and innovations to develop these exceptional MKII models," said chief technology officer Daren Orth. "We utilized Michi, Rotel, and Tribute technologies, ensuring the new MKII models achieved the performance deserving of this iconic brand as we celebrate our anniversary." For more information, visit rotel.com.
Qobuz Launches Duo Plan: 1 Subscription, 2 Accounts
Qobuz, the Paris-based high-resolution (hi-res) music streaming and download service, is ringing in the New Year with a new cost-saving plan that allows two accounts to be set up under the same subscription.
But there's a catch…
The people attached to the accounts must live under the same roof. The Duo option is offered as an option for the Studio Premier plan that provides unlimited streaming and the Sublime plan that provides unlimited streaming and discounted downloads.
Studio Premier Duo pricing is $17.99/month or the equivalent of $14.99/month when you make a single annual payment of $179.88. Studio Premier Solo and Studio Premier Family plans are also available. Studio Solo is $12.99/month or the equivalent of $10.83/month when you make a single annual payment of $129.96. Studio Family is $21.90/month or the equivalent of $17.99/month when you make a single annual payment of $215.88. For those who are paying attention and haven't yet gotten lost, the Studio Duo plan offers a savings of $5/month compared with a Studio Solo plan or $4.16/month if you choose the single-payment option.
Studio Sublime Duo pricing is the equivalent of $22.49/month with a single annual payment of $269.88. Studio Sublime Solo and Studio Sublime Family plans are also available. Sublime Solo is the equivalent of $15/month with a single annual payment of $180. Sublime Family is the equivalent of $29.17/month with a single annual payment of $350.04. The Sublime Duo plan offers a savings of $7.49/month (single annual payment only) compared with the Sublime Solo single-payment plan.
As with all Qobuz subscription plans, Duo subscribers get unlimited access to a catalog of more than 70 million tracks available in high-resolution or CD quality, depending on the release.
For more information on Qobuz Studio Premier subscription plans, click here. For more on Studio Sublime plans, click here.
Qobuz also announced the appointment of Wayne Coyne, leader of the alt-rock band The Flaming Lips, as its first "artist-approved sound" spokesperson. Read Mike Mettler's 2019 interview with Coyne here. Also see Qobuz Redux.