With Christmas a little more than two weeks away, A/V companies continue to bring new gear to market despite lingering shipping delays and materials shortages. The latest round of introductions includes the follow-up to a $60 set of wireless earbuds that earned a
Sound & Vision
Top Pick back in June, a beautiful take on the classic stereo console, a 65-inch 4K TV priced to sell, and a limited-edition version of an iconic speaker that has been in continuous production for 75 years. Can you guess which speaker it is?
Hisense's New 65-inch 4K Roku TV Is $600 at Best Buy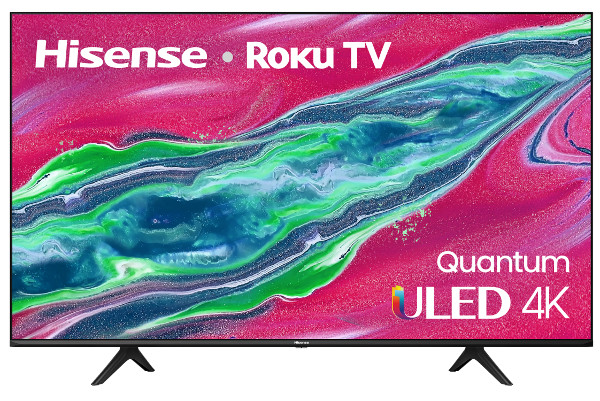 Hisense continues to build its reputation as a low-price leader with the latest addition to its family of 4K ULED TVs. The new U6GR series is built around the Roku streaming platform and available in 55- and 65-inch screen sizes selling for $500 and $600 at Best Buy ($50 off list) as of this writing.
An evolution of the U6G series introduced earlier this year , the Chinese company says the U6GR models are the first Roku-equipped TVs to include its LED-backlit quantum dot LCD display technology. The 65U6GR5 and 55U6GR5 models boast 60 local dimming zones and are rated to produce up to 600 nits of peak brightness. Both models support Dolby Vision and HDR10 high dynamic range (HDR) and provide Dolby Atmos processing, HDMI 2.1 connectivity with eARC (Enhanced Audio Return Channel), and an Auto Game Mode with Variable Refresh Rate (VRR) and Automatic Low Latency Mode (ALLM) for more responsive gameplay.
The TVs support Apple HomeKit and AirPlay 2 with voice control via Amazon Alexa or Google Assistant and have a customizable Roku home screen featuring an "enhanced" Live TV Channel Guide with more than 200 free live channels.
For more information, visit hisense-usa.com. Click here for the link to Best Buy. Both TVs are also available with the same discounts at Costco through December 19 for the 65-inch model and December 26 for the 55-inch model.
EarFun Upgrades its 'Top Value' Free Pro Earbuds
As a follow-up to last week's Sound Gifts for $250 or Less post, here's another potential stocking stuffer. EarFun has introduced two upgraded versions of its excellent Free Pro wireless earbuds, which landed a Sound & Vision Top Value pick last summer. Though the new EarFun Free Pro 2 (left in photo) and Air Pro 2 'buds sport different form factors, they both feature active noise-cancellation said to suppress noise by up to 40dB.
The Free Pro 2 earbuds are smaller than their predecessor with 0.2-inch composite drivers and rated for up to 6 hours of play time plus an additional 24 hours with the charging case. The Air Pro 2 earbuds have larger 0.4-inch titanium-composite drivers and provide up to 7 hours and an additional 27 hours with the charging case.
Otherwise, both models are controlled by touch — there's no app — and IPX5-rated for sweat and water resistance in addition to boasting a 10-minute fast-charge mode that keeps the 'buds going for 2 hours. Both also use six microphones to improve voice intelligibility during calls and include a transparent ambient-sound mode so you can hear what's going on around you. The list price is $100 for either model but, as of this writing, both are offered for $80 on the company website. For more information, visit myearfun.com.
McIntosh Unveils the "Ultimate" Tube Preamp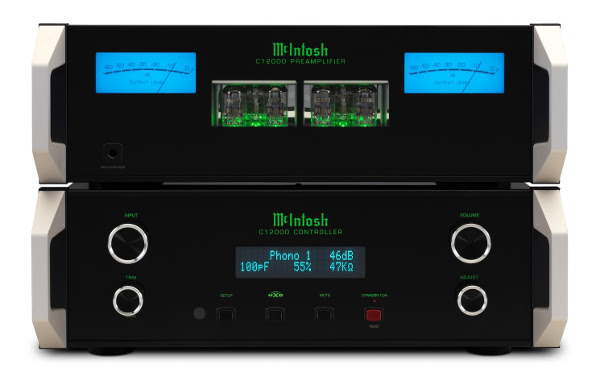 McIntosh is starting to ship the next generation of its unusual two-chassis preamplifier design — one that physically separates audio circuitry from the control and power sections. At $16,000, the C12000 is a serious piece of audio gear comprising preamp and control modules that act as a single component when tethered via a pair of umbilical cables.
Uniquely, the C12000 preamp module provides a choice between vacuum-tube and solid-state output. Tube output is driven by one 12AX7A and two 12AT7 tubes per channel, while a discrete balanced op-amp drives solid-state output. Regardless of which output option is chosen, the phono stage remains tube-based with two 12AZX7As driving each channel in a balanced configuration.
All circuitry is fully balanced and the preamp provides 12 analog inputs — six balanced and four unbalanced plus two unbalanced phono inputs, configurable for moving coil or moving magnet operation with adjustments for gain (in 6-dB steps from 40 to 64 dB), capacitance, and resistance.
On the output side, the preamp provides a headphone jack, featuring selectable Headphone Crossfeed Director (HXD) circuitry for "added depth and spatiality," and four connections: one tube/balanced, one solid-state/balanced, one fixed unbalanced, and one programmable unbalanced (tube or solid-state). Home theater pass-through is available for integrating the C12000 into a multichannel A/V system.
The C12000 control module uses dual isolated power supplies to drive each channel and houses all preamp controls and connections in a layout that isolates the left and right channels from one another both electrically and mechanically.
Each module is made of polished and brushed-black-titanium stainless steel and features McIntosh's hallmark black-glass front panel with blue VU meters, silver-ringed control knobs, a green illuminated logo, and machine-brushed-aluminum rack handles. For more information, visit mcintoshlabs.com.
AudioQuest Announces Ultra Certified 8K HDMI Cables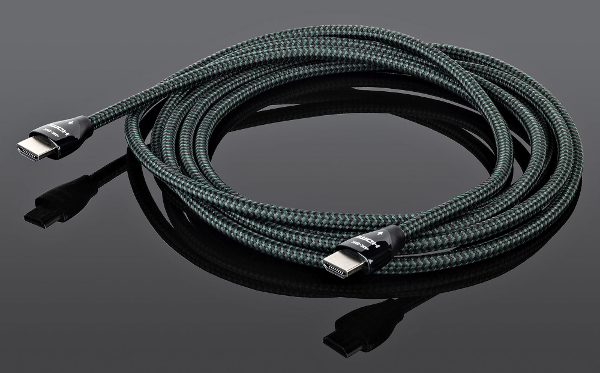 A/V cable specialist AudioQuest has introduced a new Ultra High Speed certified HDMI 2.1 cable that supports bandwidths up to 48Gbps and resolutions up to 10K with refresh rates up to 120 FPS (frames per second).
The Photon 48 cable is touted as "designed for Xbox" for its ability to facilitate smooth, lag-free gaming through key HDMI 2.1 features — including support for 4K@120 FPS video, Variable Refresh Rate (VRR) up to 120 FPS/144Hz, Auto Low Latency Mode (ALLM), and Quick Frame Transport (QFT) — though it is suitable for any A/V application and supports 8K high dynamic range (HDR) at 60 FPS.
AudioQuest says the cable is made up of 19 control and signal conductors, all solid "long-grain" copper and designed to "minimize performance-damaging RF noise by 'directing' (draining) it away from the most vulnerable circuits."
Photon 48 cables are available through BestBuy.com and Xbox.com at prices ranging from $50 for a 5-foot length to $179 for a 16.4-foot cable. AudioQuest offers a limited lifetime warranty against manufacturing defects. For more information, visit audioquest.com.