Though our coverage of
CEDIA 2022
dominated these pages over the past week or so, there were plenty of A/V companies that didn't make it to Dallas. Here's a look at some of the gear introduced outside of the annual event.
Andover Previews Lower-Priced Turntable-Based Music System
Andover caught our attention last year with its modular, turntable-based Spin System, which includes the unique Spinbase turntable speaker, which is built around the company's amazing IsoGroove vibration control technology (it really works). The company also makes the all-in-one Andover-One (originally called the Model-One) music system, which includes a built-in turntable. The Andover-One is a great option for vinyl fans who want a super compact turntable setup but it's pricey at $2,000.
Enter the Andover-One E, a lower-priced version of the Andover-One that will be available in November for $1,499. The plug-and-play "E" houses a two-way stereo speaker system and a custom-built Pro-Ject belt-drive turntable fitted with an aluminum tonearm and Ortofon OM-5e phono cartridge in a vibration-resistant hardwood cabinet measuring 18 x 9 x 13.5 inches (WxHxD). A class-D amplifier delivers a total of 150 watts to the 3.5-inch woofer/tweeter complements on either side of the cabinet.
In addition to an intuitive front-panel interface, the system comes with a simple remote control and provides an input for adding a Wi-Fi streaming device and a subwoofer output (Andover offers the Andover-One powered subwoofer for $899). The system also has a spiffy feature that didn't exist during the heyday of vinyl: wireless streaming via aptX HD-enabled Bluetooth so you can listen to that 1960 Platters record you just bought at a garage sale in another room. For a limited time, Andover is offering a free Songbird music streamer ($99 value) with the purchase of the Andover-One E to add yet another dimension to this neat little music system. For more information and to pre-order, visit andoveraudio.com.
New Pro-Ject Device Reduces Vinyl Noise
Speaking of the thriving vinyl market that shows no signs of abating, LP enthusiasts old and new will appreciate Pro-Ject's new Vinyl NRS Box S3 ($399), a vinyl noise-reduction system that aims to reduce distracting pops, clicks, and crackle heard on beloved records that can't be easily replaced.
When connected between your turntable/phono preamp and preamp or integrated amplifier, the S3 converts the analog output to a 24-bit/96kHz digital signal that's fed into a "de-crackle" processor that detects peaks in the signal and filters out objectionable pops and clicks. An overload LED lights up if the level of the incoming signal is too high, in which case you can tap the "–6dB" button to lower the gain.
The large De-Crackle knob on the front panel is for adjusting the sensitivity of this process, which ranges from off (bypass) to maximum noise reduction. The Intensity button next to the dial that lets you switch between two de-crackling algorithms — one for records that need mild cleanup, the other for albums that need more processing; the modes are said to reduce clicks by up to 8dB and 12dB, respectively. Pro-Ject suggests starting with basic (lighter) processing and, if necessary, move to the advanced mode. An LED lights up when clicks and crackles are reduced.
If after engaging the de-crackle processing you still hear noise, you can press the VNRS (Vinyl Noise Reduction System) button, which activates a processor that separates the audio signal into two frequency bands and feeds each band into an expander to increase signal-to-noise ratio. Pro-Ject says the technique reduces noise by up to 8dB without any "audible noise modulations."
When the Vinyl NRS Box S3 is in bypass mode, the inputs and outputs are galvanically linked to ensure signal purity. For more information, visit pro-jectusa.com.
Cleer Audio Lets You Roam (If You Want To)
San Diego-based Cleer Audio has made its presence known in recent years with a string of good sounding and affordable noise-canceling wireless headphones and earbuds, including the flagship Alpha we reviewed in May; at $250, the full-size Alphas fall well below the price of flagship models from competing brands.
Keeping the value theme alive, Cleer just introduced the sweat/water-resistant Roam Sport earbuds ($100) for serious on-the-go listening. They're super lightweight, weighing less than 0.2 ounces apiece, and combine custom 2.2-inch dynamic drivers with aptX Adaptive-enabled Bluetooth for improved sound quality. Noise cancellation is said to reduce environmental noise by up to 25dB and an ambient awareness mode lets you hear what's going on around you without remove the 'buds.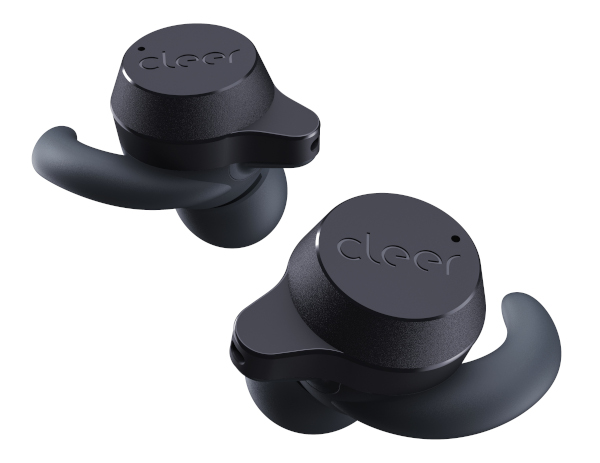 Rated battery life is 5 hours plus an additional 15 hours with the charging case; a 5-minute quick-charge option yields an hour of playtime. An "intuitive touch pad" on each earbud is used to adjust volume, play/pause/skip tracks, and answer or end calls, or you can use the Cleer + app to access the same functions along with an adjustable EQ. Small and large eartips and "twist and lock" wings are included to ensure a comfortable, secure fit. Once the buds are locked in place, they "won't budge no matter how intense your workout," according to the company.
The Roam Sports are offered only in black and include a carrying case/charger and charging cable. For more information, visit cleeraudio.com.
KEF's LSX-II and LS60 Speakers Are Now Roon Ready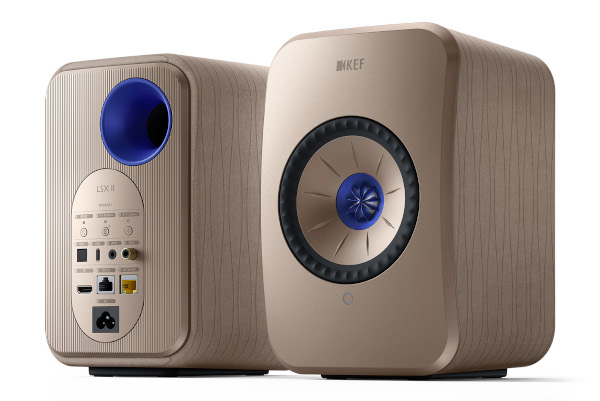 It's official. The growing stable of speakers certified to work with the popular Roon music library and streaming management software just grew by two. Roon Labs has granted Roon Ready status to KEF wireless speakers at opposite ends of the price spectrum: the $1,400/pair LSX II (shown), a recent Sound & Vision Top Pick, and the $7,000/pair LS60 tower. The LS50 Wireless II speaker system we reviewed last year is also Roon Ready.
The designation means Roon software has been integrated into the speakers and has been certified by Roon Labs to be fully functional within the Roon ecosystem. Certification is not a one-and-done process. Roon performs dozens of tests over a period of weeks to ensure the device seeking certification meets its quality standards.
As Roon Labs puts it, "We perform stress testing to make sure it will stand up in the real world, and put the device through dozens of hours of "real life" usage to try and ferret out annoying quirks." The process also involves extensive compatibility testing with components from other brands.
Monitor Audio's Platinum Series Gets a Refresh
Monitor Audio, the British company that has been building high-quality speakers for half a century, is busy working on a refresh of its flagship Platinum Series that it plans to roll out in early 2023. The updated Platinum Series 3G line will include four new models: The Platinum 250 3G center-channel speaker ($5,900), the Platinum 100 3G stand-mount ($6,900/pair), the Platinum 200 3G mid-sized tower ($13,900/pair), and the flagship Platinum 300 3G tower ($17,900/pair).
At the core of the new models is the third generation of Monitor's "breathtakingly accurate" Micro Pleated Diaphragm (MPD III) high-frequency transducer, which made its debut in the innovative Concept 50 prototype speaker shown at High End Munich in May.
A new three-layer RDT III cone will also be used in all midrange drivers and woofers. Its cone is described as extremely strong and features a Nomex honeycombed core sandwiched between a super-thin C-CAM (Ceramic-Coated Aluminum) layer and a twin layer of carbon fiber. Monitor says the cone works like a perfect piston and plays a key role in reducing distortion to the lowest levels of any speaker in the company's history.
Other enhancements include newly optimized midrange drivers, crossovers engineered to ensure the "most exact and controlled sound performance across full frequency spectrum," an advanced cabinet design with a curved profile that is hailed as "almost completely inert" and free of vibration.
All models will be available in four finishes: Piano Black, Piano Ebony, and Pure Satin White. For more information, visit monitoraudio.com.