NAD is aiming to take value and performance to new levels with the latest addition to the flagship Master Series, the M23 "hybrid digital" stereo power amplifier.
Due out this month at the retail price of $3,499, the M23 is built around the cutting-edge Eigentakt amplification technology designed by Denmark's Purifi Audio and introduced in the M33 streaming amplifier, Sound & Vision's 2020 Top Pick of the Year in the audio separates category.
Daniel Kumin called the Eigentakt modules a "superbly efficient class-D variant enjoying a reputation as one of the best-performing (and 'best- sounding') power-amp topologies available today" in his review of the M33. In case you're not familiar with Purifi, the company was co-founded by tech guru Bruno Putzeys, inventor of the critically acclaimed UcD and Ncore class-D amplifier technologies.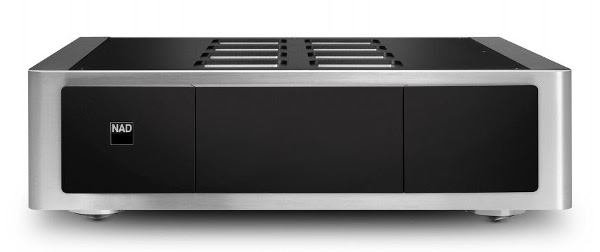 Eigentakt topology "nearly eliminates" harmonic and intermodulation noise and distortion and produces a "load-invariant" frequency response that remains linear over a wide bandwidth while driving even the most demanding of loudspeakers, NAD said in announcing the M23. "The sonic character of the M23 is reinforced in the story told by the numbers," added NAD product manager Cas Oostvogel. "This is an amazingly powerful and transparent amplifier bringing new levels of refinement and dynamics at any level and sets a new benchmark for performance and value in its category."
The M23 is rated to deliver 2 x 200 watts of continuous power into 8 ohms or 380 watts into 4 ohms while maintaining low power consumption and the ability to produce high levels of dynamic power at lower impedances, including more than 500 watts a side into 4 ohms, according to NAD. In bridged mono mode, the M23 is rated to deliver 700 watts of continuous power into 8 ohms.

RCA and XLR balanced analog inputs are provided along with a three-position gain control, 12-volt trigger input, and auto signal sensing. The M23's alloy casework features rigid panels and magnetic iso-point feet to provide a solid foundation designed to minimize vibration. For more information, visit nadelectronics.com.