The volume of AV news and product announcements is picking up as summer winds down and home entertainment companies set their sights on Labor Day specials, CEDIA Expo 2023 (watch for our preview in early September), and, ultimately, a holiday selling season that can make or break a brand's financial standing for the year.
AV News
MEMS Solid-State Microspeakers Coming to Creative Wireless Earbuds

Topping this week's news is word that Creative Technology has adopted xMEMS Labs' cutting-edge microspeaker technology for a series of "true wireless stereo" (TWS) earbuds it expects to deliver later this year. The new Micro-Electro-Mechanical Systems (MEMS) drivers replace century-old coil-based drivers and the balanced-armature driver setups used in many of today's high-performance earbuds with a radically different all-silicon, solid-state speaker — one built around a miniscule piezoMEMS actuator that contracts and expands when an audio signal is applied.
MEMS drivers promise full-bandwidth audio and, in the estimation of xMEMS CEO and co-founder Joseph Jiang, are destined to "revolutionize the true wireless audio experience" by bringing an "unprecedented level of audio quality and efficiency" to a new generation of earbuds that will be lighter, sleeker, and easier to wear on the move than today's earphones.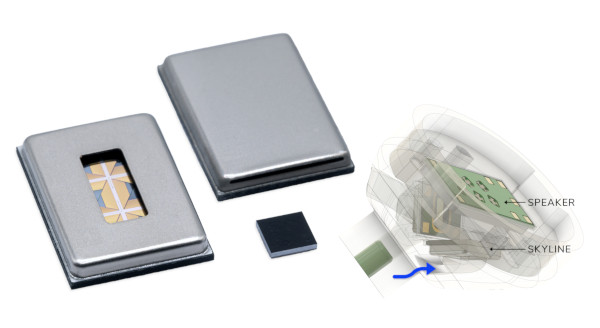 "As an audio company committed to delivering superior sound experiences, Creative is excited to partner with xMEMS Labs to integrate their innovative MEMS technology into our TWS products," said Song Siow Hui, CEO of Creative, the Singapore-based digital entertainment sound company best known for transforming PC sound with its Sound Blaster line of sound cards. "We are confident that our TWS products will stand out in the market, delivering exceptional sound quality, comfort, and style to our users."
Though Creative was not specific as to when the first MEMS-based TWS earbuds will actually hit the market, they will join an existing collection of 20 wired and wireless headphones and earbuds, ranging in price from $20 to $150.
See Tech Watch: Silicon-Based xMEMS Microspeakers and xMEMS Labs Demonstrates Tiny Silicon Chip Speakers for more on MEMS technology, including for first impressions.
Wait, Who Acquired JL Audio?

In what is probably best described as an "out-of-left-field" press announcement, GPS titan Garmin has signed a definitive agreement to acquire JL Audio, the Florida-based maker of superbly engineered, high-performance audio products for the home, car, and marine/powersports markets, including some of the world's best subwoofers. Financial terms were not disclosed but the deal is expected to close by the end of the year.
Issuing the sort of vague statement you expect to hear when an acquisition is first announced, Garmin CEO Cliff Pemble said: "JL Audio's extensive audio experience will create new opportunities to provide premium audio features across a broad range of our markets and products," which includes wearable fitness devices and a broad range of GPS navigation and related devices for the automotive, marine, and outdoor markets.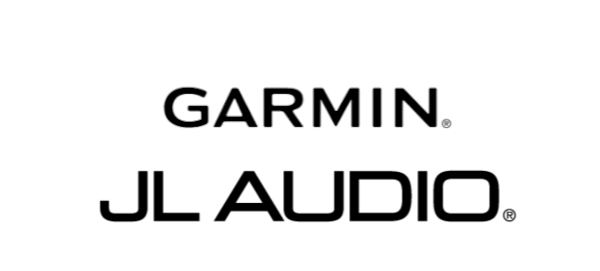 Though no one knows how things will play out, Garmin did emphasize in its official news release that "all existing JL Audio products will continue to be supported post-closing, and customers can expect to continue receiving the same great customer service." Good news for audiophiles and fans of the brand.
Industry observers have speculated that Garmin might expand its offerings to the RV market to include premium speakers or collaborate with JL engineers to fill a gap in its wearable offerings by developing fitness-themed wireless earbuds or follow in the footsteps of brands like Bose, Harman Kardon, and many others to promote JL Audio as a top-tier OEM audio supplier to existing customers of its infotainment displays and control platforms. One thing is clear: The possibilities and potential synergies are plentiful and shed light on how the acquisition makes sense for Garmin.
Pemble went on to rightfully praise JL Audio and its engineering acumen: "The JL Audio brand is known around the world for offering a premium audio experience which is made possible by their talented and dedicated associates. We look forward to welcoming the JL Audio team into the Garmin family."
Company founder/CEO Lucio Proni, the modest, mild-mannered man behind JL Audio, is a true innovator who, along with long-time collaborator and senior VP Manville Smith, was a pioneering force in the early days of high-performance car audio. Over the past 25 or so years, Proni has been granted more than three dozen audio/car-audio related patents. Today, the company has more than 600 employees.
McIntosh Creates Legacy Archive

It's no secret that people who buy McIntosh audio products tend to be loyal enthusiasts who have followed the iconic brand for years, upgrading and adding new (and classic) Mac gear along the way. Call it a cult following.
With this in mind, the company set out to catalogue every model offered by the company over the 74 years it has been in business. It was a massive undertaking that involved sifting through decades of photos, brochures, and owner's manual but it is now complete and can be accessed at mcintoshlabs.com.
There you will find thumbnails on everything from 1949's 50W-1 tube amp to the Mac1700 stereo receiver sold between 1967 and 1973 to more recent gear such as the MB50 streaming audio player introduced in 2015. You can even download the original owner's manuals for many of the products. When you visit the site, plan on spending a few hours there.
DTS Targets Smart TVs with Play-Fi Streaming Platform

When you hear DTS, the first thing that likely comes to mind is the DTS:X, the immersive object-based surround format introduced in 2015 as a competitor to the now-dominant Dolby Atmos format. But the company also has been in the wireless streaming game for more than a decade with its DTS Play-Fi wireless multiroom streaming platform. DTS recently announced that it has been working behind the scenes with SoC (system-on-chip) manufacturers to make it easier for TV makers to include the Play-Fi platform in the next generation of smart TVs.
The initiative is bearing fruit in the form of partnerships with Mediatek, Novatek Microelectronics, and Vidaa (the company created by Hisense to develop the VidaaOS smart TV operating system), all of which have agreed to integrate DTS Play-Fi into their smart TV chips. The push to expand Play-Fi's footprint was inspired by a recent consumer study commissioned by DTS that found almost three-quarters (71%) of those surveyed "more likely to purchase a TV that supports wireless surround sound speakers, compared with a TV that does not support this feature." On top of that, more than half (58%) of the survey's respondents said they are more likely to buy a TV that can be used as part of a whole-home music system.
The DTS Play-Fi platform which provides access to a dozen streaming services (including Amazon Music, Pandora, Qobuz, and Tidal), supports multiroom music playback and wireless surround sound, including the ability to connect TVs and speakers together over Wi-Fi, eliminating the needs for wires. Visit play-fi.com for more information on the platform.
LG Ramps Up Free Streaming Channels and Movies

Buying a TV today goes well beyond picture quality as the top brands vie to deliver TVs that a multitude of features, including one-click access to free content. In the latest expansion of LG Channels, the free streaming service built into its LG TVs, the company has added six new channels and a half-dozen on-demand movies.
The new channels are Cosmos TV, which should appeal to anyone who is intrigued by astronomy and celestial beauty, FIFA+ for soccer fans, HerSphere by Lionsgate, featuring female-focused TV series and movies, Laff More, offering a mix of classic sitcoms and fan-favorite comedians, Maximum Effort Channel, featuring original and classic TV shows and movies curated by actor Ryan Reynolds, and The Nashville Channel, which showcases back-to-back episodes of the series Nashville.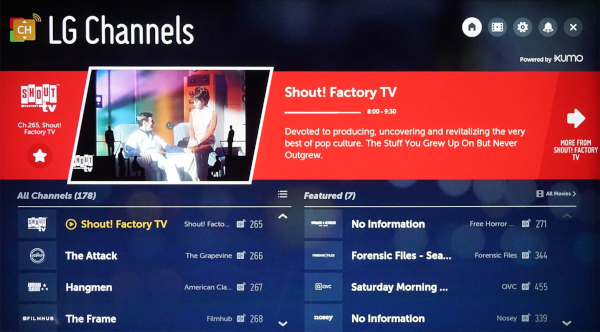 The 1998 cult-classic The Big Lebowski and the 2006 mystery/thriller The Da Vinci Code and its sequel Angels & Demons top the list of recently added on-demand movies. Other newcomers include the surfing saga Blue Crush, (2002), the 1982 teen comedy Fast Times at Ridgemont High, starring a young Sean Penn as the always-stoned surfer dude Jeff Spicoli, and XXX starring Vin Diesel as a notorious underground thrill-seeker. For more information on the LG Channel's lineup, visit lg.com.
New Gear
NextLevel Acoustics Launches Line of Custom LCR Speakers

New England-based speaker manufacturer NextLevel Acoustics has come a long way since long-time custom integrators Lee Weber and Robert Goldman launched the company in 2015. One of its early products was an enclosure for the Sonos Playbar that could be customized to create an integrated look with any TV. Today, the company offers a line of customizable soundbars and speakers, including subwoofers and a selection of in-wall/ceiling models — all built to order right here in the U.S.
Remaining true to its name, the company just introduced the Cinema Series of LCR speakers designed by John Sollecito, who developed the Infinity Slope line of audiophile speakers under the JSE brand back in the day. The line comprises the Reference Cinema ($2,499) and larger Cinema Pro (left in photo, $4,999) speakers, both of which mate a 4 x 4-inch horn tweeter with two or four "super light and stiff" 8-inch "carbon wool" mid-woofers, respectively, in a sealed MDF cabinet suitable for mounting in or on a wall.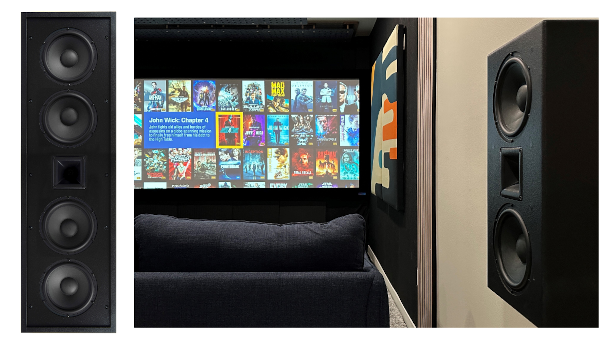 The drivers are arranged in classic midrange-tweeter-midrange (MTM) fashion so either model can be installed vertically or horizontally with an optional magnetic cloth grille that can be color-matched to any décor. NextLevel uses a proprietary crossover to create a blend between the woofers and tweeter that "virtually eliminates first-order horn reflection artifacts" that plague traditional horn-based systems.
Spec-wise, both models boast super-efficient sensitivity ratings of 96 and 99 dB/SPL (1 watt @ 1 meter) and are designed to play loud with max SPL ratings of 118 dB and 122 dB (@ 2 meters) and low distortion (less than 0.1%). The speakers come in a textured black DuraTex finish. For more information, visit nextlevelacoustics.com.
And Now an AV System You Can Take With You

Seriously. LG is stretching boundaries of our AV sensibilities with a portable all-in-one entertainment system that mates a 27-inch touchscreen smart TV and 20-watt sound system with four speakers in a durable suitcase. They call it StandbyMe Go and it's available for pre-order at lg.com for $1,000 with an expected ship date toward the end of the month.
Ideal for tailgating, camping, backyard get-togethers — you name it — the 32-pound rig has a built-in battery rated to deliver up to 3 hours of viewing time on a single charge and a TV that incorporates LG's webOS smart TV software for easy access to Netflix, Disney+, Spotify and a number of other subscription services. Remarkably, the system also supports Dolby Vision high dynamic range (HDR), Dolby Atmos surround sound, hands-free voice control, and wireless streaming via Apple AirPlay 2 in addition to providing an HDMI input for connecting a Blu-ray player or other source.
It's quite the setup with eight ambiance modes, including a crackling fireplace and a beach scene with crashing waves, and a screen on a super-flexible stand that can be tilted, rotated, raised and lowered, or used in "table mode" for playing virtual board games or creating a music play list. The case even has interior compartments for storing accessories.
Bonus: Order the StandbyMe Go system by August 27th and LG will throw in an Xboom 360 portable Bluetooth speaker valued at $300. For more information, visit lg.com.
Samsung Updates Freestyle Projector with Gaming & More

Not to be outdone, Samsung today made its own summer-themed announcement that a Gen 2 version of last year's Freestyle portable video projector is on the way with its own order-now incentive: a free water/dust-resistant case valued at $60 if you sign-up before the August 30th.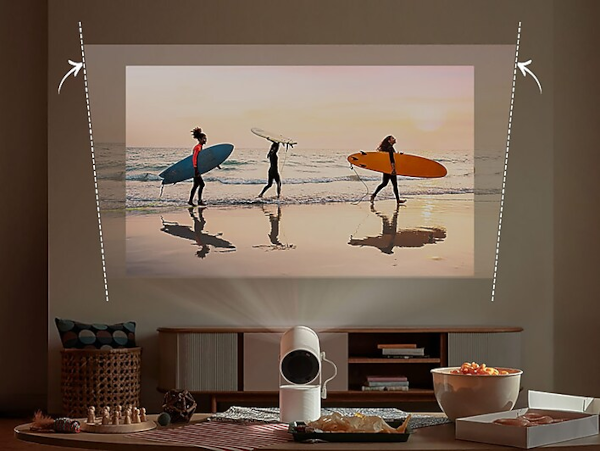 Like its predecessor, the updated Freestyle ($800) is a smart "TV" with onboard streaming capability — including free access to TV shows, movies, and more than 250 live TV channels — and a built-in sound system that can project and auto-correct 1080p images up to 100 inches (diagonal) just about anywhere. The difference is it boasts an LED light source rated to last up to 30,000 (instead of 20,000) hours and brings the Samsung Gaming Hub plus increased memory into the fold, making it easy to stream more than 3,000 popular games from Xbox, Nvidia GeForce Now, Amazon Luna, Utomik, Antstream Arcade, and Blacknut.
The projector can be powered by an optional battery pack for on-the-go adventures and includes an environment-friendly solar-powered remote control. It also incorporates Samsung's PurColor technology, which automatically optimizes color, and supports content mirroring and smart calibration via the company's SmartThings app. The Freestyle Gen 2 is slated to ship the first of September. For more information, visit samsung.com.