M&K Sound today announced an update of its V Series of subwoofers featuring a new décor-friendly design and THX Certification for two of the three new models.
Due out in February, the reconstituted V+ Series comprises sealed models with a 10-, 12-, or 15-inch driver in a cube-shaped enclosure with rounded edges; the existing V Series models have 8-, 10-, and 12-inch drivers. In addition to reconfiguring the shape of the cabinets, M&K has introduced newly treated reinforced paper-cone drivers and added THX Certification with app control to the two largest models.
The smallest model in the new series, the V10+ ($1,499) combines a 10-inch driver and a 300-watt RMS amplifier — 100 watts more than its predecessor — in a 13.6-inch cube rated to play down to 24Hz (–6dB).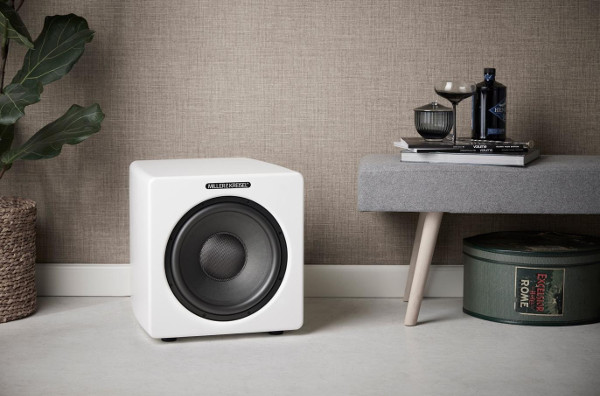 The V12+ ($1,899) is THX Certified Select to achieve reference levels in rooms up to 2,000 cubic feet and marries a 12-inch driver with a 400-watt RMS amplifier in a 15.6-inch cube rated down to 20Hz (–6dB). Power output is 100 watts more than its predecessor, the V12.
Also rated down to 20Hz (–6dB), the flagship V15+ ($3,199) mates a 15-inch driver with a 500-watt RMS amplifier in an 18.5-inch cube and brings THX Certified Ultra into the fold to achieve reference levels in rooms up to 3,000 cubic feet — but only when two subs are used.
Class D amplification featuring M&K's proprietary "front end" input stage is used throughout the series. All models include Auto EQ to compensate for acoustical anomalies and manual EQ controls for adjusting frequency, gain, and Q for each of four independent equalizers.
Thanks to the use of M&K's newly updated iOS/Android app, the V15+ and V12+ can be configured from the listening position instead of having to make manual adjustments using rear-panel controls. In addition to providing controls for adjusting volume, crossover frequency, delay, and phase, the app can be used to take measurements in and around the prime listening position and correct the subwoofer's response to compensate for acoustical anomalies.
The V15+ subwoofer is offered in black satin but the V10+ and V12+ are available in black or white satin. Grilles for all three models are magnetic for easy removal. For more information, visit mksound.com.