Marantz has announced that it is taking orders for the AV 10 and AMP 10 starting today, February 14, 2023. The cost of the whole system (one pair) is $7,000, which puts it above AV receivers but well below some other separates-based home theater AV solutions.
The AV 10 is a new, high-end AV preamp/processor that supports the latest AV formats and delivers an immersive, 3D sound and pristine picture quality. It comes with 15.4 channel processing and supports 8K resolution, making it an ideal choice for serious home theater enthusiasts.
To get the most out of the AV 10, you can pair it with the Marantz AMP 10, a 16-channel power amplifier that offers high performance to match the AV 10. With its advanced amplifier architecture, the AMP 10 is built handle the most demanding audio requirements like dedicated home theaters.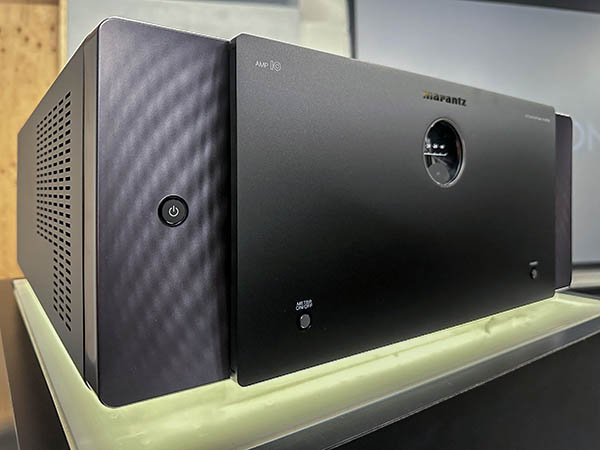 Both the AV 10 and AMP 10 are part of the Marantz CINEMA Series and have been designed to meet high standards of build quality and performance. They feature high quality materials and a modern style that reflects Marantz's rich heritage. Moreover, the AV 10 and AMP 10 offer a wide range of connectivity options and selectable amplifier modes, allowing you to customize your home theater experience to your liking. The AMP 10's 16 channels are spec'd at 200 watts output into 8 ohms and 400 into 4 ohms, so you get a fair bit more juice than any all-in-one AVR offers.
I recently took a trip to Sound United headquarters where I had the opportunity to hear the AV 10 and AMP 10 run a full complement of tower speakers and Atmos overheads, as well as multiple subs. I can't talk about the speakers yet, but I can vouch for the Marantz system delivering a powerful, enveloping, thoroughly believable immersive audio experience.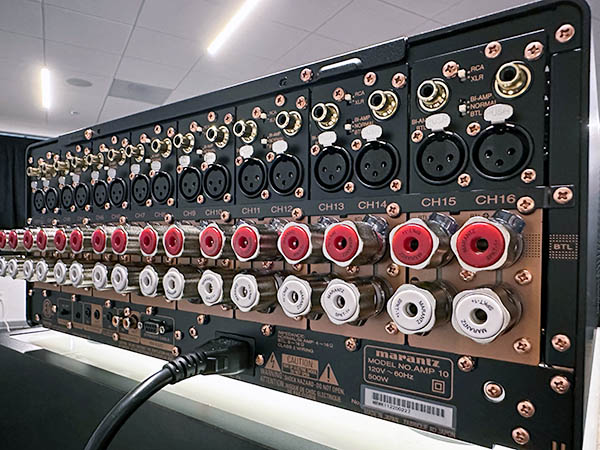 The highlight of the demo was a clip from Top Gun: Maverick, the test run where he shows that the mission can be done. It's the most overplayed demo clip of the year, but in this system it shook things up but kept everything tight. It's unapologetic, no-holds-barred. This is next-level home theater at a price point that's not too crazy considering the power and the channel count and the up-to date technology like updated Audyssey XT32 that can manage bass on up to four separate subs, and to my ears it all works like a charm.
AV 10 Highlights
• Top notch performance with discrete HDAM and current feedback amplification, and other advanced technologies
• Immersive 3D sound with 15.4 channels output and processing like Dolby Atmos®, DTS:X®, IMAX Enhanced, and Auro 3D
• Room correction technology with included Audyssey MultEQ XT32 and the option to add Dirac Live (for an upgrade fee)
• HEOS offers wireless music streaming from various free and premium streaming services and lets you share to HEOS-enabled devices in other rooms
• Seven HDMI inputs (all 8K), digital, analog, and phono
• Ease of use with an included aluminum remote, front-panel controls, voice command, and a new, highly intuitive HD onscreen setup
AMP 10 Highlights
• Power your home theater with amps rated at 200 watts per channel into 8 ohms and 400 watts per channel into 4 ohms
• Each channel can operate on its own, full range, but you can put channel pairs into bi-amp mode or into BTL mode (bridge-tied load) for higher output
• Control from anywhere: Transmit control and receive status information
• Perfectly matched: The AMP 10 is a perfect aesthetic, feature and performance match for the AV 10