Picture
Sound
Extras
Oscar-nominated for best picture, direction, and screenplay, Licorice Pizza is a story of first love between a 15-year-old kid and a woman of 25 who's working at his high school. From their first conversation, Gary (Cooper Hoffman) pushes for a date, which Alana (Alana Heim), resists aggressively, but having already become a minor TV and film star and successful entrepreneur, he's soon able to charm her. Given his age, though, she just wants to be his friend; he, on the other hand, recognizes his future wife. From this conflict, an awkward romance emerges in adventures involving memorable appearances by Sean Penn, Tom Waits, Bradley Cooper, and John Michael Higgins, each playing an absurdly macho/sexist older-generation type.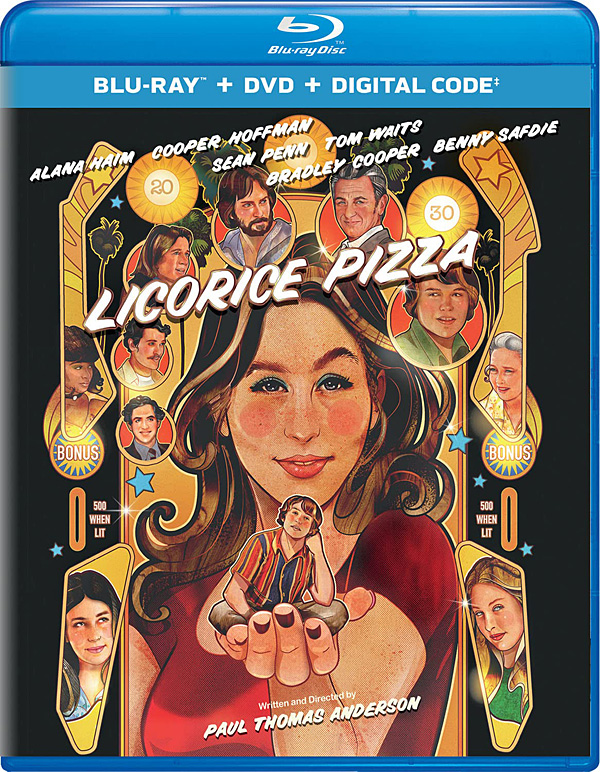 Written and directed by Paul Thomas Anderson, Pizza is set in the San Fernando Valley of 1973 and echoes movies from the late Sixties and early Seventies in mood, episodic style, and visuals—the most obvious being Harold and Maude. There are also nods to Bob & Carol & Ted & Alice, Butterflies Are Free, The Goodbye Girl, and even direct quotes from The Graduate and Taxi Driver. Recreations of the era's godawful fashions, haircuts, and furnishings are authentic and convincing in a way that brings you back to the Seventies.
Blacks are deep and whites are bright thanks to good contrast and detail, which also allows the period's dreadful patterns to remain distinct amid the muddy browns and yellows that abound in wallpaper, sofas, carpets, the plentiful pastels and occasional primaries in clothing, and the hideous puce-, lime- and mustard-colored telephones.
Pizza's score kicks off with a glorious recording of Nina Simone performing "July Tree." Sound comes at you from all channels in an unusual, shiver-inducing mix that finds Simone's shimmering voice emanating from the rear surround channels with the orchestra up front. The rest of the soundtrack is a powerful and well-balanced jukebox of music from the likes of Bing Crosby, Todd Rundgren, Paul McCartney and Wings, Stephen Stills, and Blood, Sweat & Tears that never interferes with the film's crisp, sonorous dialogue. The Wings performance of "Let Me Roll It" was particularly stirring and expansive, coming out into the room.
Extras include a reel of fluffs and unused takes, a deleted scene, a fake commercial for Fat Bernie's waterbeds, and a collection of stills and videos from the set—charming but disappointingly thin after such fun.
Blu-ray
Studio: Universal, 2021
Aspect Ratio: 2.39:1
Audio Format: DTS-HD Master Audio 5.1
Length: 133 mins.
Director: Paul Thomas Anderson
Starring: Alana Haim, Cooper Hoffman, Bradley Cooper, Joseph Cross, Benny Safdie, Anthony Molinari, Sean Penn, Tom Waits