Picture
Sound
Extras
Edgar Wright's Last Night in Soho starts off a little slowly, but like many of the director's previous films (Hot Fuzz, Scott Pilgrim vs. the World, Baby Driver), it oozes style. The story centers around Eloise (Thomasin McKenzie), a talented fashion design student who is transported back to the 1960s in her dreams where she witnesses scenes from the life of an aspiring young singer, Sandie (Anya Taylor-Joy). Along with her dreams, Eloise has increasingly frightening visions where Sandie's life is beginning to spiral downward. Through her dreams and visions, Eloise ultimately learns the fate of Sandie and those around her in London's Soho District during the 1960s.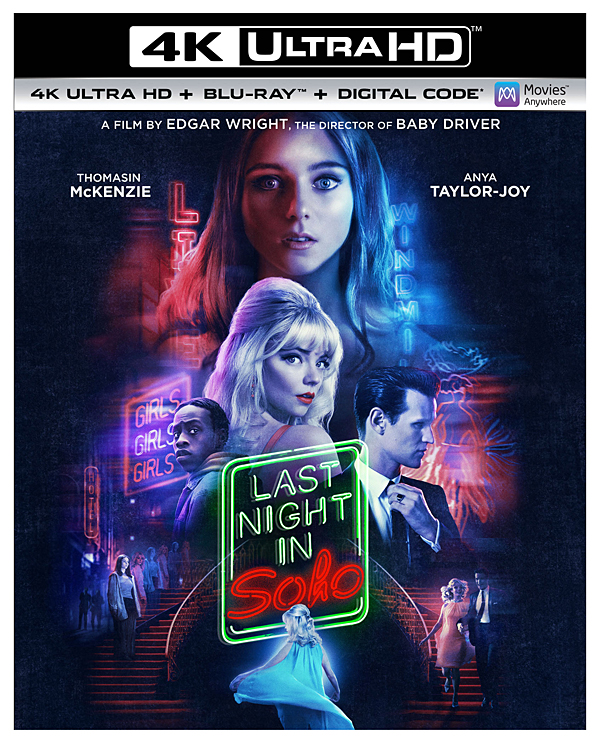 Last Night in Soho's visuals come alive when Eloise steps back into the past. The streets of 1960s Soho are bathed in atmospheric primary colors from neon signs, and indoor scenes also often have a slight blue or green tinge as Eloise sinks deeper into Sandie's dark past. Shot mostly on 35mm and Super 35mm formats, the film's moody lighting looks natural, but there is a slight lack of detail and somewhat soft character. Blacks can be a bit crushed at times, especially in the backgrounds, though the glum look suits the film's temperament.
Music plays a major role part in Last Night in Soho and there are many memorable scenes featuring classic songs from the era. The Dolby Atmos soundtrack starts out with a mostly front-heavy mix consisting of dialogue and the odd bit of Foley, but the soundstage really opens when Eloise is first transported back in time. Cilia's Black's "You're My World" plays as she dreams of walking through the street and into the Café de Paris. The orchestra that was rerecorded for this song (to synch with the original recording) at Abbey Road Studios fills the front of the room beautifully and subtly wraps around to the sides and above the listener. Petula Clark's "Downtown" sounds gorgeous even if it is only used for a few seconds, and Anya Taylor-Joy later delivers a sensuous a cappella version of the song during an audition.
The film is offered on both 4K Ultra HD and standard Blu-ray discs as well as via digital download. Substantial extras are included on both discs. Five featurettes offer insight into the characters and the film's production. Animatics with partially completed audio tracks, deleted scenes, rehearsals and various hair, makeup, lighting, visual effects, and camera tests are also provided, along with two commentary tracks featuring Wright, co-writer Kristy Wilson-Cairns, and others.
ULTRA HD BLU-RAY
STUDIO: Universal, 2021
ASPECT RATIO: 2.39:1
HDR FORMAT: Dolby Vision, HDR10
AUDIO FORMAT: Dolby Atmos with TrueHD 7.1 core
LENGTH: 116 mins.
DIRECTOR: Edgar Wright
STARRING: Thomasin McKenzie, Anya Taylor-Joy, Matt Smith, Michael Ajao