Picture
Sound
Extras
After making Return of the Jedi, Executive producer George Lucas was looking for fresh creative frontiers, and he would embark upon new cinematic collabs with previous and first-time cohorts. One such experiment was his team-up with mastermind Jim Henson for the family-friendly fantasy, Labyrinth. With a playful script by Monty Python alum Terry Jones, the story follows an angry teenager Sarah (Jennifer Connelly) with a fondness for fairy tales. She's about to live one, with dire consequences: After unwittingly sending her baby brother to the clutches of The Goblin King (David Bowie), she must solve a bizarre maze in just a few hours or lose the child forever. It's a witty journey brimming with British charm, and now a font of nostalgia for children of the 1980s.
This richly realized world of Labyrinth is brought to life, so much of it entirely in-camera, with elaborate sets and super-intricate animatronic characters. (To refer to them as "Muppets," even with the leadership of Mr. Henson, would be derogatory.) Most of it looks outstandingly crisp and with well-saturated colors in 4K/Dolby Vision HDR on this disc, although film grain is conspicuously heavy in several scenes. Surprisingly, the movie starts off on a visual weak note in the opening titles, with Tron-quality computer graphics used for an owl and a digital representation of the analog maze. Even so, I can confidently state that this is the best Labyrinth has ever looked on home video.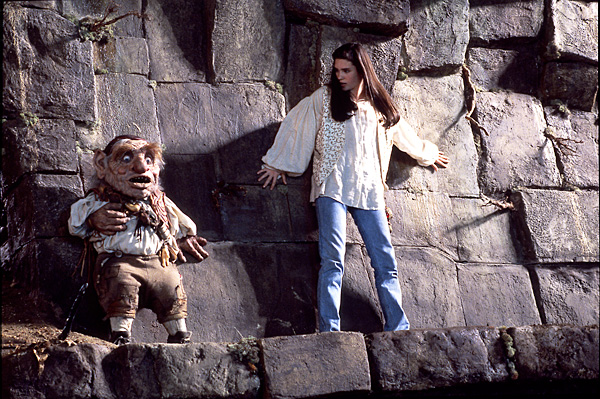 Labyrinth occasionally thinks it's a musical, and the vocals and instruments display excellent fidelity and precise placement in space. The Dolby Atmos soundtrack appears to be the same as on the 30th Anniversary edition released in 2016 and is still pretty rockin', as in a particularly impressive bit where one large beast summons all the nearby rocks to his aid with a deep, booming call. As you might imagine for such an extraordinary feat, bass is well-utilized and the spread is appropriately broad. The Atmos is in addition to an earlier 5.1 remix and even the original theatrical surround soundtrack.
Packaging is gorgeous, with a digi-book case modeled after Sarah's copy of The LABYRINTH. Bound inside are pages and pages of archival goodies and script excerpts. New for this set, almost an hour of auditions reveals several now-famous young ladies, alongside a gallery of deleted and alternate scenes with optional commentary. Over on the regular HD Blu-ray is a generous array of past bonus material, including audio commentary and a picture-in-picture mode.
ULTRA HD BLU-RAY
STUDIO: Sony, 1986
ASPECT RATIO: 2.39:1
HDR FORMAT: Dolby Vision, HDR10
AUDIO FORMAT: Dolby Atmos with TrueHD 7.1 core
LENGTH: 101 mins.
DIRECTOR: Jim Henson
STARRING: David Bowie, Jennifer Connelly, Toby Froud, Brian Henson, Shari Weiser, Frank Oz