Like many of the great bands from the classic rock era of the latter half of the 20th century, British hard-rock stalwarts Deep Purple cut their teeth with an uncanny ability to turn cover songs into original statements. If it pleases the aural court, may we present the Rod Evans/Ritchie Blackmore era of the band's trippy, deeply shaded 1968 bookend renditions of Joe South's "Hush" and Neil Diamond's "Kentucky Woman" as prime evidence? (Case closed.)
Since then, the subsequent incarnations of Deep Purple have left their indelible mark on hard rock through a deep battery of original material, none more impactful than the instantaneous reaction just about everyone has in the moment they think of the band's perennial 1972 classic, "Smoke on the Water." (I know, I know—you're humming that signature riff right now, aren't you? You're welcome.)

And now, a half-century-plus later, the mighty Purple have come full circle by re-focusing their attention on transforming a dozen-plus cover songs on the aptly titled Turning to Crime (earMUSIC), a razor-sharp collection that shows the collective roots and chops of vocalist Ian Gillan, guitarist Steve Morse, bassist Roger Glover, keyboardist Don Airey, and drummer Ian Paice. With revamped and revitalized selections from the likes of Love, Fleetwood Mac, Little Feat, Cream, and even (yes) Bob Seger, Deep Purple have all their cover-bases covered.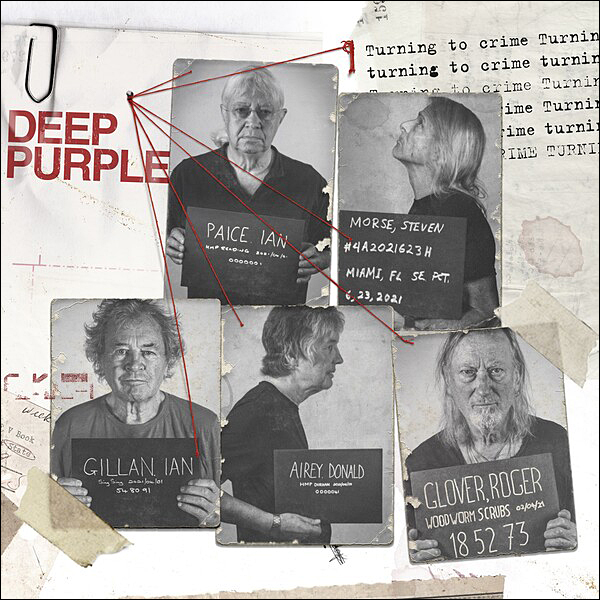 Once again, DP turned to Bob Ezrin, who'd helmed the band's previous three studio albums, to produce Crime from his homebase in Nashville. However, the ongoing pandemic precluded the band from traveling abroad to all work together in the same space, which clearly caused its share of unforeseen remote challenges—something Airey had to admit to Ezrin on the phone when the producer called and asked how the keyboardist planned on recording his parts for the album.
"At the beginning, it was quite difficult for me, just sorting out how I was going to do it," Airey admits from across the Pond. "With lockdown and all that had happened, I thought, 'Well, this is the end of everything.' I had just gutted our home studio, as I was going to turn it into a games room! So, I dug out a 24-track digital recorder, and I used Pro Tools. It worked very well. I actually got to miking up my pianos myself, something I'd never done before. I'd never really done any of my own engineering, actually, but I soon got the hang of it. And I had some really good microphone inputs. That was the secret, really—getting that good Hammond organ sound, and getting that good grand piano sound."
Airey, 73, and I got on Zoom together to discuss Deep Purple's deep-seated history of turning out innovative covers, how he transforms his many influences into original parts, and how he thinks the band will be looked upon 50 years from now. But this ol' river keeps on rolling, though / No matter what gets in the way and which way the wind does blow. . .
Mike Mettler: I'm sure you must enjoy threading the lineage between you and your predecessor, Jon Lord [Deep Purple's founding keyboardist, who passed away in 2012]. In a way, that's where the whole history of Deep Purple comes together.
Don Airey: Oh yeah, yeah. Well, when Purple started, they were a covers band. All bands were covers-only bands, really, except The Beatles, The Stones, and The Who. But most bands that were on the circuit—I remember Cozy Powell [a truly brilliant drummer Airey played with in Rainbow, among other projects] telling me he was in a band from Cirencester, his hometown [in Gloucestershire, England], called The Corals, and they could play for 11 hours without repeating themselves. So, covers were big part of the British band scene, you know?
Mettler: Right, British bands were pretty much all trying to put their own spins on many of those American '50s and '60s classics. From your own beginning times playing in bands like that, did you have favorite covers from that era that you had to do before you got to doing original material?
Airey: By the time I got into bands, people were already doing original material. But with Cozy, later on, we used to play a thing by, I think, Deodato, but I can't remember what it was called now. . . (slight pause) "Something Strut." ["Rio Strut," actually.] We used to open with it, and we'd also play "Trouble" by Elvis [from 1958's Kid Creole]. And we'd do "Going Down," of course, because Cozy had done it with Jeff [Beck, on May 1972's self-titled Jeff Beck Group].
Mettler: And that's interesting, because Max Middleton plays on the original Jeff Beck Group recording of that one, but I feel the way you do it in the "Caught in the Act" medley at the very end of Crime was more like your nod to Nicky Hopkins [the late, great British pianist who played with the likes of The Rolling Stones and Jeff Beck in the '60s and '70s].
Airey: Oh, Nicky's a big hero of mine.
Mettler: That's what I thought! Well, to stay on that medley for a minute—in it, you're moving through four or five of the most iconic keyboard players, well, ever. How do you go from "Going Down" to Booker T. and "Green Onions," to Gregg Allman and "Hot 'Lanta" to John Paul Jones and Led Zeppelin's "Dazed and Confused," and then go to Steve Winwood on "Gimme Some Lovin'"? No pressure on you to give everybody a nod there as you go through all those song snippets, but to be original at the same time too? How did you do it?
Airey: (chuckles) Yeah, well, I've been playing "Green Onions" since 1966—does that sound right?
Mettler: Yeah, it does. [MM confirms: It does indeed. Booker T. & The M.G.s' indelible "Green Onions" was released as a single in September 1962.] And that's a great piece to cover because of the way [keyboardist] Booker T. and [guitarist] Steve Cropper have worked together for many, many decades. Just the interplay of it to me makes me feel that you and Steve [Morse] often get to be the twin lead players in this band. Do you guys have to map out who plays what, like, "Ok, this is my solo, and that's your solo"? Or is it more of an instinctual thing?
Airey: Well, it's kind of instinctual, you know—especially with "Green Onions" where the organ comes first, and then Steve Cropper does his thing. There's a wonderful bit in the original when Booker T.'s finished his solo and then you hear, "Yeah!" Steve Cropper did it, and then it's like, "Your turn, mate!" (chuckles)
Mettler: It is fantastic; that's true. It's sort of like the reverse of "Play it, Steve!" in [Sam & Dave's signature September 1967 hit single] "Soul Man." (both laugh) Don, I think you're actually the real superstar of this Crime album. You have such a starring role on it. Did you know going into it that it was going to be such a showcase for your playing?
Airey: Well, I haven't thought of it like that, to be honest. I kind of think it's [founding DP drummer] Ian Paice's record, because what he's done on it really stands out.