PRICE $1,400 (system)
AT A GLANCE

Plus

Highly accurate tonal balance
Superb imaging
Sub output for instant upgrade
All-in-one solution with HDMI ARC for TV sound

Minus

Limited output in large rooms
No physical controls
THE VERDICT

The little KEF LSX II is a remarkably capable and versatile speaker that will amaze you with big, audiophile-caliber sound.
KEF's little LSX II exudes quiet sophistication, which begs a question: Is it a lifestyle speaker or an audiophile speaker? It's both, actually—and why not? The cantaloupe-sized wireless speaker is the British audio titan's latest self-powered "just add music" solution and it packs a punch, drawing on extensive signal processing to optimize performance, with the goal of delivering near full-range reproduction to a very high standard. The system also boasts a proprietary app that integrates setup, control, and streaming from virtually every important service—including Tidal, Spotify, Qobuz, and Amazon Music—or your own file- or disc-based music collection.
If you're thinking you've seen this speaker before, you're right—it's a dead ringer for the original LSX the company introduced almost five years ago. Though the LSX II looks the same as its predecessor, KEF has upgraded its internal electronics and user interface while adding HDMI/ARC (Audio Return Channel) and USB ports to, as they put it, "deliver more balanced sound in higher resolution with all-inclusive connectivity." Tellingly, the speaker lacks the Metamaterial Absorption Technology (MAT) introduced in the larger LS50 Wireless II speaker I reviewed last year (June/July 2021 issue); MAT uses a labyrinthine structure to absorb unwanted sound from the rear of the tweeter to produce more natural sound. Whether this omission arose from cost and size constraints or fear of stealing thunder from the considerably more expensive LS50, I cannot say.
The LSX II is offered in a muted rainbow of satin finishes: white, black, red, blue, and tan, the latter a fabric-clad special edition. We got white—boring but handsome—and, at roughly 9 x 6 x 7 inches apiece, these speakers are small enough to put just about anywhere (even if they are comparable in size and weight to a prize example of the aforementioned member of the cucumis family). The fit and finish is impeccable, with radiused corners and a carefully considered surface texture contributing to a subtly Bauhaus-on-the-Thames feel. At the core of each speaker is the latest generation of KEF's signature Uni-Q coincident driver, in which the tweeter resides in the throat of the woofer, whose rear output flows through a tapered port in the back of the cabinet.
Both speakers are identical until you turn them around. The main unit, which houses the digital signal processing (DSP), has an oblong connection panel with optical, USB-C, and wired-Ethernet (network) inputs, an analog stereo (minijack) input, an RCA subwoofer output, and the HDMI/ARC port noted earlier. (A second Ethernet jack, labeled "To P/S," which we'll get to later, is something most users won't need.) Three small buttons for pairing and reset functions run along the top of the panel and a Euro-style three-prong power receptacle sits at the bottom. (You didn't think these speakers were completely wireless, did you?). Apart from the port, the other speaker has only that secondary Ethernet port (patience!), an AC power receptacle, and a single pairing button.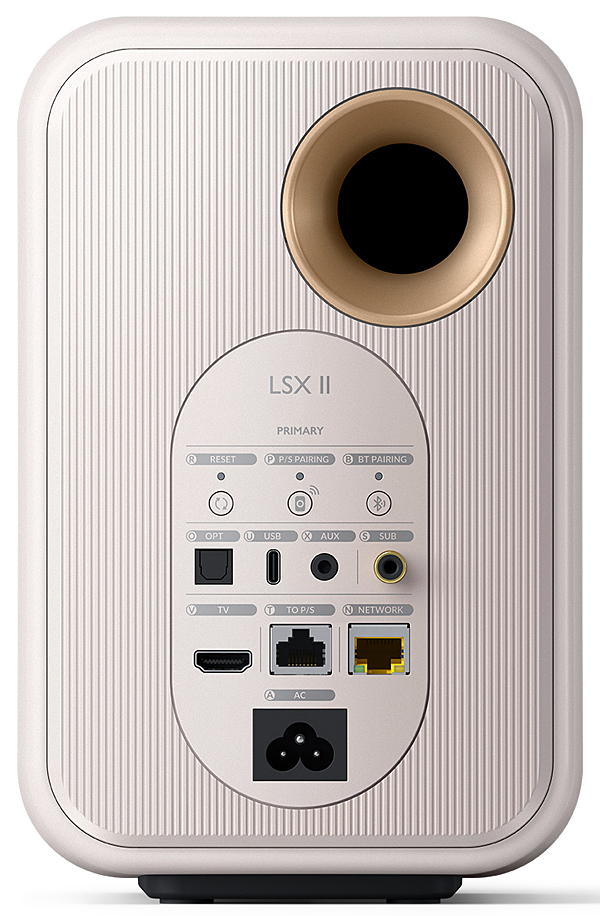 Setup

Setting up the LSX II system is pretty much a matter of unpacking the speakers and plugging them in. Before I move on, though, a brief shout-out to KEF for its cardboard-origami packaging: If you can find a more clever, eco-friendly packing design—Apple aside—I'd like to see it. But what else should we expect from a country whose biggest holiday is Boxing Day?
Of course, once the speakers are powered up, you have to download the KEF Connect app (iOS in my case) and follow prompts on the screen of your phone or tablet to acquaint the LSX IIs with your Wi-Fi network. (You can set up the speakers with a wired connection, but why would you want to do that? I'll have more to say about that later.) On my first go-round, the app failed to find my network so I hit the reset button. The second time was the charm: with a screen press and swipe the deed was done.
A simple EQ option is provided along with a more complex one via "Expert" mode. The former walks you through a series of parameters—stand or desktop, distance to the wall, acoustics (damped/moderate/lively), room size—and adjusts bass, mid, and treble contours accordingly. Since I am (supposedly) an expert, I dove right into the Expert mode, which provides the same contouring functions but with a bit more control and feedback. The app also provides a Phase Correction toggle, a feature that, surprisingly, is not addressed in the downloadable manual. Since Google is my friend, I found a KEF blog entry referencing the feature and will have more to say about it in a moment.
Which brings us to the sound. I set the KEFs on 33-inch stands in the positions usually occupied by my everyday three-way stand-mount speakers: about 7 feet apart and 9 feet from my audition spot. (KEF offers matching stands for the non-trivial cost of $350/pair along with similarly spendy wall-mount brackets and desktop stands that go for $230 and $180, respectively.) Once the speakers were set up, I spent a couple of weeks listening casually to music and TV audio and left the speakers playing Internet radio at a moderate volume overnight to cover any break-in concerns. (Yours, not mine: I'm still not entirely convinced that speaker break-in is a thing.) For most of my formal listening, I streamed a variety of music in high resolution via Tidal and Qobuz.
Performance

When I sat down to start my audition, I was mightily impressed. Tonally, the LSX II's mapped almost perfectly to my longstanding reference speakers, the excellent, if long-discontinued, Energy Veritas 2.2 stand-mount three-ways. Male and female vocals sounded timbrally correct, with no trace of "hoo," "honk," or "cupping" that would suggest identifiable resonances. With a treble setting of –0.25dB in the Connect app's Expert mode, the top-end balance struck me as just about ideal: open, easy, and highly detailed but free of edge on brass attacks and excess shimmer on cymbals.
The low end proved eminently capable of producing a satisfying bottom with most genres of music. A typical pop recording like "Yeah" from Jackson Browne's Standing in the Breach (24/48 MQA via Tidal)—a track with a lot of strong content in the 50-150 Hz range—yielded solidly pitched and impactful bass lines down to around 40Hz without adding boom or muddying up the presentation. And it did so, relatively speaking, at any volume setting—from quiet background to a hard-rocking level of around "85"on the Connect app. (Above this point, music kept getting louder but lost bass balance and a bit of midrange definition.) KEF has clearly baked a degree of loudness compensation into the system's volume architecture but, unlike many loudness contours, it was never overbearing.
Perhaps the most impressive thing about the KEFs' sound is its versatility. No matter what I cued up, the sound was clear, detailed, and spatially distinct. A track like "Good Morning Little Schoolgirl" from the classic Folk Singer album by the late great Muddy Waters (MQA via Tidal), which is recorded like an old-school jazz session with Muddy's guitar panned hard right, drums left, and bass and vocal centered, sounded uncannily present and lifelike; there's a good reason this record is an audiophile fave of decades' standing. The vocal projected solidly and dimensionally out in front of the bare-bones accompaniment, with goose-bumping presence.