The audio wizards at England's KEF are out to prove that they are not just a speaker company with today's launch of the Mu7 wireless, noise-canceling headphones.
Poised to go up against some stiff competition in the mid-priced over-ear headphone market, the understated Mu7 ($400) pairs hi-res-capable aptX HD Bluetooth with active noise cancellation (ANC) that uses multiple filters to capture noise present in the surrounding environment and then mute it using an algorithm that targets individual frequencies to deliver a "major improvement over standard one-size-fits-all" noise-canceling schemes.
KEF has also targeted the bugaboo of play times that are all-too-short with a battery that boasts a rated play time of 40 hours with ANC and Bluetooth turned on. If you've ever had your headphones die during a blistering guitar solo or sing-along chorus you understand the importance of having a long play time. In addition to the impressive play time, the Mu7 has a quick-charge feature that nets 8 hours of play time after just 15 minutes.
With the Mu7, KEF continues its longstanding partnership with Ross Lovegrove, the renowned Welsh designer behind the $200,000 Muon flagship and last year's Mu3 earbuds, which marked the company's entry into the wireless noise-canceling space.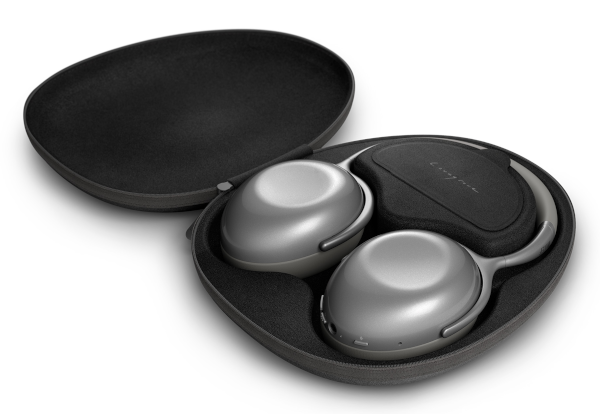 Not surprisingly, given KEF's heritage, the Mu7 headphones are custom-tuned and embrace a purist view, eschewing audio processing to "preserve the integrity of a recording with little intervention" — with one exception: Clear Voice Capture (cVc) processing is deployed to ensure the integrity and intelligibility of phone calls by isolating your voice and minimizing any noise picked up by the microphone.
Construction of the Mu7 is all about fit. An aluminum frame supports swiveling earcups with leatherette-covered memory foam earpads that help lower noise passively and a headband designed to ensure a snug acoustic seal while minimizing pressure on the ears, which as anyone who wears headphones knows is a deal-breaker.
A capacitive touchpad on the right ear cup is used to answer calls, skip tracks, and adjust volume with "intuitive" taps and swipes.
The Mu7 weighs a tad under 11 ounces and conveys sound through a pair of 1.6-inch (40mm) dynamic drivers with a stated low-frequency limit of 20Hz. Accessories include a storage case, minijack audio cable for wired connections, flight adapter, and USB charging cable.
The Mu7 is offered in silver or charcoal gray. For more information, visit us.kef.com.