PRICE $10,995 (as tested)
AT A GLANCE

Plus

Compact form factor—fits in standard-width rack space with Strato C player
Significantly boosts movie download speed

Minus

Pricey
Kaleidescape Store immersive audio support still spotty
THE VERDICT

Kaleidescape new compact Terra Movie Server delivers an improved user experience and greater flexibility over the company's standard Strato system.
Kaleidescape sure has been busy since I reviewed its Strato S 4K Ultra HD Movie Player late last year (October/ November 2020 issue). The company added three new servers to its Terra lineup: the compact 6TB ($5,995), 12TB ($7,995), 18TB ($9,995) options, and a 72TB monster ($23,995) for those who want massive storage without having to string multiple Terra units together. For this review, I was sent the 12TB Terra, along with a Strato C 4K Movie Player (recently reduced in price to $2,995) to test it with. I'll focus first on the 12TB Terra and then give an update on my overall Kaleidescape experience after living with a system for over a year (I purchased my Strato S review unit).
Big Things In Small Packages

The new 12TB Terra is a sleek server that features the same aluminum casing and 1U rack height as the Strato Player line but has the same width as the Strato C model instead of the full rack-width of other Kaleidescape products. This lets you fit both a Strato C and Terra 12TB in a standard-width rack space. The Terra has a backlit front display that brandishes the company's name in white light but can be dimmed or turned off as desired. The only connections on the back are for the external power block and an Ethernet port for a network hookup. Pairing the Terra server with the Strato Player was a snap using Kaleidescape's IP-based interface that can be accessed from any web browser.
Why buy a 12TB Terra paired with a compact Strato player and not just go with a player that provides built-in storage like the Strato S model I reviewed? If you had asked me that last year, I wouldn't have known the answer, but after adding two Terra servers (24TB models) to my own setup, I am now up to speed on the advantages these external storage units provide.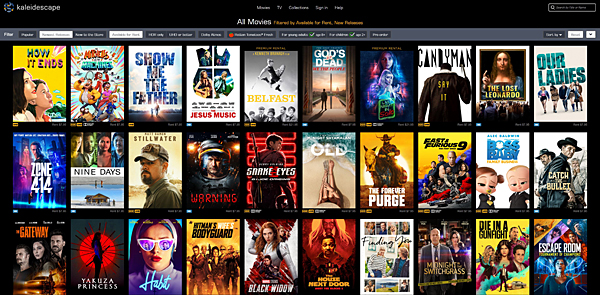 The main benefit of a Terra server is a massive increase in download speed. Remember that all movies in the Kaleidescape online store are digital files that need to be downloaded to the system before you can play them. I have Gigabit internet service and when I reviewed the Strato S 12TB I connected it to my router via Ethernet. Download time for HD movies was around 30-45 minutes, while 4K/HDR titles could range between 50 minutes and an hour—not exactly instant access. But when I connected the 12TB Terra to the exact same router, the download process was dramatically speedier, with HD movies averaging about 7 minutes and 4K/ HDR ones averaging about 15 minutes. With this huge difference in access time, by the time I gather my drink and snacks and sit down to watch, a movie is downloaded.
Another benefit is that a compact Terra 6/12/18 can share a movie library with up to five players on the same network simultaneously. This capability expands the range of your system to far more rooms than a Strato-only based system can support. I found the download speed increase with a Terra to be its most noticeable advantage, but expandability is another important consideration if you have multiple systems set up throughout your home.
A Year In The Life

So now that we've touched on the hard- ware, let's discuss how things are going with the Kaleidescape ecosystem. When I started my journey last year after buying the 12TB Strato, I thought it would be the end of my Kaleidescape hardware purchases. Well, I can't say that lasted long. Near the end of 2020 Kaleidescape made big changes to the pricing for its disc-to-digital program (which I didn't even know about at the time). This program allows users of any of its legacy disc-based products like Alto player to insert a DVD or Blu-ray and Kaleidescape will recognize it and provide a discounted "disc to digital" option. These changes prompted me to purchase an Alto player so I could take advantage of the new heavily discounted disc-to-digital pricing while simultaneously increasing my storage capabilities (the Alto has 6TB of internal storage but only supports HD-resolution content). Owning an Alto allowed me to start transitioning my extensive disc collection to the Kaleidescape digital ecosystem at a drastically reduced rate compared with buying titles at normal cost in the company's online store.