PRICE $69.95
AT A GLANCE

Plus
Budget price
ANC and Ambient modes
Memory Foam tips
Minus

No-frills packaging

Treble response lacks clarity

ANC could be stronger
THE VERDICT

The JVC HA-A25T ranks among the top budget True Wireless earbuds I've tried, performing well as practical earbuds for the gym or office and won't cause heartbreak if you misplace one.
I will just come right out and admit this: I am an audio snob, perhaps brought on by my early childhood years listening to my dad's Quad Electrostatic speakers or the 25 years spent in professional recording studios. I know good sound quality and I like it. So when I was handed a pair of $70 JVC Marshmallow HA-A25T Noise Canceling True Wireless Earbuds, I scoffed. Will they be able to overcome my bias? Can an affordable earbud perform well?
Turns out, the answer is a resounding yes.
The HA-A25T earbud is a part of the Marshmallow lineup from JVC, which shouldn't be confused with the more budget-minded Gumy series, also from JVC. Indeed, the charging case does bear a striking resemblance to a Jumbo Stay-Puft, but this is only applicable for the white colorway. The HA-A25T is also available in black.
My snobbishness (Dear editor, is that really a word? If not, please make it one) started with the unboxing. I've gotten used to products being lovingly packaged with exquisite materials. This was a simple cardboard package, with little fanfare. A variety of eartips are included in a paper envelope, plain and simple. I do admit that I have a desk drawer filled with eartips packed in lovely little velvet or satin pouches, and they only add to the cost with zero acoustic value. I might be coming around to these JVC earbuds.
As I started to get to know the HA-A25T, I was getting swayed by the features. They are compatible with Bluetooth 5.3 with support for AAC (Advanced Audio Coding). Each earbud has a variety of features accessed by touch control on the outside surface. Most notably, a one-second tap on the right earbud turns on and off the active noise-canceling feature – ANC in an earbud selling for well under $100. In addition to three sizes of silicone eartips, two sizes of Memory Foam tips are included. Finding the perfect fit not only affects sound quality, notably bass response, but also vastly changes how much ambient noise is allowed in. With an IPX4 rating, they can take a sweaty or rainy workout without an issue.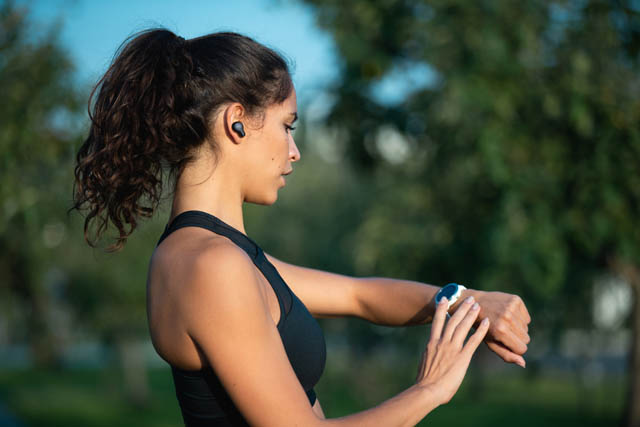 What other features are packed in these Marshmallows? Four taps on the right earbud turns on low-latency mode that reduces the delay-time for gamers. A one-second tap on the left earbud cycles through three EQ settings: Normal, Bass, and Clear.
Long battery life is another feature that impressed me, with a total of up to 28 hours. The earbuds themselves will play for up to seven and a half hours on a charge, or six hours with noise canceling activated. The charging case bumps that up to 28 hours. The case fully charges in two hours, while the earbuds reach a full charge in two and a half hours. There is an "instant charge" mode that gives the earbuds 60 minutes of playback from a ten-minute charge.
Setting Up
The HA-A25T earbuds automatically pair with your device when first removed from the charging case. There's an option to use just one earbud, both for music and phone calls. I found it a bit challenging to insert them into my ears without accidentally activating the touch-pad, so I recommend cycling through the settings before each use. I kept ending up in the "Ambient Sound" mode that drastically reduces the music volume to allow outside noise in. I appreciated how the volume slowly ramps up when you turn off that mode.
Adding to my growing list of things I like about these earbuds is the noise-canceling algorithm. I have a major pet peeve with systems that alter the sound quality of playback when switching noise cancellation on and off. With either setting, the HA-A25T maintains the same playback characteristics. Many of the commands are confirmed with voice guidance. I would prefer a way to disable that voice, but it does help you know which EQ mode is activated and if ANC is off or on.
Performance
I started my listening with the Memory Foam eartips. However, they didn't offer a tight enough fit for my ears, resulting in a lackluster bass response. Switching to the proper size silicone eartips made a drastic difference to my listening experience. The fit was comfortable, and the passive noise isolation was phenomenal. So much so that I couldn't detect much difference between ANC on and off, but there was a slight reduction. It works much better on steady lower-frequency noise and less effective with high-pitched annoyances.
How have I waited so long to dive into Earthling, the 2022 release from Eddie Veddar? I'm not sure whether the song "Invincible" is more influenced by Peter Gabriel or David Byrne, but either way, I absolutely love this track. With an oh-so tasteful drum track provided by Chad Smith, this song has a slow burn with the intensity and tension rising throughout. I definitely prefer the "Normal" EQ mode while listening to music. Smith's kick drum in the intro is tight and solid; however, with the Bass enhancement on, it becomes muddy and indistinct. "Clear" mode brought out a bit of harshness, especially when turning up the volume, and this song just makes me want to crank it up loud.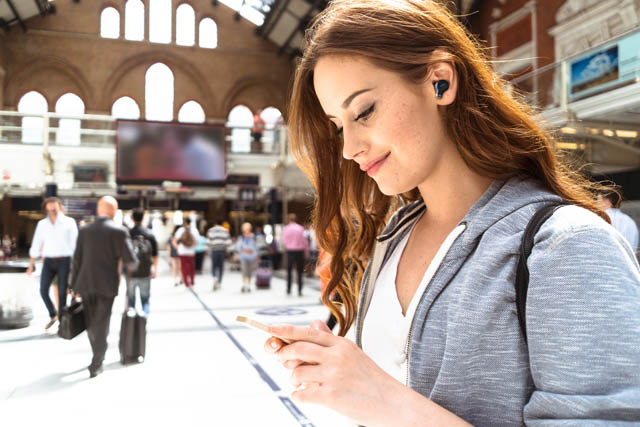 In the build-up to the bridge, Veddar's vocals start to get swallowed by the band, but there's just enough clarity to the treble to keep his voice distinct. However, the high-end treble doesn't have quite the extension that I would like. Overall, the HA-A25T produces a warm, dark sound that is ideal on many tracks, though some users might prefer the 'Clear' EQ settings.
The phased guitar in the bridge has a wide-open soundstage, and the acoustic guitars come in with even wider panning. I think I've found my new reference track. Smith's rolling tom-tom fills bolster the upper bass, but I could use a tighter and more distinct impact on the deeper bass notes.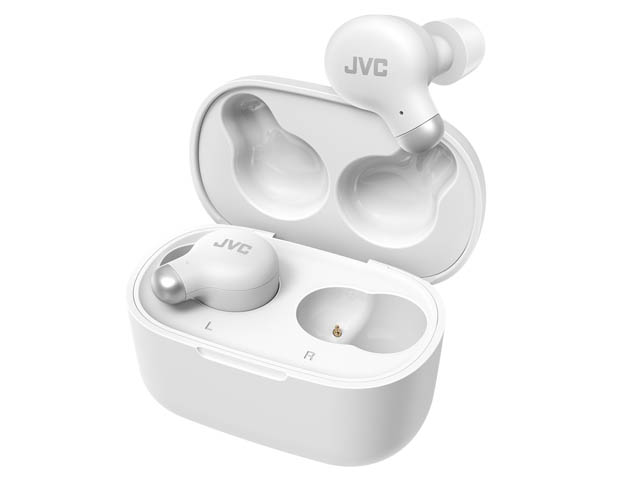 To see if the treble was an issue on female vocals, I turned to my headphone test playlist on Tidal, which brought up Brandi Carlyle's "You and Me on the Rock (featuring Lucius). Her voice has a pleasant warmth to it, and the guitars lean more towards a dark, warm tone rather than the brighter quality I expected. The imaging was just lovely with the lead and rhythm guitars placed just left and right of center. I tend to prefer a warmer sound quality, but even I felt there could be more transparency and air in the treble response.
I used the HA-A25T not only to listen to some news and talk shows on YouTube but also for a few Zoom meetings. Here's where they really shine. Turn on "Clear" with noise-canceling on, and I didn't miss a single word, even on a Zoom with a soft-spoken colleague in a reverberant room.
Conclusion

The JVC HA-A25T have so many features and a pleasant sound quality that I completely forgot they were a budget earbud. The "Normal" sound setting lacked the treble detailing and clarity that I would have liked, but given the well-under-$100 price tag, I am impressed. With ANC, easy phone and music touch controls, quick charging and long battery life, I can overlook some of the cost-cutting.
Do you have to pay a lot to get good sound quality and decent noise cancellation? Nope. The JVC HA-A25T earbuds easily overcame my snobbish biases. Let's put it this way: I finished my critical listening for this review a week ago, and here I am, still using them daily. That says everything.
Specs
Speaker: 1 x Neodymium
Frequency Response: 20Hz – 20kHz
Weight: .18oz
Charging case weight: 1.28 oz.
Charging case dimensions: 2.41 x 1.42 x 1.46 inches (W x H x D)
www.JVC.com