PRICE $250/pair
AT A GLANCE
Plus
Excellent, full-bodied sound
Cosmetically appealing design
Sturdy build
Remote control with tone controls (!)
Minus
No multiroom Wi-Fi streaming
THE VERDICT
Fluance's Ai41 is one of the best looking and sounding Bluetooth speakers in its price class.
You can tell immediately whether a speaker is good the moment it starts playing, so I knew right away the Ai41 was good but didn't fully appreciate how good until I had lived with it for a couple of weeks.
Designed by Fluance, one of the many excellent speaker companies hailing from Canada, and built to spec in China, the Ai41 replaces the outstanding Ai40, one of our Top Value Picks in 2019. It's a standard two-way bookshelf design featuring a 5-inch woofer and 1-inch silk-dome tweeter in an attractive cabinet just under 11 inches tall — small but not super compact — and available in four woodgrain finishes: black ash or black walnut with a black baffle or a white baffle offset by walnut (shown) or bamboo. There's no speaker grille.
The left speaker is passive and connects via an 8-foot cable to the right speaker, which is the brains of the operation, housing a Bluetooth 5.0 receiver for wireless streaming from a smartphone or other device, digital-to-analog converter (DAC), and a Class D stereo amplifier with an integrated digital signal processor to "produce a more balanced frequency response." The Ai41 uses the same drivers as its predecessor and, except for a tiny LED indicator next to the volume/on/off control, looks identical when viewed from the front.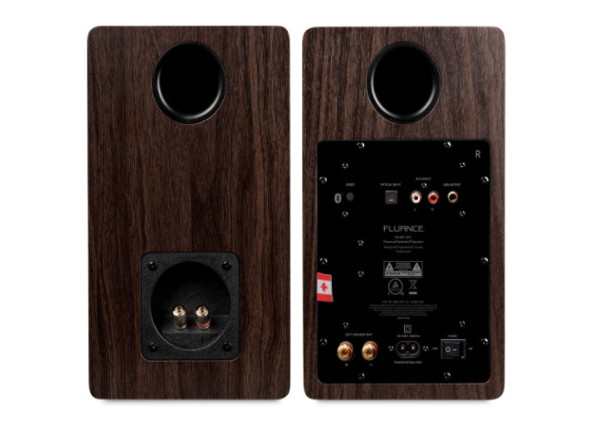 Turn the right speaker around, and a few updates are apparent. For one, it's a ported design, whereas the Ai40 was sealed. The Ai41 is also endowed with more connection options, offering a set of stereo RCA analog inputs plus an optical digital input and a subwoofer output with an 80Hz low-pass crossover, whereas the Ai40 offered only RCA inputs. Apart from that, there's a Reset button, binding posts for connecting the left speaker, a receptacle for the power cord, and an on/off switch. Finally, Fluance increased amplifier power to 90 watts (2 x 45), up from the Ai40's 70 watts.
As for that LED, it provides some useful information. Flashing blue indicates the speaker is in Bluetooth pairing mode, solid blue means the speaker is paired, green signifies an active RCA input and white an active optical connection. Red is a multifunction indicator: when it's solid, the speaker is in standby mode and when it's flashing, the speaker is muted; a quick double flash means you've reached maximum (or minimum) volume, treble, or bass, depending on which control you're using (the double flash cues also apply when the RCA or optical input is in use).
Speaking of controls, there is no app, so if you're looking for a system that operates over Wi-Fi and facilitates playback on multiple wireless speakers around the house, the Ai41 is not for you. It's designed for wireless streaming over Bluetooth, though Fluance says it can be paired with Apple TV or an Amazon Echo or Google Home speaker for Wi-Fi casting (a feature I couldn't try because it isn't supported by my Google Home Mini). The Ai41 does, however, come with a small, well-designed remote with buttons for power, play/pause, volume, track up/down, input selection, mute, and a feature missing from many wireless speakers: dedicated bass and treble controls. There's even a button to dim or turn off the front-panel LED. The remote is a welcome addition in my book.
Fluance recommends a break-in period of 10-12 hours, which helps explain why I became more enamored with the speakers after a few days of casual listening. As Fluance explains in a video on its website, the spider (which supports the voice coil) and the surround (which attaches the driver's cone to the "basket" or speaker frame) tend to be stiff when they're new but loosen up with use, allowing a full range of motion and improving the sound. The process is akin to breaking in a new baseball glove and the "difference can be night and day," Fluance insists. The evolution to more refined sound was relatively subtle in this case but I've learned through experienced that burn-in can produce a noticeable (and welcome) shift in tonal balance.
Wow is the Word
Though I had the Ai41s running in the background for a few days, my listening started in earnest when I ran RCA cables from the output of my Como Audio Duetto music system to the speakers so I could continue listening to my favorite internet radio station, Radio Paradise. The simplicity and dark beauty of Billie Eilish singing "Everything I Wanted" was fresh, immediate, and intimate against a backdrop of reverberant keyboard flourishes — it was as if she was in the room. I was stunned by the heft, clarity, and sense of ambience this $250 system was able to convey.
Crosby, Stills, Nash & Young's "Helpless" (Déjà vu) sure didn't sound like it was recorded 52 years ago — Neil Young's inimitable falsetto and CSN&Y's signature backing harmonies were brilliantly intact as were Young's tremolo guitar and the backing piano. Same with the title track from Dire Strait's 1985 album Brothers In Arms: The distinctive, ZZ Top-inspired sound of Mark Knopfler's guitar zigzagging around his low growl sounded just right.
Things only got better when I opened the Tidal app on my phone and clicked on the Everlasting Jam playlist, which served up one great live performance after another. The Grateful Dead noodling their way through the "Good Lovin'" during a 1971 performance at the legendary Fillmore West sounded exceptionally clean as the guitars traded licks with a very prominent bass, all in the Dead's quintessential laid-back style.
But the Tedeschi Trucks Band performing the Derek and the Domino's classic "Tell The Truth" ( Layla Revisited: Tedeschi Trucks Band featuring with Trey Anastasio) raised the roof with exhilarating guitar exchanges between Anastasio and Derek Trucks, both appropriately gritty and searing in the case of Trucks' impeccable slide playing. I could feel the energy as the speakers preserved the space between Susan Tedeschi's powerful voice and the 14 players on stage. Equally exciting, and more dynamic, was the band's raucous, and at times tender, performance of "Why Does Love Got To Be So Sad?" — the speakers conveyed the broad canvass of vocals and instruments at loud levels without turning everything into mush.
After hours of listening I was rarely disappointed with what I heard and, if I was, it was almost always a great song that had been poorly recorded (Mountain's "Mississippi Queen" comes to mind). If you're looking for a turnkey stereo setup you can have up and running in a couple minutes, you can hardly go wrong with Fluance's impressive Ai41 speaker system.