Picture
Sound
Extras
The Fast & Furious franchise is going on two decades and showing no signs of slowing down with the 2021 release of F9: The Fast Saga and several sequels and spin-offs in the works.
Vin Diesel headlines the familiar cast in this latest installment as Dominic Toretto, the leader of a gang of elite street racers who this time must recover a device code-named Aries to save the world from a devastating cyberattack. As with other F&F films, F9 is as much a story about family values as it is an action film that relies heavily on stunts and special effects. And F9 certainly delivers a dizzying array of the latter, including cars racing through a jungle and a Pontiac Fiero launched into space.
The non-stop action starts with a flashback of stock car racing in 1989. Flashback sequences were reportedly shot on 35mm film and are quite sharp, but with a stylized, sepia tinged and slightly washed-out look. But much of the film was shot on HD digital formats and mastered at 2K. The native digital images have inky blacks, deeply saturated colors, but are ever so slightly soft. The quality of the outra- geous visual effects is good, but not quite realistic looking enough to make me suspend disbelief. And while I sometimes wished the picture would pop a bit more, the Dolby Vision presentation was still excellent overall and free of the unnatural, hyper-detailed look of some digitally shot films.
F9's frenetic visuals are complemented by an active Dolby Atmos soundtrack. The opening stock car scenes provide an exciting and enveloping audio experience. The hip hop- and R&B-infused music also makes good use of the object-oriented mix to place the listener in the middle of a lively blend of dance beats. The sound design regularly opts for more obvious sonic fireworks rather than create a believable sense of space, but it's entertaining. The included regular HD Blu-ray disc version of the movie features the same excellent Atmos soundtrack, but the flashback scenes on that disc appear overly grainy and high-contrast in comparison with the 4K/HDR version.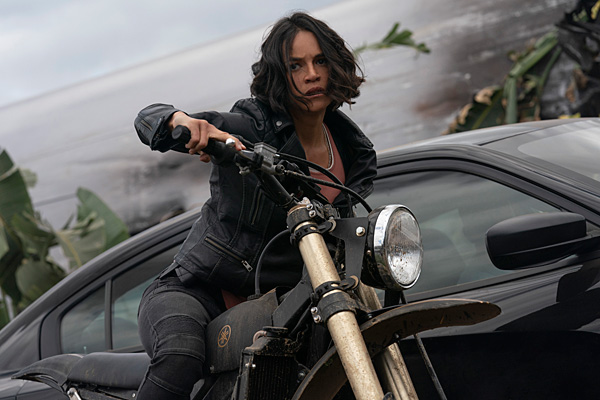 Extras include over an hour of video featurettes, documentary material, and a gag reel. Audio commentary is provided by the director, Justin Lin, and while not revelatory, his under- standing of action filmmaking and commitment to the F&F franchise will be of interest to fans.
ULTRA HD BLU-RAY
STUDIO: Universal, 2021
ASPECT RATIO: 2.39:1
HDR FORMAT: Dolby Vision, HDR10+
AUDIO FORMAT: Dolby Atmos with TrueHD 7.1 core
LENGTH: 142/149 mins (Theatrical/Director's Cut)
DIRECTOR: Justin Lin
STARRING: Vin Diesel, Michelle Rodriguez, Tyrese Gibson, Chris 'Ludacris' Bridges, John Cena, Nathalie Emmanuel, Jordana Brewster, Sung Kang